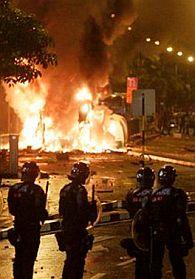 India on Friday assured support to its nationals that law-abiding people have nothing to fear after authorities here arrested 31 Indians for alleged rioting in Singapore's worst outbreak of violence in over 40 years.
The assurance by the High Commissioner Vijay Thakur Singh came in the wake of Sunday's riot in Little India, triggered by an Indian national's death in a bus accident.
"The high commission has always cared and will continue to care for the welfare and well-being of Indian citizens in Singapore," Singh told PTI.
Singh said she will visit a number of dormitories housing Indian workers over the next few days to assure them of the Mission's support.
"The Indian high commission can always be approached for help in any matters," she said. Singh said she was assured by Singapore authorities that those who had done no wrong should not worry.
But, those who broke the law would have to face the consequences, she added.
Indians working in Singapore must abide by the law of the land and the rules and regulations of the country must be respected, Singh stressed.
She said lawyers were coming forward through the Law Society of Singapore to make legal assistance to those arrested in connection with the riot in Little India. The riot was an unfortunate incident, but it was not premeditated, Singh said.
The trouble started after a private bus fatally knocked down an Indian pedestrian, 33-year-old Sakthivel Kuaravelu, around 9:20pm at the junction of Race Course Road and Hampshire Road in Little India.
Around 400 South Asian migrant workers were involved in the rampage that left 39 police and civil defence staff injured and 25 vehicles -- including 16 police cars – damaged or burnt.
Singapore previously witnessed violence of such scale during race riots in 1969.
After visiting Indian workers at a dormitory last night, Singh said no discontentment has been discerned among Indians working in Singapore. But she noted concerns of some individuals related to wages, benefits and compensation.
Four more Indians were charged yesterday for alleged rioting in Little India, a precinct of Indian-origin businesses, eateries and pubs where most of the South Asian workers take their Sunday break, taking the total number of those arraigned in the violence to 31.
Prime Minister Lee Hsien Loong has warned that trouble-makers will be dealt with "severely". Singh also appreciated civic-minded Singaporeans' gestures of raising funds for Kumaravelu's family.
"Once the collections and donations for the Kumaravelu family come through, we will help transmit them back to India and the family," Singh said. Touching on India-Singapore bilateral ties, Singh stressed that "the relationship between our peoples and two countries is very strong, and that relationship will continue.
"We have with Singapore a strategic partnership, we're talking to them on a wide range of issues. We are going to continue that cooperation."


Meanwhile, Deputy Prime Minster and Home Affairs Minister Teo Chee Hean has appointed a four-member Committee of Inquiry to look into the Little India riot.
The COI would be chaired by former judge of the Supreme Court G Pannir Selvam.
Other members of the committee are former Commissioner of Police Tee Tua Ba, former president of the Singapore National Trades Union Congress John De Payva and chairman of the West Coast Citizens' Consultative Committee Andrew Chua.
The committee would establish the factors and circumstances that led to the riot besides establishing how the violence unfolded and how the response forces managed the incident.
The COI members would also consider whether current measures to manage incidents in the areas where foreign workers congregate are adequate and recommend if any further measures are needed to improve the management and to reduce the risk of such incidents happening again.
The committee members understand workers' relations and with their experience, they would be able to examine these issues thoroughly, said Teo.