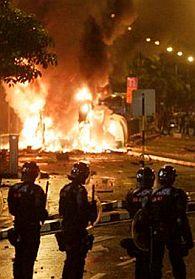 Three more Indians, arrested in connection with Singapore's worst outbreak of violence in over 40 years, will face charges today for alleged rioting, a day after 24 of their compatriots were charged.
The three suspects are among eight persons arrested on Tuesday in connection with the Sunday riot in Little India, triggered by the death of an Indian in a road accident, police said on Wednesday.
On Tuesday, 24 Indians, aged between 22 and 40, were remanded for a week to facilitate further investigations and face one rioting charge each, punishable by up to seven years in prison and caning.
"As for the remaining five subjects, one of them has been released on bail while further investigations revealed that the other four subjects were not involved in the incident," a spokesman said, adding that the four have been released from police custody.
The 24 charged in court on Tuesday are all work permit holders, Strait Times reported on Wednesday.
According to the chargesheet, the accused threw pieces of concrete and were "members of an unlawful assembly whose common object was to overawe, by a show of criminal force, police officers in the exercise of their lawful power to maintain law and order at the scene".

The case would be heard again on December 17.

The Criminal Legal Aid Scheme was helping to secure lawyers for all the accused, its representative told the court.
The Indian High Commission in Singapore was working with Singapore's Foreign Affairs Ministry to facilitate consular access and support for the 24 men being charged for their role in the riot in Little India, a precinct of Indian-origin businesses, eateries and pubs where most of the South Asian workers take their Sunday break.
The trouble started after a private bus fatally knocked down an Indian pedestrian, 33-year-old Sakthivel Kumaravelu, around 9:20 pm at the junction of Race Course Road and Hampshire Road.
About 400 South Asian migrant workers were involved in the rampage that left 39 police and civil defence staff injured and 25 vehicles including 16 police cars damaged or burnt.
The police has interviewed about 3,700 foreign workers from 10 dormitories across the island so far. Of these, 176 had their statements taken at the Criminal Investigation Department, including those who were subsequently arrested.

The 55-year-old driver of the bus, who was earlier hospitalised, was arrested but later released on bail after being charged with causing death by a negligent act.

Singapore previously witnessed violence of such scale during race riots in 1969.
Prime Minister Lee Hsien Loong has ordered the formation of a special committee to probe the incident and warned to use "full force of the law" against trouble-makers.
Lee, in South Korea for an official visit, posted on his Facebook page yesterday: "Keeping track of follow up to the Little India riot. It is in good hands."
Giving his update, Deputy Prime Minister and Home Affairs Minister Teo Chee Hean said details of the Commission of Inquiry ordered by the PM into the unrest would be ready by the weekend.
Patrols in Little India have been stepped up, as has police presence in areas where workers congregate, as a precautionary measure. Cameras will also be installed in the vicinity of Race Course Road in the coming week or so, in addition to existing ones.
Meanwhile, liquor store owners in Little India will not be allowed to sell any alcohol from Friday until Sunday, as the temporary ban on the sale and consumption of alcohol in the district takes effect this weekend.

In a letter issued to licensees on tuesday, the Liquors Licensing Board said it has decided to suspend all liquor licences in the "Little India cluster and surrounding vicinity" on December 13, 14 and 15, in view of the riot on Sunday. The ban will also cover the period up till 11.59pm of December 16 for licensees that were granted extended hours.
"This suspension will help to stabilise the situation and allow (the police) to assess the next steps in consultation with various stakeholders," said the LLB, adding that the move was taken after consultation with the police.
The details of the ban, such as the geographical area it will cover and boundaries, were not released in the letter, The Straits Times reported