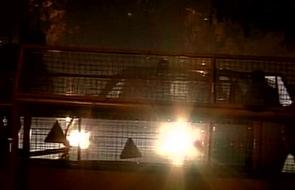 Soon after his return from foreign tour, Prime Minister Narendra Modi on Friday visited former Prime Minister Atal Bihari Vajpayee's house in New Delhi and greeted him on his 91st birthday.
Modi drove straight to 6A Krishna Menon Marg of Vajpayee from the airport after landing from Lahore where he had a brief stopover on his way back from visits to Russia and Afghanistan.
"Visited Atalji at his residence and conveyed birthday greetings to him," Modi tweeted.
Earlier, Modi hailed Vajpaye as a leader who distinguished himself in every role, while greeting him on his birthday. "Birthday greetings to our beloved Atalji. We salute this great personality who provided exceptional leadership to India at a crucial time," the PM had tweeted earlier in the day.
Image: Prime Minister Narendra Modi's vehicle arrive at former Prime Minister Atal Bihari Vajpayee's house in New Delhi. Photograph: ANI