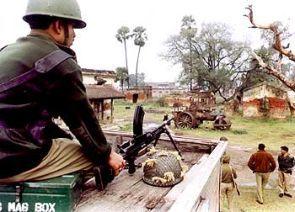 Polling will take place amidst tight security in 13 Maoist-affected constituencies in the first phase of 5-stage elections to the 81-member Jharkhand Assembly on Tuesday.
Adequate security forces have been deployed as all the 13 constituencies are affected by Maoist activities and the personnel have been asked to follow the standard operating procedure.
Altogether 33,61,938 voters, including 15,77,090 women, are eligible to exercise their franchise to elect their representatives from among 199 candidates in the fray.
More than 3,900 polling booths have been set up and 35,425 polling personnel deployed to conduct free, fair and peaceful polling.
Eighteen women and 72 independents are in the electoral race in this phase.
While a maximum of 26 candidates are contesting from Daltonganj, Chatra has the lowest number of seven candidates.
The BJP has fielded candidates in 12 of the 13 seats, while allotting one to AJSU party at Lohardaga as per the seat adjustment.
The RJD which is contesting seven seats and is in alliance with the Congress and the JD-U, is engaged in a friendly contest with the JD-U in Chhatarpur and Hussainabad constituencies.
The Congress, which is contesting in seven of the 13 seats, is also locked in a friendly bout with the RJD in Manika.
While the JMM is contesting at 12 seats, the Jharkhand Vikas Morcha (JVM-Prajatantric) has fielded candidates in 11 seats.
The JVM is supporting Trinamool Congress candidates in Gumla and Manika.
The other parties in the fray are CPI (six), CPI-M (two), NCP (five), Independents (72), besides candidates of 53 registered parties.
There are five Assembly constituencies where more than 16 candidates are contesting.
Prominent candidates trying their luck are Jharkhand PCC leader Sukhdeo Bhagat (Lohardaga), former state Minister Kamlesh Singh who is now on bail in connection with a disproportionate assets case (Hussainabad) and state Minister K N Tripathi of Congress (Daltonganj).
RJD's Jharkhand unit President and ex-Minister Girinath Singh is trying his luck from Garwha.
In Chhatarpur (SC) seat, BJP has fielded Radha Krishna Kishore with RJD nominating Manoj Kumar, while former Maoist and ex-MP Kameshwar Baitha is contesting on an SP ticket. Former Jharkhand Minister Sudha Choudhary is in the fray from the seat on a JD(U) ticket.
Former MP Brajmohan Ram is contesting on a BJP ticket from Latehar(SC), Congress has fielded Bidesh Singh in Panki who won as an independent in the previous election and is pitted against BJP's Amit Kumar Tiwari.
Polling will begin at 7 AM and continue till 3 pm.