The first phase of state assembly polls in Jammu and Kashmir recorded a turnout of around 70 percent and was incident free.
"Around 70 percent electorate cast their vote in today's polling for the first phase of the assembly elections across 15 constituencies spread in seven districts of the State," chief electoral officer, Umang Narula said.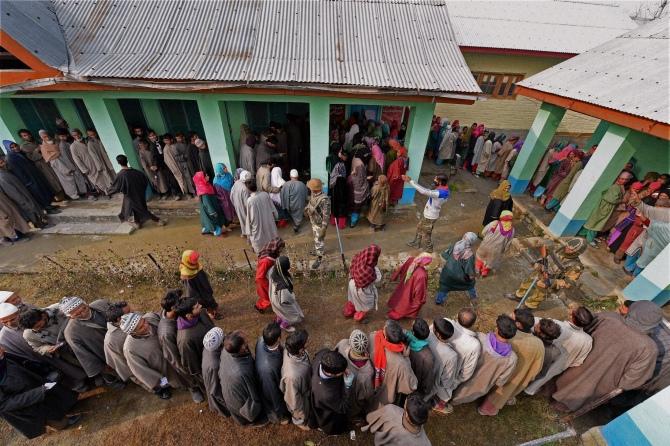 Voters queue up to cast their votes for assembly elections at a polling station in Bandipora district of Jammu and Kashmir. Photograph: S Irfan/PTI Photo
Braving the winter chill and the separatist boycott call, voters in large numbers turned out to exercise their franchise in the five assembly segments of Kashmir valley.
Since early Tuesday morning voters queued up outside the polling stations in the north Kashmir Ganderbal, Kangan, Bandipore and Sonawari constituencies to exercise their franchise.
A large number of women and first time voters were among those to cast their votes.
"I am voting for the first time. I hope my vote will lead to a better tomorrow for us which includes jobs for unemployed like me in this constituency. I hope our new representative after his election will focus on providing us uninterrupted power supply, better roads and jobs," said Bilal Ahmad Shah after casting his vote in Duderhama polling booth in Ganderbal constituency.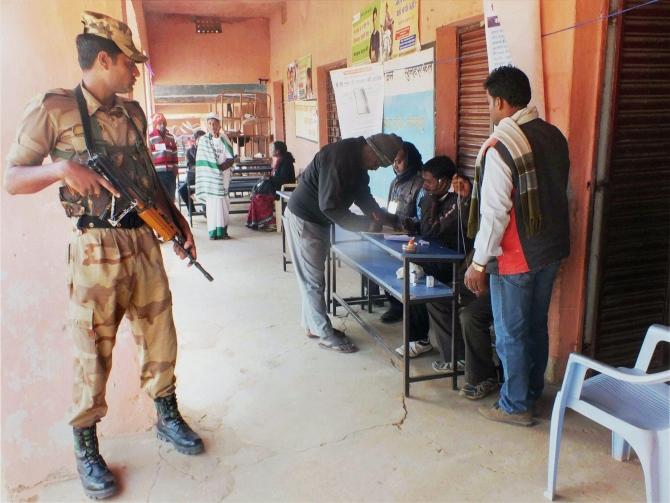 A security person stands guard at a polling station during the first phase of Jharkhand assembly elections in Latehar. Photograph: PTI Photo
The constituency went to polls sans any member of the Abdullah family contesting from it this time.
The National Conference fielded a local leader, Sheikh Ashfaq Jabbar in Ganderbal who is pitted against his rival Peoples Democratic Party candidate and former forest minister, Qazi Mohammad Afzal. Qazi had defeated Omar Abdullah in 2002 in a close contest.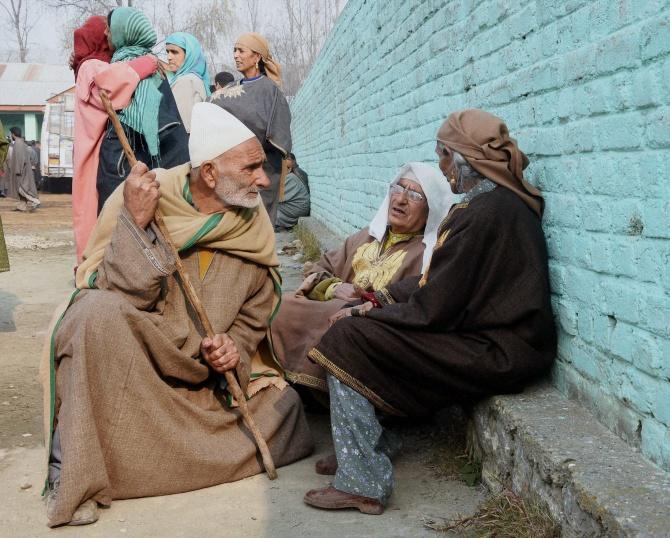 Three elderly voters wait to cast their votes for assembly elections at a polling station in Bandipora district of Jammu and Kashmir on Tuesday. Photograph: S Irfan/PTI Photo
Dealing a serious blow to separatist politics, thousands of voters had lined up before polling stations with nearly 10.52 lakh voters being eligible to vote.
Separatist groups, like the factions of Hurriyat Conference and Jammu Kashmir Liberation Front, had called for a boycott of the polls and a general strike as well.
This is for the first time that the five constituencies of Kashmir valley have seen such a high voter turnout after the eruption of militancy.
The four constituencies of Ladakh region, which normally witnesses high voter turnout, marked a decrease in number of voters exercising their franchise.
In two constituencies of Leh district, the turn out was 57 per cent, down from 61.88 per cent in 2008 assembly polls and substantially down from 68.23 per cent registered during the Lok Sabha polls earlier this year.
In Kargil district, 59 per cent voters cast their votes against 72.90 per cent in 2008 elections.
Early morning chill and fog failed to dampen the spirits of the voters who had assembled at the polling stations an hour before the scheduled start of voting.
The voting time had to be extended in several polling stations to allow those voters, who were already inside the polling station premises, to cast their votes.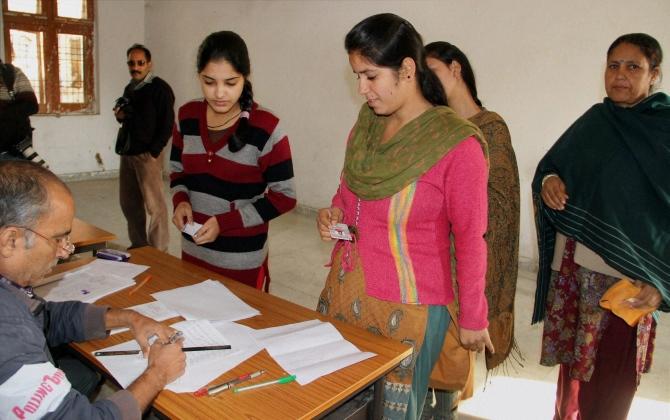 Kashmiri Pandits at a polling station to cast their votes for the first phase of J & K assembly elections at Jagti Township in Jammu. Photograph: PTI Photo
Narula maintained that the polling was held in a peaceful atmosphere and no untoward incident was reported from any part of the constituency and 'in order to ensure that the polling is done in various inaccessible areas of the hilly districts 43 air sorties were done'.
The chief electoral officer said that the constituencies that went to the polls today were spread over seven districts for which as many as 1787 polling station at 1606 locations were set up, which included 85 critical and 558 hypersensitive ones.
"In order to improve the voting experience of the voters 92 model polling stations were established with innovative facilities," Narula said and added that 'web casting was done on 159 Polling Stations and 148 digital and 118 video cameras were deployed'.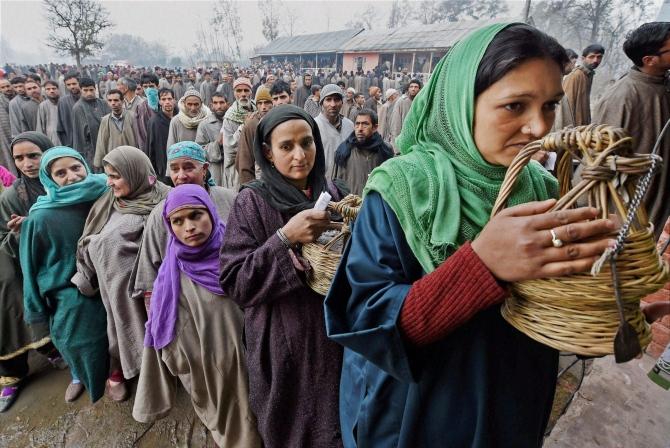 People wait in queues to cast their votes for assembly elections at a polling station in Bandipora district of Jammu and Kashmir. Photograph: S Irfan/PTI Photo
Narula said that 255 micro observers were also deployed during today's polling. He said 123 candidates were in the fray for these 15 constituencies which comprised 1061275 numbers of electors including 558178 male, 503086 female and 11 third gender voters.
The polling started at 8 am and ended at 4 pm.
The authorities had made elaborate security arrangements across the five constituencies spanning two districts of Ganderbal and Bandipore. Thousands of police and paramilitary Central Reserve Police Force troopers were deployed to guard the polling station and patrol the streets.
Elections in all the four constituencies of the cold desert region of Ladakh were completed in the very first phase. Despite biting cold voters came out to exercise their democratic right.
In the Jammu region where polling was held for six seats, a high voter turn was registered Tuesday.
Expressing satisfaction over the peaceful culmination of the first phase of voting with encouraging turnout, PDP president, Mehbooba Mufti said, "The trends emerging from today's polling show an overwhelming desire for change with Peoples Democratic Party clearly emerging as the foremost choice for the voters across Jammu, Kashmir and Ladakh."
"People are participating in this election to write a new script in the State's political history and the trend shows that they are enthusiastically voting for change," Mehbooba said while addressing a series of election rallies in Langate assembly segment of frontier Kupwara district.
With inputs from PTI