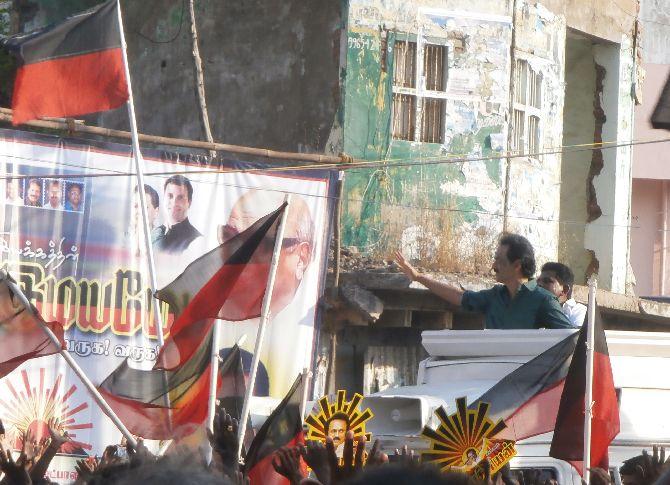 IMAGE: M K Stalin at the rally. Photographs: A Ganesh Nadar/Rediff.com
What is the man who hopes to replace Jayalalithaa like as a campaigner?
A Ganesh Nadar/Rediff.com reports from Thiruchendur.
With the Tamil Nadu assembly election due on May 16, Dravida Munnetra Kazhagam chief M Karunanidhi's son and political heir M K Stalin is on a whirlwind tour of the state, trying to rustle up votes for his party and its electoral allies.
On Monday, May 25, Stalin was in the temple town of Thiruchendur in Tuticorin district, southern Tamil Nadu, campaigning for DMK nominee Anitha Radhakrishnan, the sitting MLA for this constituency.
Radhakrishnan was earlier in the All India Anna Dravida Munnetra Kazhagam and has won the seat, both as an AIADMK and DMK candidate. He was also once a minister in the AIADMK government.
There are many candidates in the fray, but the most important is the Samuthva Makkal Katchi candidate, movie star Sharad Kumar, who is contesting on the AIADMK symbol.
The venue for Stalin's street meeting is at a little distance away from the Murugan temple which gives this town its name.
At 2 pm, a tanker is watering the area. The crowd is happy because it cools down the surroundings. Municipal workers are cleaning the site. A stage is set up and a live band is playing music.
The band is playing songs written for the DMK. No film songs. There are songs about Karunanidhi, Stalin and Radhakrishnan. There is a song about price rise. One song has these lines:
When there is a power cut in your home, there is UPS
When there is power cut for Jaya, there is OPS.
This refers to the times when Chief Minister J Jayalalithaa had to step down from office and appointed O Paneerselvam in her place.
The crowds starts swelling after 2.30 pm. Stalin is to make his appearance at 3 pm. An elderly man sitting next to me tells me, "This morning Stalin went walking along the sea shore asking for votes. He walks very briskly. He is very healthy and younger than the other chief ministerial candidates."
Stalin is 63. Jayalalitha is 68. Viajakanth, who has an outside chance of being chief minister, is a few months younger than Stalin.
A group of women are chatting among themselves. One says she has come only to see Stalin. Two women from her village return from a shopping expedition. "You couldn't wait for the rally to get over?" asks one woman.
After half an hour of waiting in the afternoon sun, some women get up and decide to go shopping for vegetables.
"I have never seen so many women at a DMK rally," one elderly man tells me. "This time they (women) won't vote for Amma (Jayalalithaa)."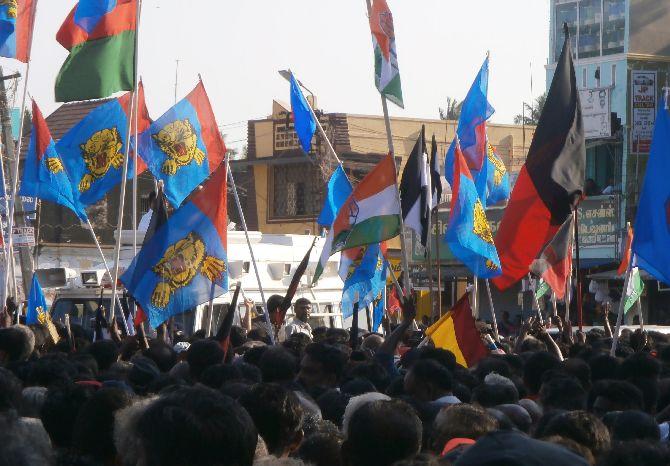 IMAGE: The crowd waits for Stalin.
Despite the burning sun, some men begin dancing on the road. Other young men distribute party flags. As time passes, these restless young men start marching up and down the road, their flags flying high.
Stalin finally makes an appearance at 4.15 pm. He appears on top of a mini bus along with Radhkrishnan. All the flag bearers start waving their flags.
Stalin says he is very happy to see such a huge crowd. "They paid Rs 200 per person to attend this rally," claims a person at the rally.
Most of the crowd has come from nearby villages in vans arranged by DMK workers. They come armed with bottles of water, well prepared for the summer heat.
Stalin mentions the late media baron Sivanthi Adithan in his speech. Adithan has established several colleges in Thiruchendur, which was his Lok Sabha constituency. His family owns the hugely successful Thena Thanthi newspaper. Stalin mentions that Adithan is a very good friend of his father and that Adithan's son has continued that friendship.
Then he describes in detail a news report shown on NDTV last week. The English news television channel, he informs his audience, had reported on the free gifts given by the AIADMK government.
NDTV, Stalin says, reported that the mixies, fans and grinders were of poor quality and did not work.
Stalin insists that the colour television sets that the DMK had given voters as gifts when it was in government were bought after a transparent tender and are still in good condition. The AIADMK government had spent more than Rs 8,000 crore (Rs 80 billion) on these freebies, he says, and declares that when (not if!) the DMK came to power, it would investigate this largesse.
He also promises the crowd that his party will introduce total prohibition in the state. This gets a shout of approval from the assembled women, but the men don't seem so happy. He says he had come to Thiruchendur many times and asks how many times had Jayalalithaa come. "None," shouts a section of the crowd.
Jayalalithaa, says the man who hopes to replace her as chief minister, had not visited any district in Tamil Nadu. The only district she visits regularly, Stalin tells the crowd, is the Nilgiris district (where her farmhouse is located). The crowd roars with laughter.
This is an election for change, he says, and asks if the crowd would vote for the DMK. "Yes!" roars the crowd. He then asks if they would vote for Radhakrishnan. The "Yes!" is louder this time.
Radhakrishnan, Stalin says, is a local while the other candidate (he does not mention Sharad Kumar's name) is an outsider.
As Stalin leaves, I wonder if the DMK can mobilise such a large crowd for a street meeting, how many would it rustle up for a public meeting. "Those days," recalls one attendee, remembering past election campaigns, "nobody brought us in vans for meetings like this."