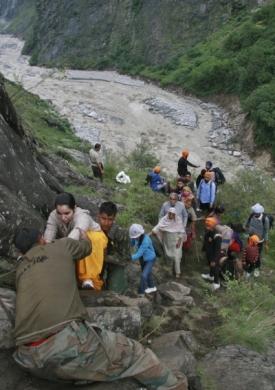 The Uttarakhand government will not allow any state to make unilateral efforts to evacuate its citizens stranded in the hill state, a move that comes in the midst of war of words on Gujarat Chief Minister Narendra Modi's claim that he had rescued over 15,000 people.
"There has been confusion after some state governments took separate initiatives to rescue their own people. From now onwards, there will be single coordination channel, which will be monitored by the Uttarakhand government for rescue operations," a senior official said.
The Uttarakhand government has made it clear that if any state government wants to send helicopters or other mode of transport, they should send them to the state government, which will make its best efforts to rescue the people of that state. "But no more unilateral initiative by any state government. We do not want any confusion," the official said.
Gujarat Chief Minister Narendra Modi, along with a team of his officials, had visited Uttarakhand during the weekend and claimed to have rescued more than 15,000 stranded Gujaratis. They were reportedly evacuated by two chartered planes and other modes of transport deployed by Gujarat government under the direct supervision of Modi.
Accusing Modi of milking the tragedy in Uttarakhand for political reasons, Congress leader and Information and Broadcasting minister Manish Tewari has dismissed reports that he had helped in evacuation of 15,000 stranded people and said the Gujarat CM wanted to become a "Rambo".