As the Delhi police continue to raid different premises linked to NewsClick, a team reached Communist Party of India-Marxist General Secretary Sitaram Yechury's residence on Tuesday morning to question his staffer Sri Narayan's son Sunmit Kumar.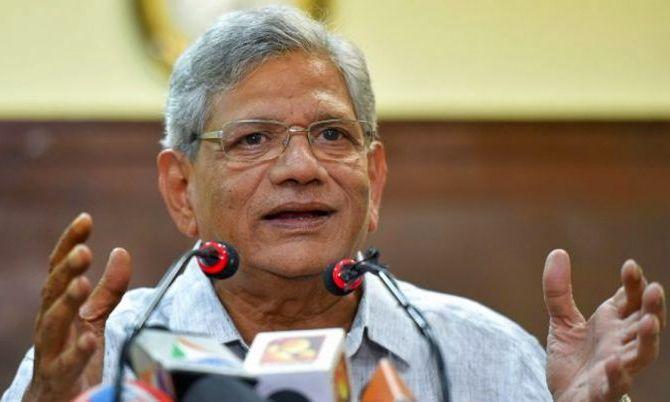 The raid team seized the mobile, laptop, and hard drive of Sunmit Kumar, who works at NewsClick, sources said.
Speaking on the matter, Sitaram Yechury told ANI this was an attempt to suppress the media, and the nation must know the reason behind these raids.
"The police came to my residence because one of my companions who lives with me there, his son works for NewsClick. The police came to question him. They took away his laptop and phone. What are they investigating? Nobody knows. If this is an attempt to try and muzzle the media, the country must know the reason behind this," Yechury said.
This comes as police officials brought NewsClick editor Prabir Purkayastha and writers Paranjoy Guha Thakurta and Urmilesh to the special cell offices in the national capital.
In Mumbai, teams of the Delhi police special cell and Mumbai police conducted searches at the residence of activist Teesta Setalvad.
Minister of Information and Broadcasting Anurag Thakur defended the police action against NewsClick saying that if anyone has done something, investigation agencies are free to carry out investigations.
"I don't need to justify... If anyone has committed anything wrong, search agencies are free to carry out investigations against them under set guidelines," Thakur told reporters in Bhubaneswar.
WATCH below: Yechury on why the Delhi police reached his home in NewsClick case
The raids are being conducted on a case registered on August 17 under the UAPA and other sections of IPC, which include UAPA, 153A of IPC (promoting enmity between two groups), and 120 B of IPC (criminal conspiracy).
Earlier, on August 10 a report in the New York Times had alleged that NewsClick was part of a global network that receives funding from American billionaire Neville Roy Singham.
Singham is known as a socialist benefactor of far-left causes, is at the centre of a lavishly funded influence campaign that defends China and pushes its propaganda.
Neville Roy Singham is said to have close ties to the Chinese government media machine.