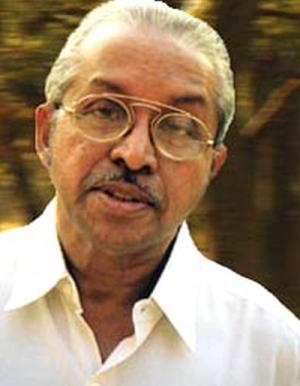 Jnanpith awardee and eminent Malayalam poet, lyricist and environmentalist Ottaplakkal Nambiyadikkal Velu Kurup, popularly known as ONV, passed away at a private hospital in Thiruvananthapuram on Saturday following cardiac arrest. He was 84.
Kurup, who was ailing for some time, was admitted to a private hospital here two days ago and was on ventilator support.
He breathed his last at 4.49 PM, hospital sources said. He is survived by wife, a son and daughter.
In addition to his valuable contributions to Malayalam literature, he is one of the leading lyricists in Malayalam film, drama and album industry.
He was part of many dramas by Kerala People's Arts Club, which has made a major mark in the revolutionary movements of Kerala.
Kalam Marunnu (1956) was his first film which was also the first film by famous Malayalam composer G Devarajan.
Kurup also contributed to progressive movements in the state through his theatre songs and writings. He has penned over 900 songs in over 200 films, besides numerous songs for plays and albums.
A recipient of several awards, the nation honoured him with Jnanpith in 2007 and also conferred on him the Padma Vibhushan in 2011.
Kurup was the fifth recipient of the country's highest literary honour for Malayalam language, after G Sankara Kurup, S K Pottekkat, Thakazhi Shivashankara Pillai and M T Vasudevan Nair.
ONV had made his presence felt in the state's cultural, social, educational and political fields for the last six decades.
His last public appearance was during the performance of Pakistani ghazal singer Ghulam Ali in Thiruvananthapuram last month, where despite ailing health, he turned up for the function and presented a memento to Ali.
Kurup, a Left sympathiser, who made his leanings known through his writings, had also tried his luck in politics by unsuccessfully contesting as LDF supported independent candidate from Thiruvananthapuram Parliamentary seat in 1989.
He also took up various environmental issues, including the Silent Valley agitation. His poem, Bhumikkoru Charamageetham (a Requiem for Dying Earth) in which he mourns for near dying Mother Earth, had won him accolades.
Noted lyrics penned by ONV are Arayaum Bhava Gayakannakum, Manjal Prasadavum and Arikil Nee Undayrunekal. The songs, Kurup penned for KPAC, one of the oldest theatre groups in the state, are still evergreen favourites of music buffs irrespective of generations.
His famous theatre songs include Ponnarivalambiliye, Ambiliammava, Bali Kudeerangale, Pambukalkku Malamilla.
ONV's partnerships with Salil Chowdhury and M B Sreenivasan were very popular in the Malayalam film industry.
His hit songs were with well known music directors, including G Devarajan, V Dakshinamoorthy, M S Baburaj, Raveendran, M K Arjunan, K Raghavan, Shyam, Johnson, Mohan Sithara, M G Radhakrishnan, S P Venkatesh, Ouseppachan and Vidhyadharan.
He bagged the National Award for the Best Lyricist in 1989 for the movie Vysali besides amassing state film awards for the best lyricist for over 10 times for his romantic but touching lyrics including in movies Vysali, Nakhakshatrangal, Ulkkadal, Gulmohar and so on.
In the literary front, he won Kerala Sahitya Akademi Award in 1971 for Agnisalabhangal, Kendra Sahitaya Akademi Award in 1975 for Aksharam besides Ezhutachan Puraskaram, Soviet Land Nehru Puraskaram, Vayalar Ramavarama Puraskaram, Mahakavi Ulloor Puraskaram, Asan Puraskaram and Odakkuzhal Award.
Chief Minister Oommen Chandy, his cabinet colleagues, were among those who condoled ONV's death.
"Keralites have lost a poet who immensely loved nature and people. He brought glory to the state by winning several prestigious awards, including Jnanpith. His demise is a great loss to the state's cultural and literary fields of the state," he said in a condolence message.
Kurup was born to O N Krishna Kurup and K Lakshmikutty Amma on May 27 in 1931 at Chavara in Kollam.
His childhood days were spent in his native village, where he studied in the local government school.
After graduating with a bachelor's degree in Economics from S N College, Kollam, he moved to Thiruvananthapuram where he joined Kerala University (then Travancore University) and pursued Master of Arts in Malayalam literature.
Kurup, who started his professional career as a college lecturer in Maharajas' College in Ernakulam, went on to work in various colleges, including Brennen College, Thalassery and University college, Thiruvananthapuram.
He also served as Chairman of Kerala Kalamandalam, a deemed University of Art and Culture.