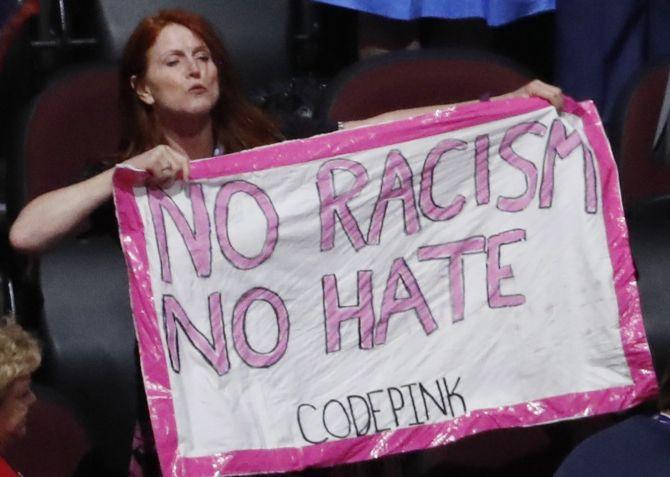 An Indian-origin man who was assaulted by a group of teenagers in Australia in an alleged hate attack has said that the racial mood is changing in the country and it could stem from the 'Trump effect'.
Li Max Joy, who is pursuing a nursing course and working as a part time taxi driver in North Hobart in Tasmania, alleged that five people including a girl hurled racial abuses like 'you bloody black Indians' at him and assaulted him up at the McDonald's restaurant.
However, the Australian High Commission in New Delhi said that whether the attack was 'racially-based' or not will be investigated.
The 33-year-old who hails from Kerala said the increasing racial hostility could stem from 'the Donald Trump effect', the Advertiser newspaper reported.
"The racial mood is definitely changing. It is continuous now. Many other drivers have been abused but not everyone reports it to the police," he said.
Joy said that he has been living in Hobart for eight years with his family and also narrated another such incident that happened with him a week ago.
"Last week in Glenorchy, I was waiting for a fare when a primary-school aged boy put water in his mouth and then came over to the car window and spat it out on me," Joy said.
Expressing regret over the incident, an Australian High Commission spokesperson said the government attaches great importance to the safety and security of everyone who resides in Australia.
'We regret the attack on taxi driver of Indian origin in Hobart which occurred over the weekend. We understand he suffered minor injuries and has been discharged from Royal Hobart Hospital.
'We place great importance on the safety and security of everyone who resides in Australia, including our Indian community,' the statement said.
It said, 'The matter is current and under investigation by Tasmania Police. Tasmania Police takes all assaults seriously. We understand that whether the assault was racially based will be a component of the investigation facts.'
The attack on Joy came a week after an Indian-origin Catholic priest was stabbed in the neck at a church in Melbourne by a man who called him unqualified to say mass as he was an Indian.
The issue, meanwhile, raised in the Lok Sabha on Monday by the Congress which sought the prime minister's intervention in ensuring the safety of large Indian population in Australia.
Parliamentary Affairs Minister Ananth Kumar said the safety of overseas Indians was a matter of priority for the government and it will not leave any stone unturned in ensuring their safety.
Raising the issue during the Zero Hour, Congress MP K C Venugopal said such attacks were on the rise in Australia.
Venugopal said it was a racial attack as the assaulters had hurled abuses like 'you bloody black Indians' at him.
"Li Max Joy was racially abused. It is a serious issue ... The government there is not making serious attempts to catch those involved in the assault," he alleged.
Replying to his contentions, Kumar said External Affairs Minister Sushma Swaraj takes up cases involving Indians with authorities of foreign governments and that safety of overseas Indians was a matter of priority for the government.
"It is a matter of serious concern...we are with the overseas Indians. We will leave no stone unturned to ensure safety of Indians abroad," said Kumar.
Venugopal also raised the stabbing of the Indian-origin priest in Melbourne and demanded a strong response by India to such incidents. He said these were not stray incidents.
Since Donald Trump won the Presidential election, there has been a dramatic uptick in hate crimes and racist incidents in the United States.
Last month, a 32-year-old Indian engineer was killed and another Indian man was injured after a Navy veteran yelling 'get out of my country' and 'terrorist' opened fire on them at a bar in Kansas City in an apparent racially motivated hate crime.
Representative image. Photograph: Mark Kauzlarich/Reuters