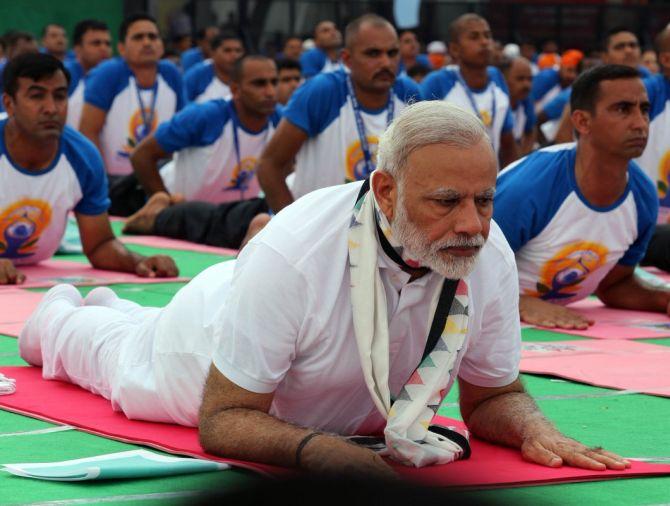 The country is all geared up to roll out yoga mats on Thursday to mark the fourth International Day of Yoga, with Prime Minister Narendra Modi scheduled to lead about 55,000 enthusiasts in performing asanas in Dehradun.
"About 5,000 events will be held across the country to mark International Day for Yoga (IDY)," a senior AYUSH ministry official said.
Ahead of the Yoga day, the prime minister posted a video on his Twitter handle giving a message that yoga is a 'passport' to health assurance and not just a set of exercises that keeps the body fit.
'Yoga is the journey from 'me' to 'we'. It promises balance, calm, helps boost concentration and gives immense strength. As we approach the #4thYogaDay, I urge people around the world to make Yoga a part of their lives (sic),' Modi had tweeted.
Besides celebration is various districts and states which are being organised by state government in coordination with NGOs, the Union ministers will go to different venues, inside the national capital and outside to lead yoga events.
In New Delhi, eight events have been planned with the main event being held in Rajpath.
The New Delhi Municipal Council will be organising events at Lodhi Garden, Nehru Park, Talkatora Garden and Rajpath.
Besides, around 50,000 yoga enthusiasts including women personnel from various Central Armed Police Forces such as Border Security Force, Central Reserve Police Force, Central Industrial Security Force will participate in a yoga event at Red Fort organised by Brahma Kumaris.
Yoga functions will also take place in Patanjali Yoga Samiti in Dwarka and Art of Living in Rohini.
Several ministries, like the Ministry of AYUSH has launched mobile app 'Yoga Locator' giving details of yoga activities in a particular surrounding area, while the Ministry of Women and Child Development has launched '#YogaFor9to5', a contest to generate awareness on the benefits of yoga at workplace for women.
Vice President Venkaiah Naidu will lead the Yoga Day programme at Bandra Reclamation Sealink Promenade in Mumbai on Friday morning, an official said.
Besides, celebrations will take place in more than 150 countries, with Indian missions coordinating activities in landmark places, the ministry official said.
On Sunday, Modi had shared through his Twitter handle photographs to various countries on practise sessions in the run-up to Yoga Day.
In India, the biggest gathering will be at Dehraudun's Forest Research Institure where the Prime Minister and about 55,000 others will stretch and bend in various yogic postures.
Elaborate security arrangements have been put in place with commandos and paramilitary forces deployed to ensure no untoward incidents take place.
In Delhi, eight events have been planned in the national capital with the main event being held in Connaught Place.
The centrepiece of the first IDY celebration on June 21, 2015 was New Delhi's Rajpath, with the event making it to the Guinness World Records with 35,985 participants performing asanas at one venue and 84 nationalities being part of it.
Last year, the main function was at Lucknow.
The United Nations General Assembly in December 2014 had declared that June 21 would be observed as International Day of Yoga every year, a move for which India had lobbied hard.
Meanwhile, top Muslim bodies said on Wednesday that Yoga should not be used as a political tool or linked to a particular community, .
The organisations also said that Yoga should be seen as form of exercise and not through the prism of religion.
"Islam lays special emphasis on physical fitness and considers things related to fitness as good. Yoga as an exercise is good, but it should not be made compulsory which may not be acceptable to people of other religions.
"The most important thing is that Yoga should not be used as a political tool. But, sadly this practice is going on," All India Muslim Personal Law Board spokesman Sajjad Nomani told PTI.
He also said that people of every religion and section of society should be encouraged to celebrate Yoga Day.
"It is unfair to force upon someone any particular exercise. There should be no dispute vis-a-vis Yoga. People of every religion and section of the society should be encouraged to celebrate International Yoga Day.
"It is important that Yoga should be perceived as a rahmat (mercy) and not a 'zahmat' (worry)," the spokesman said.
The All India Shia Personal Law Board (AISPLB) was of the view that Yoga should not be linked to a community.
"Yoga should not be seen as something linked to a particular community. It is related to the body only. People who have the habit of seeing Yoga through the prism of religion, actually want to see humanity in a sick state of affairs," AISPLB spokesperson Yasoob Abbas said.
He said several Islamic nations celebrate International Day for Yoga and people participate happily in events.
On Muslims generally having objections to chanting of mantras during different Yoga asanas, Abbas said, "There is no doubt that Muslims worship Allah alone. But, Islam is not that weak that it will break at the slightest instance and moreover, Yoga is not a God."