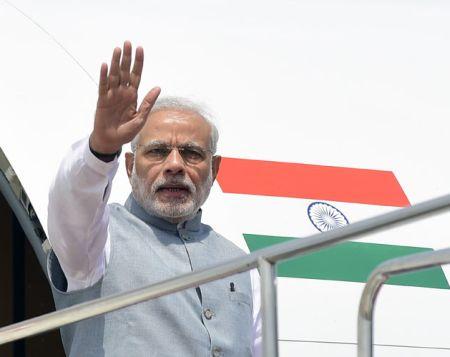 A busy yet highly industrious weekend awaits Prime Minister Narendra Modi, who has a smorgasbord of activities on his plate ranging from infrastructure, justice and diplomacy to spirituality and technology.
On April 1, Prime Minister Modi will be hosting his visiting Malaysian counterpart Najib Razak for bilateral talks at Delhi's Hyderabad House.
The very next day he will dedicate to the nation, India's longest road tunnel, the strategically crucial Chenani-Nashri Tunnel, which will significantly improve connectivity between Jammu and Srinagar.
After a visit to the state-of-the-art tunnel, he will also address a public meeting at Udhampur, sources state.
Later in the day, Prime Minister Modi will be at Allahabad to attend the closing celebrations of the 150th anniversary of the Allahabad high court.
This weekend comes in the midst of the Chaitra Navratra -- a nine-day period of fasting and spiritual importance for the prime minister.
Despite rigorous fasting and hectic schedule, Prime Minister Modi will take time out to address some of India's sharpest young "tech" brains, who are taking part in the final round of the Smart India Hackathon that will take place over two days from 8 am on Saturday to 8 pm on Sunday.
It will focus on social issues and problems identified by 29 ministries and departments of the Union government. About 10,000 participants have qualified for the final round.
Prime Minister Modi will address the participants at 10 pm on Saturday. The address, expected to last for about 45 minutes, will be followed by an interaction with the participants across multiple locations.
The hackathon is scheduled for a 36-hour period from 8 am on Saturday to 8 pm on Sunday. As 10,000 youth put their brains together to find innovative solutions to problems in the same 36-hour period, Prime Minister Modi will be focusing on a diverse range of topics from diplomacy to infrastructure, justice, technology and spirituality.