In significant push towards a less-cash economy, Prime Minister Narendra Modi on Friday announced starting a biometric payment system using Aadhar platform within two weeks even as he exhorted citizens to adopt digital currency from the new year.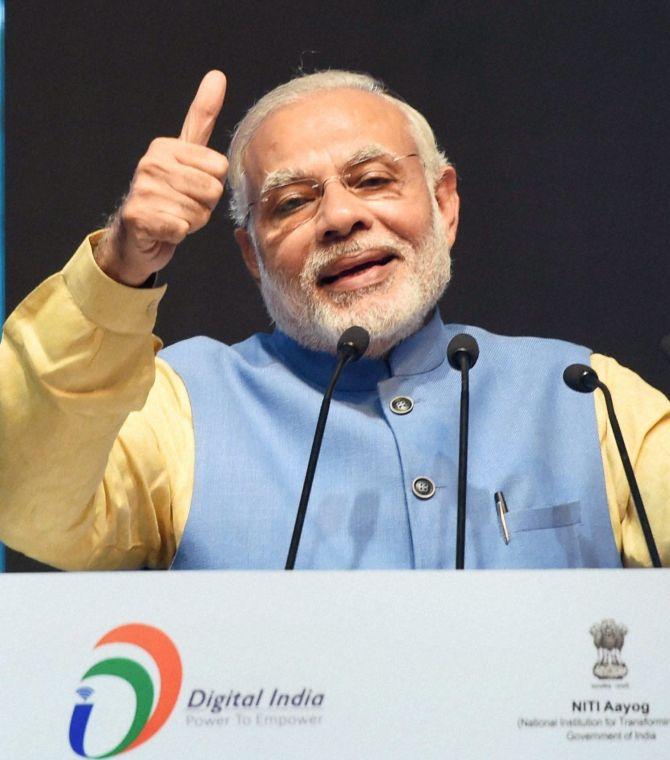 IMAGE: Prime Minister Narendra Modi addresses during the launch of a new mobile app 'Bhim' to encourage e-transactions at Talkatora Stadium in New Delhi. Photograph: Subhav Shukla/PTI Photo
After card payments and e-wallets, payments through the new system can be made by just a thumb impression after the bank account is linked with Aadhaar gateway, he said at a DigiDhan Mela, an event organised to celebrate the success of digital currency push.
Modi used wit and humour to take swipes at his political opponents for criticising demonetisation saying the drive was aimed at catching the "mouse" that eats away the nation's wealth.
Though he did not name anyone, his comments were directed towards Opposition parties which have been criticising the demonetisation move for yielding minuscule results in unearthing black money.
Scoring a political point, he said a new indigenously developed payment app 'BHIM' has been named after the main architect of Indian constitution, Bhim Rao Ambedkar.
Elaborating on Bharat Interface for Money or BHIM app, Modi said it is a simple app that can be used for making and receiving payments through smartphones or even feature phones.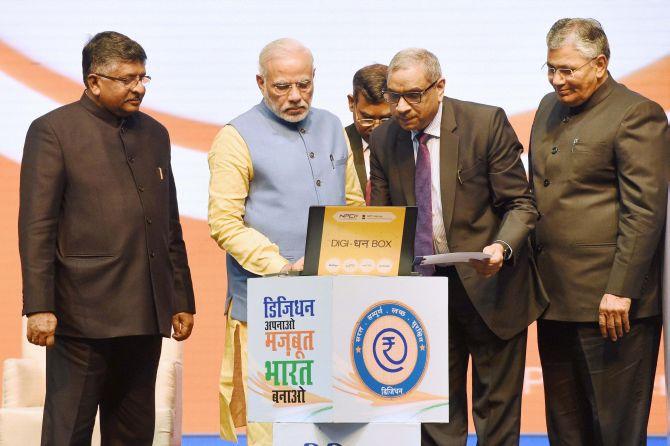 IMAGE:

Modi inaugurates the first weekly draw for Lucky Grahak Yojana and DigiDhan Vyapar Yojana. Union Minister for Electronics and Information Technology and Law and Justice Ravi Shankar Prasad is also seen.

Photograph: Subhav Shukla/PTI Photo
The name 'BHIM' is in recognition of the contribution of Bhim Rao Ambedkar for the upliftment of poor and marginalised sections of society.
"Through this app, Bharat Ratna Bhim Rao Ambedkar's name will take the centre-stage in India's economy. The day is not far, when people will conduct their business through this app," he said.
As regards the Aadhar-linked payment system based on thumb impression, Modi said the government is currently working on its security aspects and it would be launched in a two weeks' time.
There was a time when illiterate persons were ridiculed as "angoothachhap", Modi said adding "the times have changed, now your thumb will be your bank, identity and business".
He further said the government has issued over 100 crore Aadhar numbers and there are more than 100 crore mobiles and once the country goes digital, "it can create history".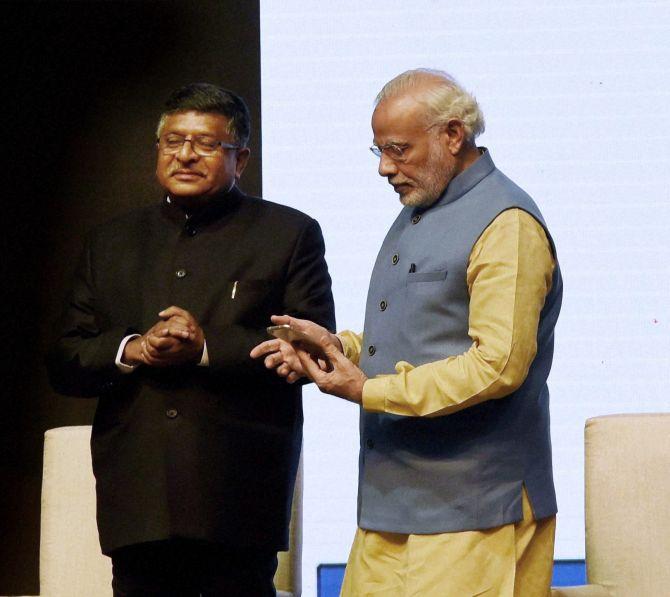 IMAGE: Narendra Modi and Ravi Shankar Prasad during the event. Photograph: Subhav Shukla/PTI Photo
Technology, he said, will empower poorest of the poor, small business and the marginalised section.
The Prime Minister said the world wondered how could India, a country of illiterates, can used EVMs in the elections.
"Some people are pessimists in their hearts and minds, They start their days with pessimism. They may live with that," he said, adding that India is accepting the change today and in share markets crores of people are using demat accounts.
Referring to the critics, Modi said: "For the pessimist, I cannot offer any medicine but for optimists, I have thousands of avenues".
He further said that even barbers and washer men can use digital payments and present their mobile records to borrow money from banks.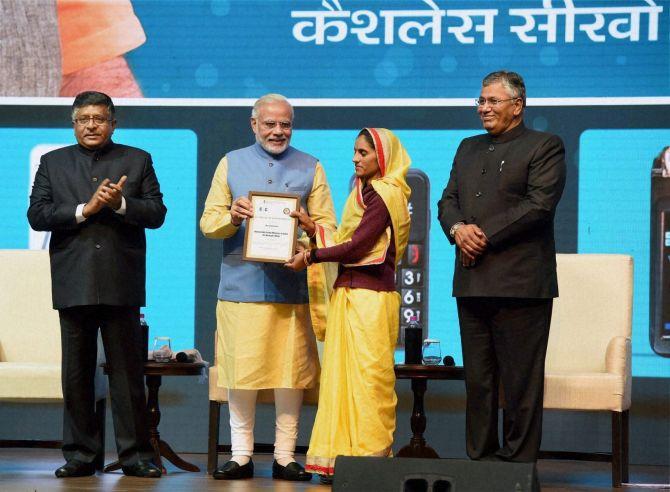 IMAGE:

Modi felicitates the first set of 7,229 winners of Digi Dhan

. Photograph: Subhav Shukla/PTI Photo
Modi said, three years ago, newspapers were full of reports about how much was lost on account of scams like coal allocation and 2G but now everyone is talking about how much has been deposited in bank accounts following the demonetisation.
Responding to a comment that demonetisation is like finding a mouse after digging a hill, he said in a lighter vein that catching mouse is important as it eats away the wealth of poor.
Recalling that India, once described as golden bird (Sone ki Chidiya), became poor due to certain mistakes, Modi said the country has the potential to regain its past glory.
The Prime Minister also appealed to the people to undertake at least five transactions daily through mobile phones and let the country lead the digital movement.