Prime Minister Narendra Modi on Friday dedicated birth anniversary of Sardar Vallabhbhai Patel as National Unity Day, saying a nation that disregards its history cannot create one and made a veiled reference to anti-Sikh riots that followed then Prime Minister Indira Gandhi's assassination this day 30 years ago.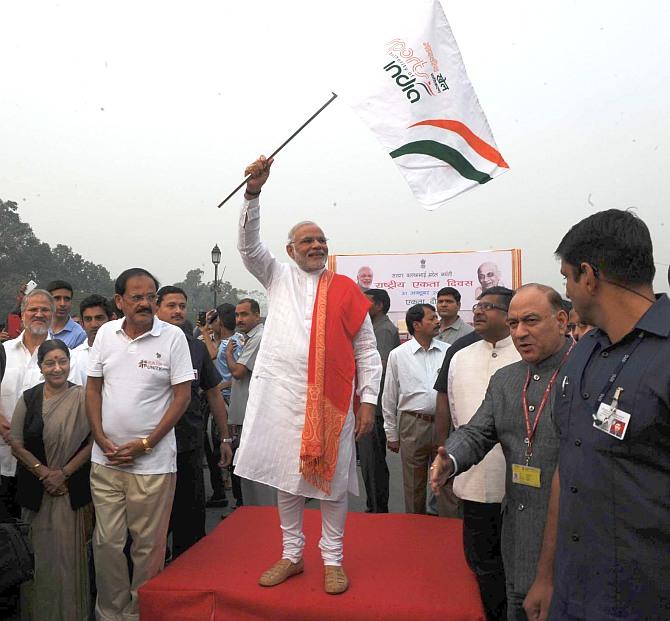 Image: Prime Minister Narendra Modi flagging off Run for Unity, at the Rajpath on the occasion of Rashtriya Ekta Diwas Celebrations, in New Delhi. Urban Development, Housing and Urban Poverty Alleviation and Parliamentary Affairs minister M Venkaiah Naidu, External Affairs and Overseas Indian Affairs minister Sushma Swaraj, Communications & Information Technology and Law & Justice minister Ravi Shankar Prasad and other dignitaries are also seen. Photograph: PIB Photo
Got up as an event to accord Sardar Patel, the 'Iron Man of India', his place in history, the Government made it clear that this was no attempt to belittle the contribution of any other leader.
"Let us not forget that a nation that disregards its history can never create one...Don't divide history, legacy in narrow confines of ideology," Modi said.
Flagging off run for unity on the 139th birth anniversary of the first Home Minister of the country celebrated as "Rashtriya Ekta Divas", Modi said Patel devoted his life for the unity of the Nation and it was unfortunate that "our very own people" were killed on his birth anniversary 30 years ago.
In an apparent reference to riots which took place after the assassination of then Prime Minister Indira Gandhi in 1984, Modi said, "Patel never deviated from his vision of national unity despite facing obstacles in his political life.
It is a misfortune of this country that 30 years ago on the birth anniversary of such a leader an incident which shook the unity of nation took place."
"Hamare apne logon ko maut ke ghaat utar diya gaya (our own people were killed on that day). That incident was not a wound on the hearts of people of a particular religion it was a dagger into the heart of thousands of years of country's heritage and culture," he said.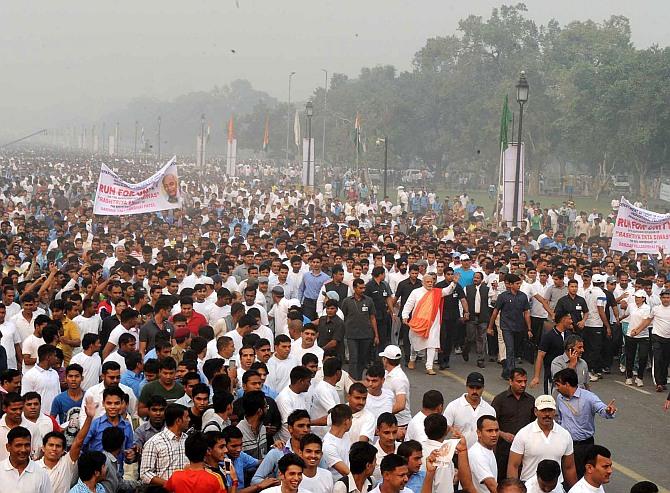 Image: Prime Minister Narendra Modi at Run for Unity, at the Rajpath for Rashtriya Ekta Diwas Celebrations, in New Delhi. Photograph: PIB Photo
He also noted that it was also the death anniversary of former Prime Minister Indira Gandhi.
Remembering the contribution of Patel in the Independence movement, Modi said Mahatma Gandhi had entrusted him with planning of historical Dandi march which he successfully did.
"When we see Ramakrishna Paramhans he appears to be incomplete without Swami Vivekananda. Similarly when we see Mahatma Gandhi, he also appears incomplete without Sardar Patel," he said.
Earlier welcoming the Prime Minister, Urban Development Minister Venkaiah Naidu said, "Had Sardar Patel been the first Prime Minister of the country, history would have been different. This is how many people feel."
He also said the celebration was not aimed at belittling the contribution of any other political leader.
Sangh has always felt that successive governments had held the contribution of Jawahar Lal Nehru and those of the Nehru-Gandhi family in higher regards over others.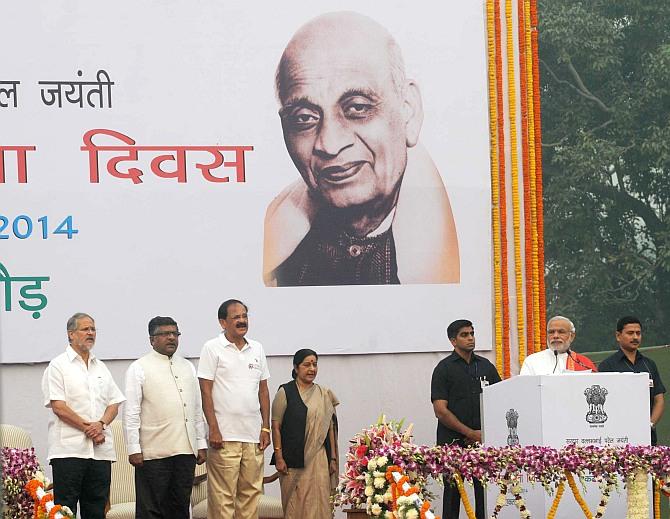 Image: Prime Minister Narendra Modi administering the pledge on Rashtriya Ekta Diwas Celebrations, at Rajpath, in New Delhi. Photograph: PIB Photo
After flagging off the "unity run" which saw participation of athletes like Sushil Kumar, Vijender Singh, cricketers Virendra Sehwag and Gautam Gambhir, Modi made a brisk walk leading the run.
Flanked by Union Ministers Sushma Swaraj, Naidu, Arun Jaitely among others, the Prime Minister administered the oath of unity to participants
Earlier, Modi offered floral tributes to the statue of Sardar Patel at Patel Chowk which was decked up for the occasion.
Modi also compared Patel with Chanakya, saying, "The country can never forget Sardar Patel. Centuries ago, Chanakya conducted a successful experiment of establishing a strong set up by uniting small princely states.
"Post Independence, the same great work was done by the man whose birth anniversary we are celebrating today, Sardar Vallabhbhai Patel," he said.
"It is unfortunate that the man who dedicated his life for the unity of India, faced criticisms and opposition, suffered hurdles in his political career but was never deterred from his goal of uniting the country," the PM said.
"Our culture and legacy is of unity in diversity. Let us rise over differences of creed, community, language," he said while addressing the participants of the unity run.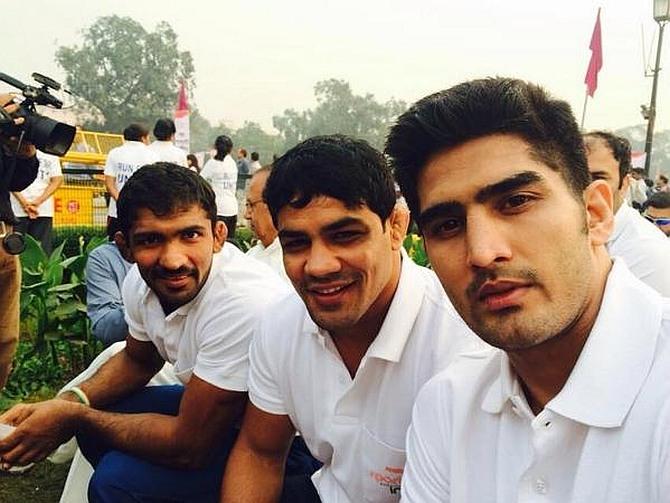 Image: (right to left) Sports icons Vijender Singh, Yogeshwar Dutt, Sushil Kumar. Photograph: Twitter
Modi said Sardar Patel unified the country through his skill, vision and patriotism.
Recalling his role in uniting the entire country after partition, Modi said "Sardar Patel demolished Britishers' plan to divide India in many small regions. He single handedly merged all 550 regions with the country."
Modi also lauded Patel's vision and diplomatic abilities in uniting the farmers in the freedom struggle against the British rule and said, "His act of consolidating the farmers as a force in the freedom movement dashed the dreams of the British to break India into small parts.".
Exhorting people to rise above casteism, communalism and language barriers to keep the country united, he said, "Sardar Patel gave us one India, we have to make it great India."
As soon as he flagged off the run, participants asked the Prime Minister to lead them and he led the run for some distance.
Highlighting the contributions of Patel, Union Minister Naidu said, "As a student I used to think that history has not done justice to Sardar Patel who had single handedly unified the country. Had Sardar Patel been the first prime minister of India, the fate of the country would have been different, the situation would have been different".