Prime Minister Narendra Modi on Tuesday sought to address concerns of international community over India not signing the non-proliferation treaty by saying that the country's commitment to peace and non-violence is engrained in the "DNA of Indian society" which is above any international treaty or processes.

"India is a land of Lord Buddha. Buddha lived for peace and suffered for peace and that message is prevalent in India," Modi said at Sacred Heart University in Tokyo while replying to a question by a student.




During an interaction, he was asked how India would enhance trust of the international community without changing its stand on Nuclear Non-Proliferation Treaty, which it has refused to sign despite possessing nuclear weapons.
Read PM Modi's lecture at University of Sacred Heart

Modi used the land of Japan, which is the only country to have been the victim of an atomic bomb attack, to send out the message on this issue amid moves to have a civil nuclear deal with Tokyo. India refuses to sign the NPT because it considers it as flawed.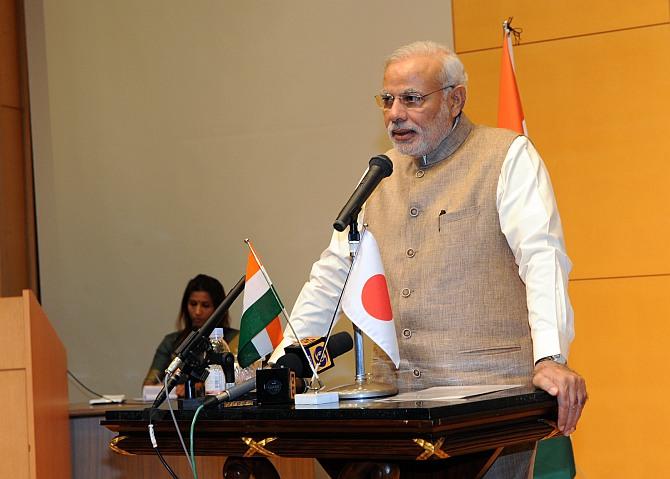 Asserting that India's "commitment to non-violence is total", Modi said it is engrained in the "DNA of Indian society and this is above any international treaty", apparently referring to India's refusal to sign the NPT.

"In international affairs, there are some processes. But above them is the commitment of the society," he said, underlining the need for rising "above the treaties".

To buttress his point, the Prime Minister cited how India undertook the freedom struggle under the leadership of Mahatma Gandhi with the entire society being committed to non-violence, surprising the whole world.

He went on to add that India, for thousands of years, has had the belief in 'vasudhaiva kutumbakam' (the whole world is one family). "When we consider the whole world as one family, how can we even think about doing anything that would harm or hurt anyone?"

The question was asked in the context of India recently ratifying the Additional Protocol on Safeguards Agreement signed with IAEA that will allow inspectors of the atomic watchdog easy access to India's civil nuclear facilities.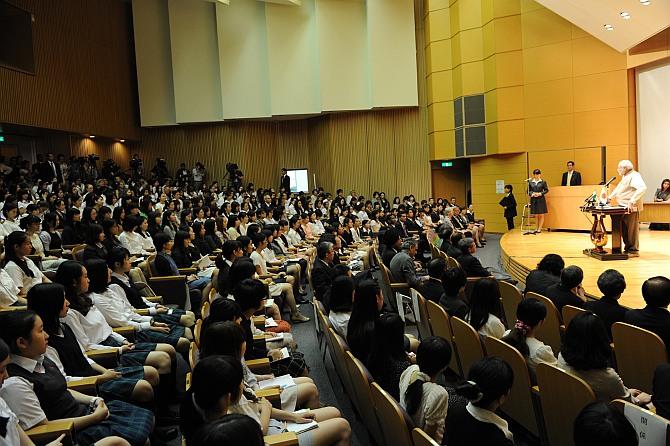 During the interactive session, the Prime Minister was asked by another student about how peace could be pursued in Asia despite China's "expansionist" designs.

"You seemed to be troubled a lot by China," he quipped while addressing the student amid his observation that they were asking questions like journalists.

Speaking further, he carefully avoided any direct answer to the question and merely said, "India is a democratic country. Similarly, Japan is also a democratic country. If India and Japan together think about peace and positive things, we can make the world realise the strength of a democracy. We should focus on progress and development instead of paying attention to others. If we pay attention to our situation, our condition will be better."

He then narrated an imaginary story. "Imagine, there is darkness in a room. Someone goes inside with a broom to remove the darkness but he will fail. Another person goes inside with a sword to remove darkness. He will also fail. Another person goes with blanket to remove darkness, but he will also fail. Then a wise man goes with a small lamp, the darkness will be chased away. A lamp peace, prosperity and democracy will never be scared of darkness."

Modi, who virtually turned into a professor at the university, also gave a lesson to the Japanese students on Indian ethos in terms of respecting the nature when asked how a rapidly-growing India would preserve ecology while pursuing sources of energy.

"India is such a country where people love and communicate with nature," he said.

In this context, he said earth is respected as mother, moon is treated as 'mama' (uncle), sun and Himalayas as grandfather, rivers as mother while trees are worshipped like God.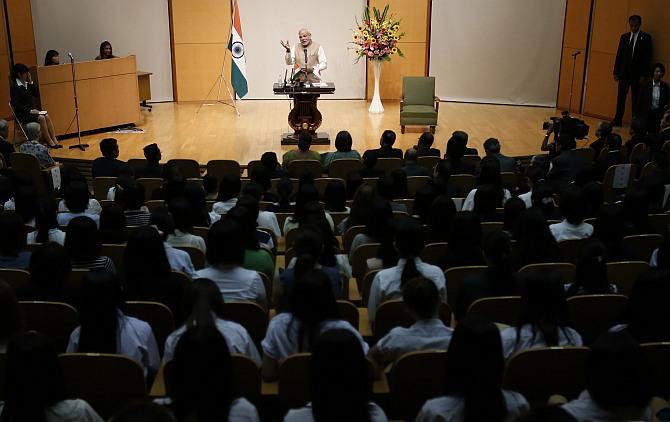 "Let me tell you my own story. I come from a poor family. My uncle once started wood business but my illiterate mother told him that it is a sin to cut trees and the family would rather prefer to starve," Modi said.

He said if such is the treatment given to nature, then Indians can't harm the climate.

Referring to the terminology of Climate Change, Modi questioned whether it is correct. "Is it climate change or habit change? Our habits have changed and we are fighting the nature. We should rather have communication with nature."

He then suggested the students to read his book Convenient Action on climate.

Earlier, he told the assembly of all girls about the status of women in India, saying they are worshipped as goddesses in various forms.

"India is the only country which has gods in the shape of female," he said. Coining his sentence in the context of a Cabinet, he said education is linked to Goddess Saraswati, finance to Goddess Laxmi, Security and Home Affairs to Goddess Mahakali and Food Security to Devi Annapurna.

He also pointed out that women have 33 per cent reservation in local bodies in India.

He talked about his personal attachment to the girls' education. In this context, he stated that while leaving Gujarat when he became the Prime Minister, he had auctioned all the gifts he had got during his 14-year tenure as chief minister.