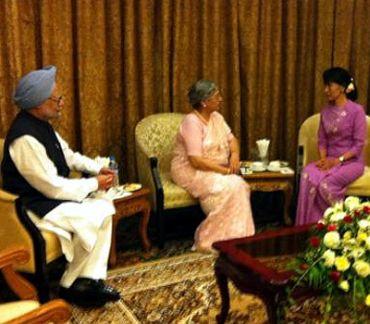 In the highest-level contact between India and Aung San Suu Kyi, Prime Minister Manmohan Singh on Tuesday held talks with Myanmar's democracy icon in Yangon and handed over to her an invitation from UPA Chairperson Sonia Gandhi to visit India which has a "long-standing association" with her.

Dr Singh, the first Indian prime minister to visit Myanmar in quarter of a century, and Suu Kyi held discussions for 45 minutes.

During their meeting which took place on the last day of the Prime Minister's historic visit, Singh handed over to the Nobel laureate an invitation from Sonia Gandhi to visit India to deliver the next Jawaharlal Nehru memorial lecture.

Accepting in principle the invite, Suu Kyi said "I hope I will be able to take up the invitation not before too long".

Emerging from the meeting at the Sedonia Hotel, where the 66-year-old opposition leader of Myanmar called on the prime minister by sticking to protocol, Suu Kyi recalled the close association she and her parents had with Pandit Jawaharlal Nehru and his family.

"India and Burma have been friends not only because of geographical proximity but also because of shared values, heritage and fight for independence," she said.

Speaking first, the prime minister paid rich compliments to Suu Kyi, saying her "struggle and her determination has inspired millions of people all over the world".

"We in India are very proud of the very long-standing association with her (Suu Kyi) and the members of her family," Dr Singh said.


Dressed in violet "longyi" (sarong) and a flip-fop, Suu Kyi, who has strong personal ties with New Delhi where she studied in Convent of Jesus and Mary School and Lady Sriram College in early 1960s, said "I particularly remember Pandit Jawaharlal Nehru".

"The struggle for India's independence took place at the same time as the struggle for Burma's independence. My parents were great admirers of Pandit Jawaharlal Nehru and other Indian leaders but we were particularly close to Panditji as I was taught to call him from a very young age," she said.

Suu Kyi said it has been "a great pleasure and privilege to meet Prime Minister Manmohan Singh and I very much appreciate the fact that he has made time to see me here in Rangoon (Yangon) in spite of his very heavy programme."

Dr Singh said "I have invited her (Suu Kyi) to visit India."

"I sincerely hope that she will find it possible to visit India soon," he said. "In his context, I have handed over to her the invitation letter to deliver the Jawaharlal Nehru Memorial Lecture which is a very prestigious lecture. Mrs Sonia Gandhi has written an invitation letter to Madam (Suu Kyi) to do us the honour to deliver this lecture in India."

Suu Kyi was chosen by India in 1993 for the Jawaharlal Nehru Award for Peace and International Understanding but has not received it so far as she was kept under house arrest by the military regime in Myanmar for much of the time since her return to the country in 1988

until she was freed last year.

Dr Singh said "it has been a great honour, a great privilege" to interact with Suu Kyi.

The prime minister said India hopes that Suu Kyi "will play a defining role" in the national reconciliation and political reforms launched by Myanmar President Thein Sein.

Suu Kyi, on her part, said "we are pursuing our democratic goals on the basis of peace and stability".

She said the two countries have "learnt much from each other" and the "real friendship between them is the friendship between their people".

After the joint media interaction with Suu Kyi, Dr Singh told a select group of journalists that "I enjoyed talking to her. I learnt a great deal about what empowerment is all about".

When pointed out that she had faced a lot of threats to her life last year, Suu Kyi, the leader of the National League for Democracy, said "I don't think one should ever be scared".

The meeting between the Prime Minister and Myanmar's leader of the opposition came a day after Singh met President Thein Sein in the country's capital Nay Pyi Taw.

Dr Singh is the first Indian Prime Minister to visit Myanmar since Rajiv Gandhi's trip to this country in December, 1987.

None of the top Indian leaders, including former President A P J Abdul Kalam and Vice President Hamid Ansari, had in the past been able to meet Suu Kyi during their visits to Myanmar.

Observers of India-Myanmar relations also attached considerable significance to Suu Kyi calling on the Indian Prime Minister, in a break from the recent practice of several foreign dignitaries, including British Prime Minister David Cameron, US Secretary of State Hillary Clinton, UN chief Ban Ki-moon and South Korean President Lee Myung-bak going to the democracy icon's lake side residence in Yangon.

In order to meet the Prime Minister, Suu Kyi pushed back her proposed departure for Bangkok to attend a World Economic Forum meeting in her first visit abroad in 24 years.

Suu Kyi's ties with India go back to the days when her mother was this country's Ambassador to New Delhi in early 1960s.

India had shunned Myanmar's military generals by openly supporting Suu Kyi and choosing her for the Nehru Award for Peace and International Understanding in 1993.

However, New Delhi began engaging Myanmar's junta in the mid-1990s on security and energy issues and as an apparent counter to China's growing grip on this country.