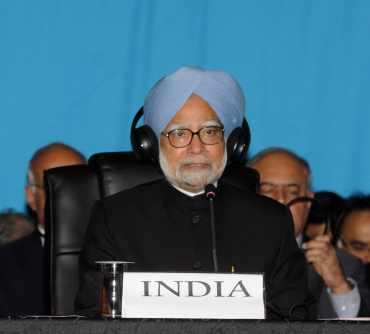 Prime Minister Manmohan Singh on Thursday left Durban for home, ending a four-day visit during which he attended BRICS (Brazil, Russia, India, China and South Africa) Summit that decided to establish a development bank to finance infrastructure projects in emerging economies.
Dr Singh was accompanied by a high-level delegation including Finance Minister P Chidambaram, Commerce Minister Anand Sharma and National Security Adviser Shivshankar Menon.
On the sidelines of the summit, Dr Singh met China's new President Xi Jinping and Russian President Vladimir Putin.
During his first face-to-face meeting with Xi, who took over as president earlier this month as part of the once-in-a-decade change of guard in China, Dr Singh pledged to intensify dialogue and communications with the new leadership of China and to put the ties on an even higher growth trajectory.
The PM is understood to have conveyed to Xi concerns in India over the Chinese proposal to construct three dams across the Brahmaputra river in Tibet.
In his meeting with Putin, Dr Singh gave assurance to him that the Kudankulam Unit I of the atomic power reactor in Tamil Nadu will become operational by next month. The two leaders also discussed the situation in Syria and Afghanistan. Putin also expressed his hope that Dr Singh should attend the G-20 Summit in St Petersburg in September this year.
During the summit, BRICS nations decided to launch a development bank to finance infrastructure projects and to create a $100 billion contingency fund to tackle any financial crisis in emerging economies, in what is seen as a major win for India's campaign to reform global financial architecture. The idea of the bank, mooted by India last year during its presidency, has been supported by China.
Together the BRICS account for 25 per cent of global GDP and 40 per cent of the world's population. With a combined GDP totaling around $14 trillion, the BRICS have accounted for 30 per cent of global economic growth since Goldman Sachs coined the BRIC acronym in 2001.
Last year, intra-BRICS trade soared to $282 billion, up from only $27 billion 10 years ago.

Image: Prime Minister Dr Manmohan Singh addressing the plenary session of the Fifth BRICS Summit at Durban | Photograph: Press Information Bureau