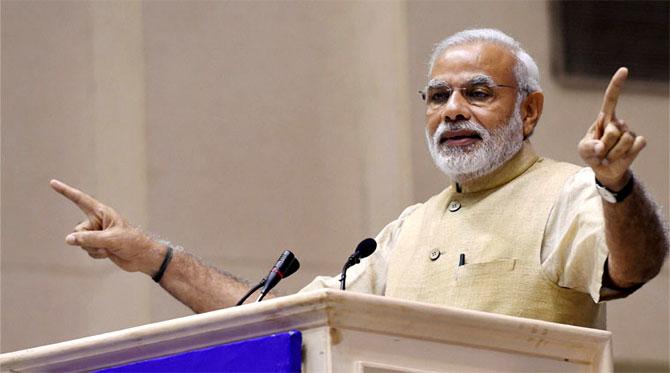 The Delhi high court on Tuesday stayed three separate Central Information Commission orders imposing Rs 25,000 penalty on Delhi University's public information officer for rejecting Right to Information applications seeking facts about the graduation degrees of Prime Minister Narendra Modi and Union minister Smriti Irani.
Justice Sanjeev Sachdeva observed that the RTI applicants 'wasted judicial time' by filing 'frivolous' pleas before the CIC for rejection of their applications on technical grounds, instead of addressing the deficiencies pointed out by the central public information officer of Delhi University.
The CPIO had rejected the three RTI queries on the ground that the Rs 10 Postal Order meant for fees for providing the information, was blank in one and in the other two cases, they were made out in favour of the CPIO.
The official had informed the applicants that they had to make the POs in favour of the registrar of DU and against the rejection on this ground the applicants had moved the CIC.
"Only for a matter of Rs 10, see how much judicial time has been wasted. Especially when the IPO was blank, CPIO could not have filled it up as it would amount to tampering with the record," the court said while staying the three orders of CIC.
It also issued notice to the RTI applicants in all three matters and listed them for hearing on April 27.
According to DU's pleas, in the matter pertaining to Irani, applicant R K Jain had left the PO blank, leaving it to the CPIO to fill it up in whose favour it had to be made.
In the other two matters, the POs were made out in favour of the CPIO, who had returned the applications within a few days asking the applicants -- Mohd Irsad and Sanjay Singh -- to make the POs favouring DU Registrar, the varsity said in its pleas.
The court noted that in these two matters, the CPIO had 'acted with promptitude' by pointing out the problem in the applications and it was the applicants who had 'acted in haste' by moving the CIC.
The CIC had imposed Rs 25,000 penalty against the CPIO in each of the three cases for denial of information to the applicants.
The court stayed the orders of December 22, 23 and 27 last year.