As the nation woke up to images of Prime Minister Narendra Modi splashed across the front page of newspapers in advertisements issued by Reliance Industries to announce the launch of its 4G services, Shiv Sena's Member of Parliament from the tony Mumbai South constituency, Arvind Sawant, was not impressed.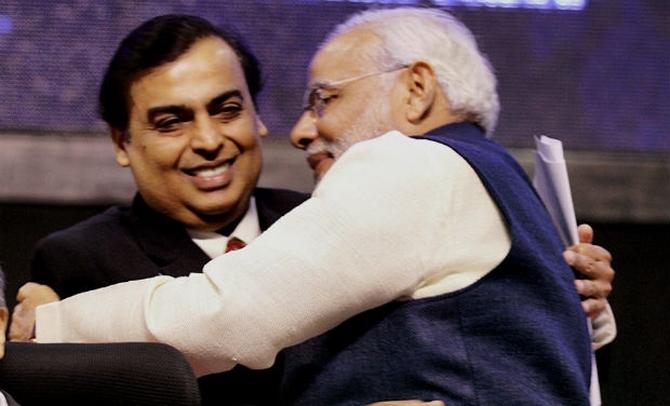 Sawant, who once headed the MTNL's trade union Kamgar Sena, soon tweeted, 'Who is in whose mutthi?', raising objections to "blatant misuse" of the Prime Minister Narendra Modi's photograph by Reliance.

"It is slavery. Let the whole world know kon kunachya muthit aahe (who is whose hand)," he reacted angrily while speaking with Rediff.com over the phone from Maharashtra's Latur district.

"If Reliance has done it, any private company can use him as a brand ambassador for private profits. It will make the Indian people feel that Prime Minister Modi is the brand ambassador for Reliance Jio and this will happen at the cost of PSU companies like MTNL and BSNL."

The fiery trade union leader-turned-MP alleged that every government and every telecom minister in the last three decades tried to strangulate government-owned telecom companies by adopting policies that did not allow them to blossom even as private telecom companies made billions in profits.

"We are opposing such policies where a PM's photograph is allowed to be used by a private company at the cost of PSUs. Have you ever written about why various governments did not allow MTNL or BSNL to prosper? Why have they systematically strangulated these companies," he asked.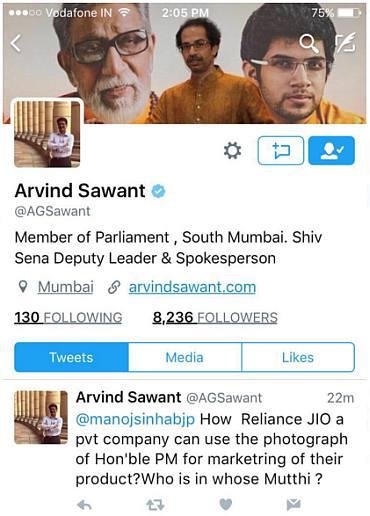 Sawant's aggressive reactions come at a time when the Shiv Sena and the Bharatiya Janata Party are trying to build a rapprochement in Maharashtra against the backdrop of the Brihanmumbai Municipal Corporation elections early next year.
The two allies have been at loggerheads ever since October 2014 when the BJP emerged as the single largest party in Maharashtra legislative assembly and consequently staked claim to the chief ministership.

The two allies have spared no effort to slam each other in a game of political one-upmanship. The battle for the control of the prestigious and the richest municipal corporation has become a bone of contention between the two parties, who have been together since 1985.

Sawant's fresh salvo against the prime minister comes a day after Shiv Sena president Uddhav Thackeray and Maharashtra Chief Minister Devendra Fadnavis worked out a truce between the antagonistic allies by sharing the stage for rechristening the Middle Vaitarna Dam after the late Shiv Sena supremo Bal Thackeray.

Continuing with his criticism of Reliance as well as the NDA government at the Centre, which has ministers from the Shiv Sena too, Sawant said, "Are there no norms for using the prime minister's photograph by a private company? Do you want to sell the entire world to Reliance? There are more than 500,000 employees with BSNL and MTNL. Why aren't they allowed to use the photograph of the prime minister for free to promote their services? Is not BSNL owned by the Government of India?"
Sawant further added, "If the PM thinks this is a revolutionary event in India where people will be getting voice for free, then why can't you do the same thing with your own BSNL and MTNL? Why can't we plan such revolutionary ideas with these companies? Shouldn't there be a level playing field for all competitors? This government is following in the footsteps of Congress."
Asked about his criticism of a government of which his own party MPs are cabinet ministers, Sawant said, "That does not stop me from criticising the anti-people policies of this government."

The Shiv Sena MP said that being a concerned parliamentarian, he will soon raise the issue with Modi.
"I will be raising this issue with Prime Minister Modi and I am sure he will have already seen my tweet."
"Isn't this a conspiracy to kill PSU telecoms? Why have they systematically strangulated these companies?"
IMAGES: (Top) PTI file photo of Gujarat Chief Minister Narendra Modi hugging industrialist Mukesh Ambani at the Vibrant Gujarat Global Investors Summit; (lower) A screen grab of Arvind Sawant's Twitter post.