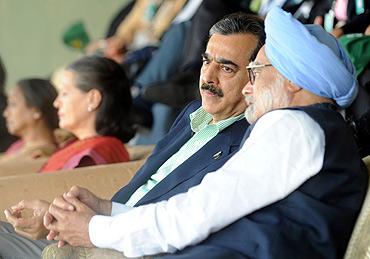 Prime Minister Manmohan Singh tonight met his Pakistani counterpart Yousuf Raza Gilani over dinner in Mohali on the sidelines of the Indo-Pak cricketing encounter.

The dinner at the Punjab Cricket Association club house at the stadium here started mid-way between the high-voltage semi-final match when Pakistan had lost two wickets. The two leaders watched the Indian innings together.

The menu for the dinner included gosht barrah, tandoori pink salmon, tawe ki macchli, murg lazeez, gosht palak saag, chaamp biryani, bhindi naintara, subz biryani, gajar ka shorba and dal makhani. The desserts included apple cinnamon crumble, kesar phirni and fruit salad.
Congress President Sonia Gandhi, Lok Sabha Speaker Meira Kumar, Union Agriculture Minister and International Cricket Council chief Sharad Pawar, Union Minister of State Sachin Pilot, Punjab Governor Shivraj Patil and National Security Adviser Shivshankar Menon were also part of the dinner engagement. Chief Ministers of Punjab and Haryana Parkash Singh Badal and Bhupinder Singh Hooda respectively, Congress General Secretary Rahul Gandhi and Deputy Chairman of Planning Commission Montek Singh Ahluwalia were also present.
From the Pakistani side, Interior Minister Rehman Malik, Defence Minister Chaudhary Ahmed Mukhtar and Minister of State in Foreign Ministry Hina Rabani Khar, Awami National Party President Asfandyar Wali Khan and Pakistani High Commissioner to India Shahid Malik were present.
The seating arrangements were mixed at the dinner table with Sonia Gandhi seated between Gilani and Rehman Malik. The Pakistani Defence Minister was seated next to Dr Singh. Wali Khan, the grandson of Frontier Gandhi Khan Abdul Gaffar Khan, was seated between Rahul Gandhi and Pilot.
Gilani is in Mohali at the invitation of Singh who in a mix of cricket and diplomacy called him for talks last week the moment it was known that India and Pakistan would be playing in the semi-final. This is Gilani's maiden visit to India after he took over as prime minister in March, 2008. The two leaders have earlier met in third countries like Sharm-el-Shaikh in 2009, Washington and Thimphu in April, 2010.
Before leaving for India, Gilani told reporters in Rawalpindi that he was happy at the resumption of dialogue between India and Pakistan and that both the prime ministers were committed to work for peace and prosperity in the region. "As far as our relations are concerned, I am happy that our talks have resumed. The talks between the interior secretaries were conducted in a positive manner. I appreciate that," Gilani said.
The Pakistan PM described Dr Singh as an experienced politician with a positive attitude. "He wants to work for peace and prosperity in this region. We are both committed to this and we want the environment to improve so that we can serve the people," Gilani said.
"I have never seen him (Singh) being negative about this. I have always found him to be positive," he added.
Gilani said he expected his visit to lead to "some progress" between the two countries and "an improvement in relations". Besides, the Pakistan team "will get a boost," he added.
Image: Dr Singh with Gilani at the Mohali stadium | Photograph: Raveendran/Reuters