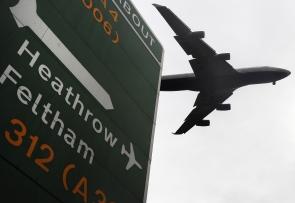 A British Airways flight was forced to make an emergency landing at London's Heathrow Airport after one of the engines of the aircraft caught fire, forcing authorities to briefly shut down the airport, Europe's busiest. The incident is not believed to be terror related and all passengers and crew have been safely evacuated from the plane, which was earlier spotted flying over central London with flames bellowing from its tail.
"The BA762, Heathrow to Oslo service, returned back to Heathrow shortly after take-off due to a technical fault" said the British Airways in a statement.
"The Airbus A319 aircraft was carrying 75 customers. The aircraft landed safely and emergency slides were deployed and we are currently caring for our customers," the statement added. "Emergency services attended the aircraft. We will be carrying out a full investigation into the incident," it said.
The southern runway has since re-opened but the northern runway, the scene of the incident, remains closed causing severe delays to flights in and out of one of the world's busiest airports on Friday morning. Some of the morning flights to India, including a London-Mumbai Jet Airways flight, were also facing "some delays," according to a spokesperson.
Heathrow is the world's busiest two-runway airport with a flight taking off or landing every 45 seconds. A number of flights were being diverted to other United Kingdom airports, such as Stansted, for re-fuelling as they awaited further news on take-off and landing procedures at Heathrow.
Some short haul flights are likely to be cancelled. "As you looked up you could just see the flames being chucked out of the engine. It was on full fire when we saw it," an eyewitness told Sky News in reference to the aircraft as it made its way to an emergency landing at Heathrow.
London Fire Brigade crew have said they believe that the fire is now out. One passenger, David Gallagher, a senior partner at Ketchum PR agency, described on the social networking site Twitter the dramatic moments the stricken plane made the emergency landing. Posting a picture of the grounded plane at 8.49 a.m. BST he said, "This is what an emergency landing looks like. Great job getting us down and off the plane @British_Airways 762".
Aviation experts have speculated a possible bird hit may have caused the accident.

Image: The aircraft landed safely after the fire and all the passengers were evacuated | Photograph: Luke MacGregor/Reuters