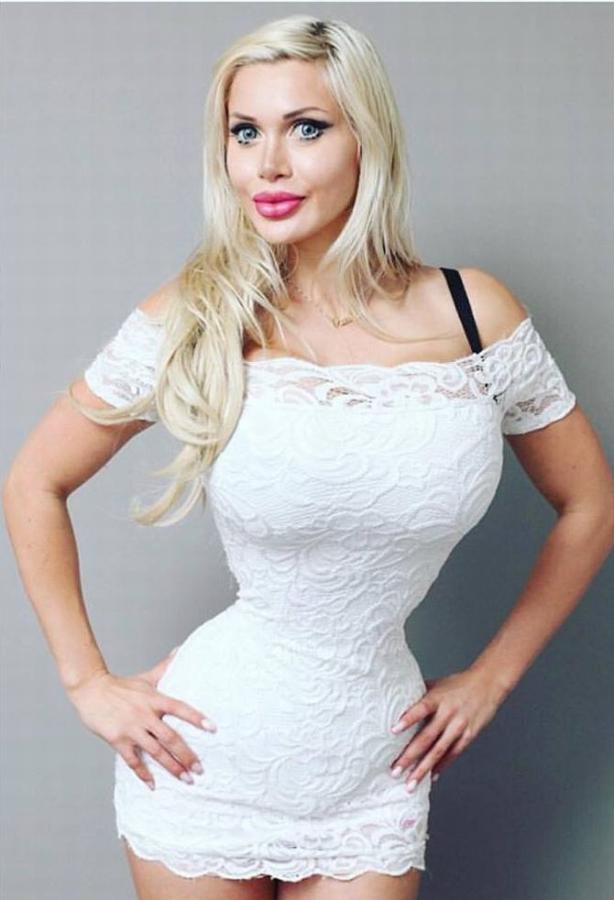 This week's digest of stories that are weird and crazy!
1) This Great Dane is literally scared of everything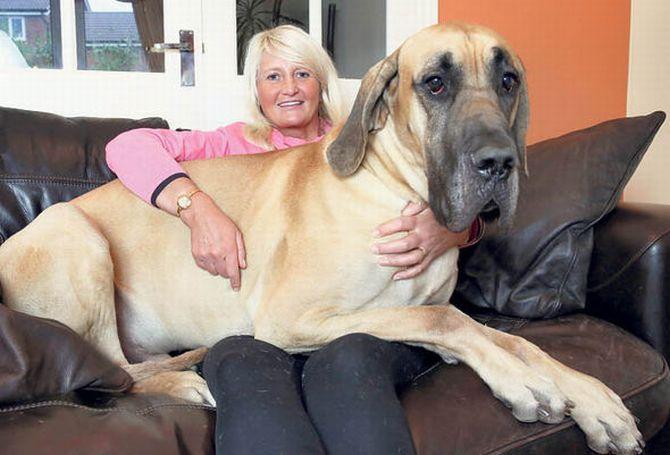 This six foot tall Great Dane could definitely win the title of Britain's wimpiest dog.
Presley, a two-year-old pooch, has been nicknamed a real life Scooby Doo as the slightest fright will send him running to owner Sian Barrett for a reassuring cuddle.

Sian, 47, from Oldbury, West Mids, claims Presley is terrified of smaller dogs - and will always run and hide when he's confronted by another pooch.

The enormous dog even has a cushion he uses as a comfort blanket to stop him feeling scared at home.
---
2) Model removes 6 ribs to win world's smallest waist award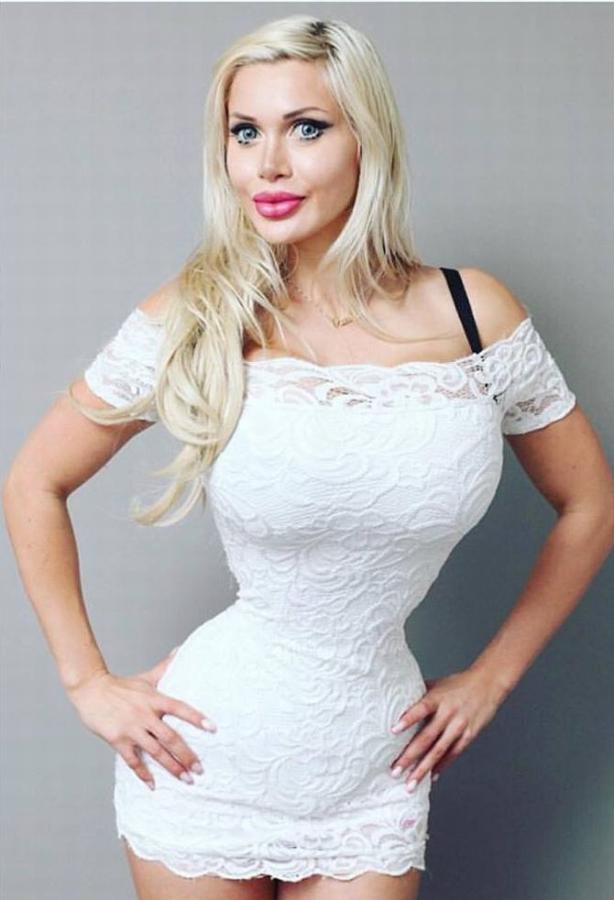 US model Pixee Fox, who originally hails from Sweden, voluntarily had six ribs removed in order to achieve her desired size -- a procedure that cost her nearly $120,000.

"People often come up to me and say, 'don't take this the wrong way, but you look like a cartoon' - but for me that's a compliment, that's what I want to achieve," said Fox.

The model's transformed her 30-24-34 statistics to an out of this world 38-16-38.
---
3) Baker crafts entirely edible Christmas sweater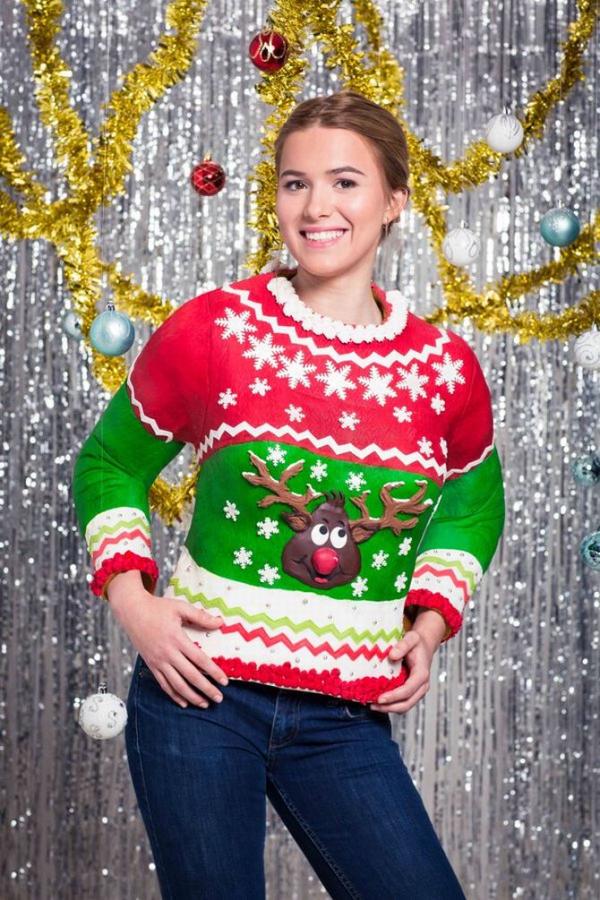 Christmas sweaters aren't usually tasteful, in fact, the more garish the better, but now there's one which is certainly tasty.

Pro baker Juliet Sear has crafted a jazzy seasonal sweater - which is entirely edible.
The sweater took more than 50 hours to create and used 10 kg of icing, 5 kg of marzipan and 1 kg of chocolate.

Juliet, who is the founder of Fancy Nancy bakery in Essex, teamed up with baking brand Dr Oetker to make the yummy winter woolly.

The jumper is coloured in red, white and green, and decorated with zig-zags of icing, as well as snowflakes, edible ball bearings, and Iced Gem-style edgings around the collar, sleeves and bottom.
---
4) This beauty queen is serving 39 years in prison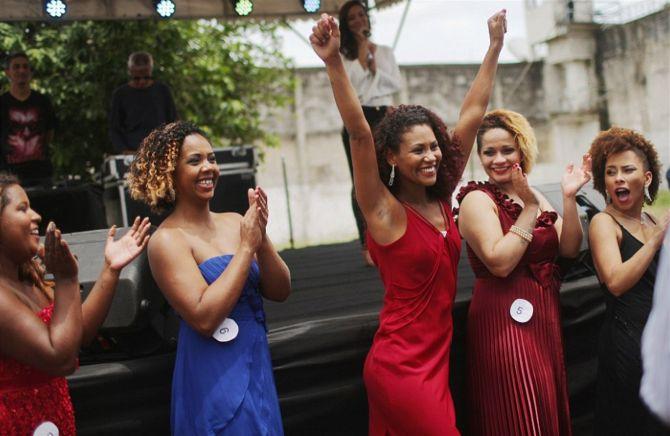 Not all beauty contests come complete with armed guards, watch towers and barbed wire fences.
But then your average pageant doesn't take place in one of the toughest's women's prisons in the world.
The annual Miss Criminal 2015 beauty pageant was held at the Talavera Bruce women's prison in Rio de Janeiro, Brazil.

This year's winner was Michelle Neri Rangel, 27.

She has been behind bars since 2010, when she was sentenced to 39 years for robbery -- with an additional six years added on for prostitution inside the prison.


---
5) He's taken bodyart to a hole new extreme
With a forked-tongue poking through a hole in his cheek – body art has perhaps never been quite so extreme.

A 23-year-old body art enthusiast has created giant flesh tunnels through his cheeks with a side view of his teeth.

Joel Miggler, a German model, said he had been experimenting with different 'art' since he was 13 years old.

The holes, which he has on both sides of his face, are around 36mm wide.

Miggler said the unusual body art doesn't have a particular name – but he aims to increase their size to 40mm.
---
6) Zimbabwe's Maison Sere wins Mr Ugly pageant title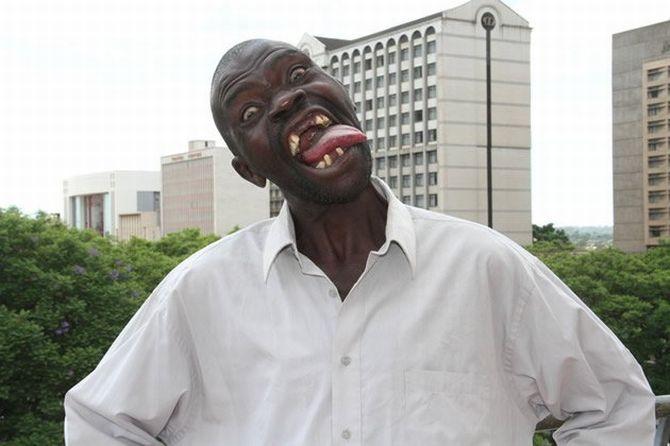 A man in Zimbabwe has proven being dentally-challenged is an endearing quality in certain pageants.

Maison Sere, a 42-year-old unemployed man missing several teeth, was crowned Zimbabwe's ugliest man at a pub pageant in Harare -- but the contest turned ugly when the runner-up accused judges of bias.

Dressed in torn overalls, Sere beat off five other contestants for the $500 Mr Ugly prize -- a large sum in a country facing massive unemployment. "I want to thank God for winning this title, last time I came fourth. I just want to thank the judges for recognising me as the winner," Sere said.
---
7) This breakfast is only for those who are really hungry
A NEW gut-busting all day breakfast munchie box has triggered a greed stampede.
Cafe Number 10 in Ayr has been swamped by hungry customers since they launched the heart-stopping speciality.

The munchie box is £8.99 for two people or £16.99 for four and includes potato scones, bacon, link sausage, sliced sausage, black pudding, haggis, bagels,
---
8) Company sells bacon-scented underpants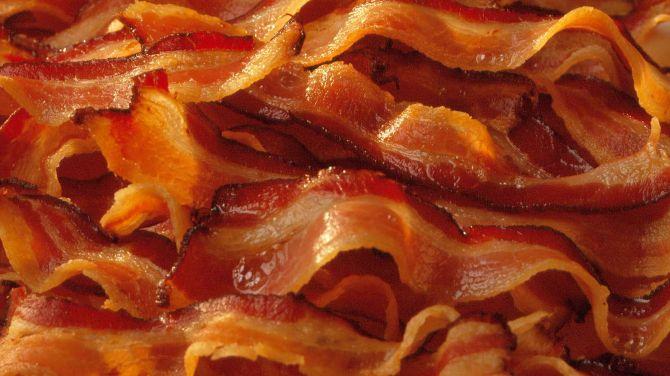 It takes the meaning of "bacon bits" to a whole new level with that tempting smell now emanating from... knickers.
People who crave a bacon butty ht be left craving all day with the selection of pants and men's trunks that have just hit the market in time for Christmas.

But they are warned: "Make sure he stays away from hungry dogs!"

Not only does the underwear smell of bacon but also looks like bacon as they are bright pink and have pictures of sizzling rashers on them.

American-based manufacturers J&D's are flooding the festive market in Britain with the bizarre meat-scented briefs and hope girlfriends and wives will buy them as a tasty gift for their loved one.
---
9) South Korea: Air force saves cash with 3D-printed parts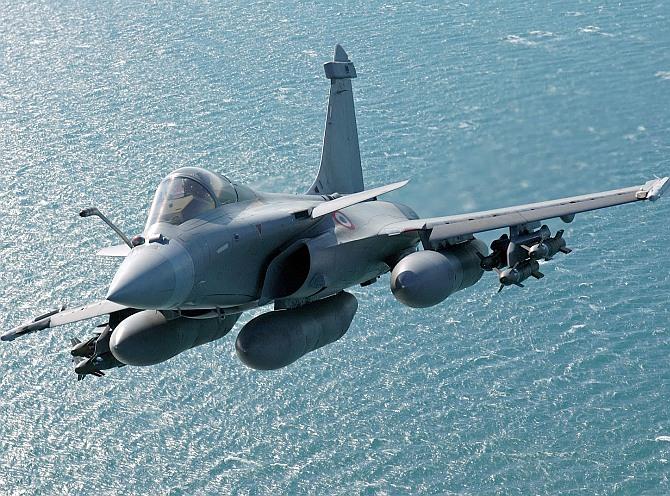 South Korea's air force is saving over 90% in costs on components for jet engines by using 3D printing technology, it's been reported.

It's using the technology to manufacture cover plates for high-pressure turbines in jet engines for its F-15K fighter aircraft, instead of ordering them directly from the United States.

Rather than paying $34,000 for each part, and having to wait up to 60 days for it to arrive, the cost has been reduced, with procurement time more than halved.
---