Even as Paris reels from the terror attacks that have killed over 120 people, several eye-witnesses have recounted the horror and the bloodshed that unfurled before them.
Here are some of their blood-curdling traumas.
Survivors and eye-witnesses hug their loved ones after gunmen stormed the Bataclan concert hall and opened fire on the locals, killing over 100 people. Photograph: Christian Hartmann/Reuters
One of the assailants in Paris mentioned France's intervention in Syria's war to justify the attacks, said a witness who was at a concert venue where some 100 people were killed.
"At first we thought it was part of the show but we quickly understood. They didn't stop firing. There was blood everywhere, corpses everywhere. We heard screaming. Everyone was trying to flee," said Pierre Janaszak, a radio presenter.
"They had 20 hostages, and we could hear them talking with them. I clearly heard them say 'It's the fault of Hollande, it's the fault of your president, he should not have intervened in Syria'," he added.
Another injured hostage held captive during a rock concert at the Bataclan theatre, was able to update his status on social media where he said: "There are survivors inside. They are cutting us down one by one."
Julian Peace, a journalist for Europe 1, was inside the Bataclan in the 10th arrondissement, a popular and renowned concert venue, when the attack happened. He told France Inter that two to three people -- not wearing face masks -- opened fire on the crowd with automatic weapons, possibly, kalashnikovs. He said the shootings lasted 10 to 15 minutes -- long enough for the assailants to re-load their weapons two or three times.
He added he heard nothing from the shooters, just the screams of the crowd.
However, another witness, said that he heard the assailants screaming "Allahu Akbar" while shooting inside the crowd.
"It was carnage," Marc Coupris, 57, was quoted speaking to the Guardian, still shaking after being freed from being held hostage at the Bataclan, a popular concert venue.
"It looked like a battlefield, there was blood everywhere, there were bodies everywhere. I was at the far side of the hall when shooting began. There seemed to be at least two gunmen. They shot from the balcony."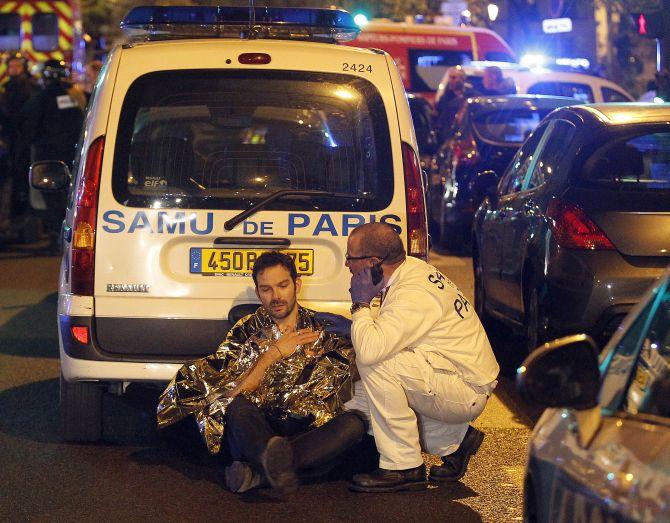 A medic tends to a man after an attack near the Boulevard des Filles-du-Calvaire, Paris. Photograph: Thierry Chesnot/Getty Images
"Everyone scrambled to the ground. I was on the ground with a man on top of me and another one beside me up against a wall. We just stayed still like that. At first we kept quiet. I don't know how long we stayed like that, it seemed like an eternity.
"I saw my final hour unfurl before me, I thought this was the end. I thought I'm finished, I'm finished. I was terrified. We must all have thought the same. Eventually, when a few gendarmes came in slowly we began to look up and there was blood absolutely everywhere. The police told us to run."
Journalist Erwan Desplanques who was in Cafe du Passage, said, "First of all, confusion, everyone thought it was firecrackers. Then people were lying on the ground."

Alexandre Bims, 18, was entering the stadium when the first blast occurred.
"We thought it was a gas leak, but then we saw people on the floor that were not moving," Bims said, adding, "There was a second explosion, we saw someone who lost an arm."
Near the restaurant Le Belle Equipe, Tommy Pouilly heard the sound of a dozen shots from his apartment. Police would later be seen covering bodies with sheets.
"I looked out my window. The courtyard of my building was full of people who evacuated the terrace of the restaurant," Pouilly said. "I was about to leave my house, I could have died ... I can't believe it."
Facebook activated a feature called "safety check" so that users could easily notify friends and family that they are safe.