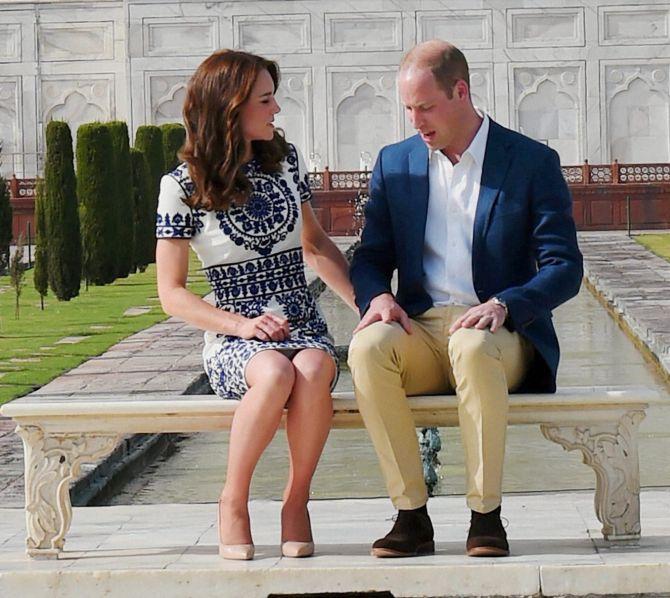 Almost 24 years after Diana, Princess of Wales visited the Taj Mahal -- one of the most famous symbols of India -- Prince William and the Duchess of Cambridge, Kate Middleton, followed in the Princess's footsteps.
The couple flew in to Agra, home of the Taj Mahal, from Bhutan, where they have spent the past couple of days on tour meeting the king and queen.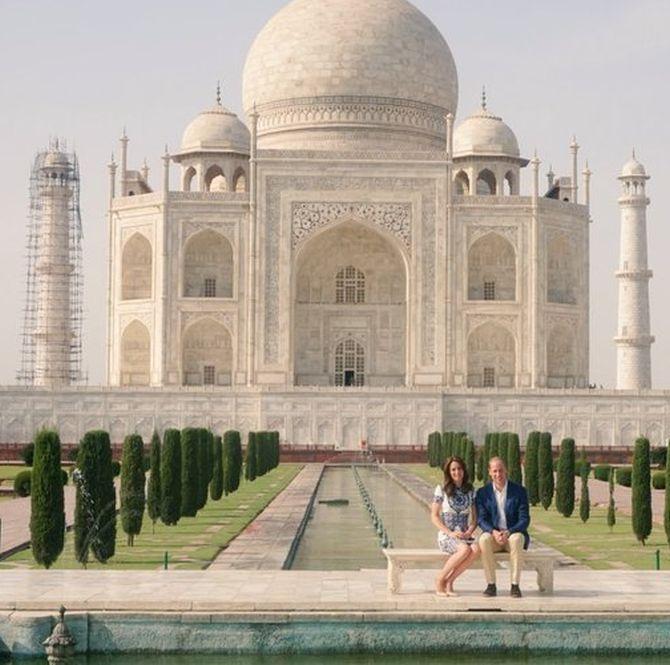 IMAGE: Prince William sat down with his wife, the Duchess of Cambridge, on the same marble bench as his late mother, Princess Diana, at the Taj Mahal. Photograph: Photograph: @KensingtonRoyal/Twitter

Britain's Prince William accompanied by his wife Kate on Saturday visited the Taj Mahal, the 17th century marble monument symbolising eternal love, bringing back memories of his mother Princess Diana's trip 24 years ago.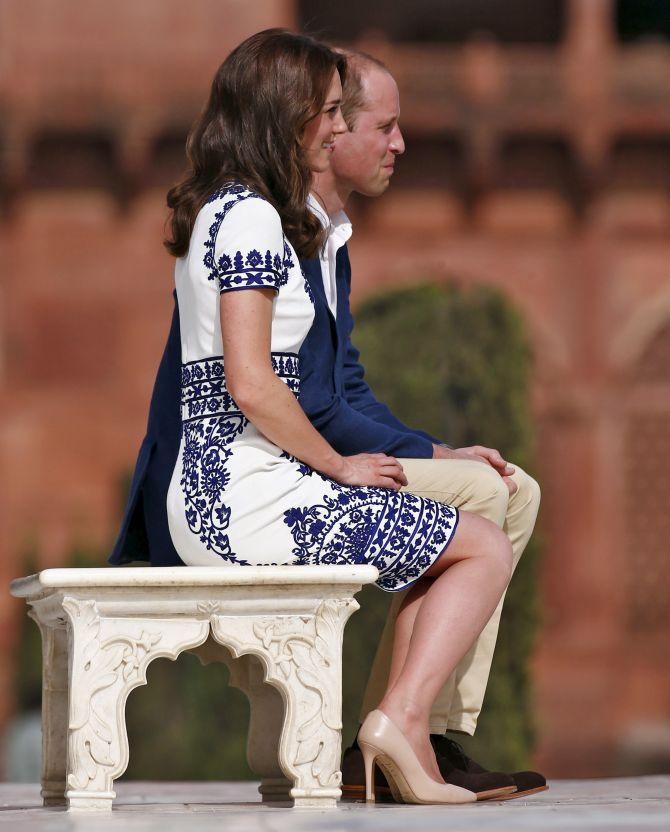 IMAGE: Prince William said that he wanted to 'create some memories of our own' after sitting on the bench. Photograph: Adnan Abidi/Reuters
And the royal couple did sit on the marble bench in front of the dazzling monument here for a picture like Lady Diana.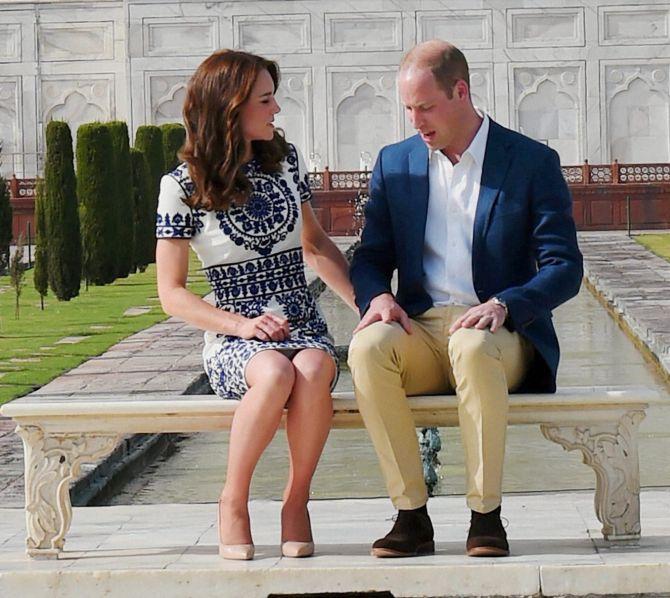 IMAGE: The couple's spokesman said they had only decided this morning that they would sit on the bench - and not because of its associations with Diana, but because it is where everyone sits to admire the Taj's beauty. Photograph:

Shahbaz Khan/PTI
William had donned a blue linen jacket, white shirt and chinos while Princess Kate wore a white dress with blue motif by Indian-American designer Naeem Khan.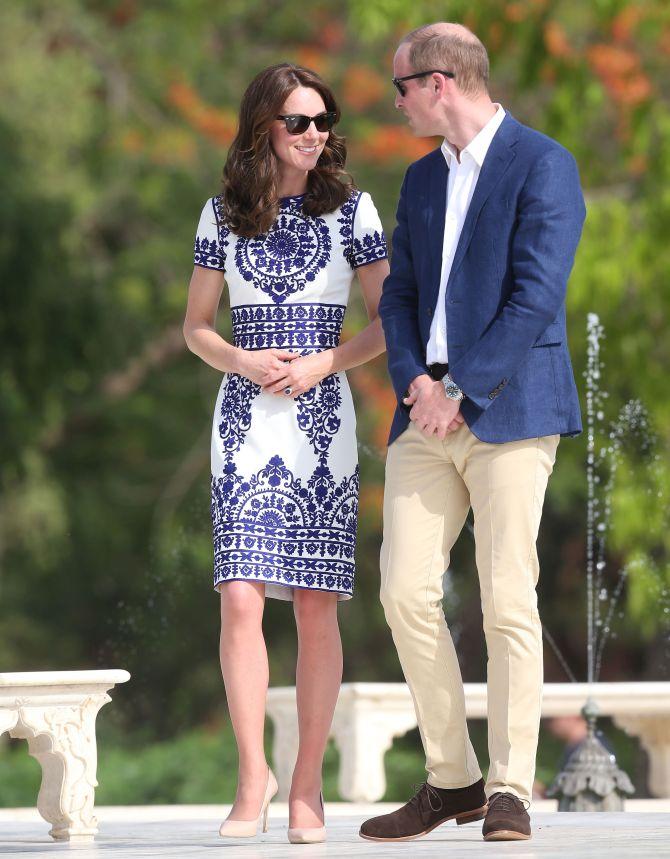 IMAGE: Kate, 34, looked effortless cool in a pretty white and blue dress by Indian designer Naeem Khan, while William was smart casual in chinos, a jacket and an open-necked shirt. Photograph: Chris Jackson/Getty Images
The royal couple, who will celebrate their fifth wedding anniversary on April 29, arrived around 3.30 pm and were briefed by an official as they took a stroll around the mausoleum built by Mughal emperor Shah Jahan in memory of his wife Mumtaz Mahal.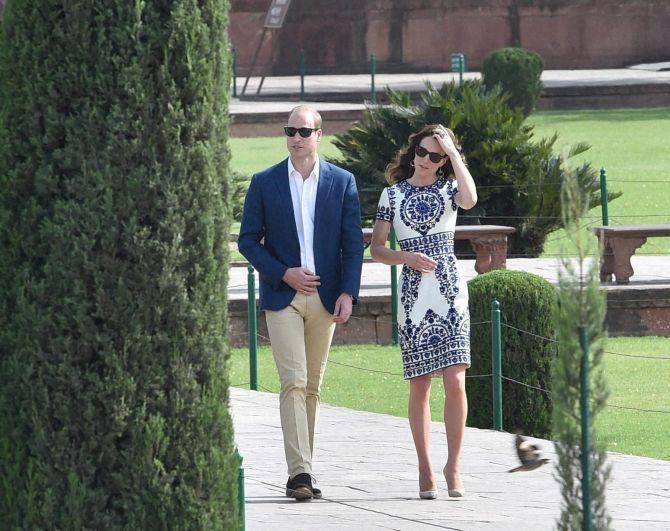 IMAGE: William and Kate stroll through the gardens. They spent around 45 minutes at the monument, despite the sweltering heat. Photograph: Shahbaz Khan/PTI
"It is beautiful. It is overwhelming," William, the Duke of Cambridge, said later.
The two spent around 45 minutes in the complex on a sizzling day as mercury soared to 40 degree Celsius.
"It was too hot but they went around," guide Lalit Chawla said.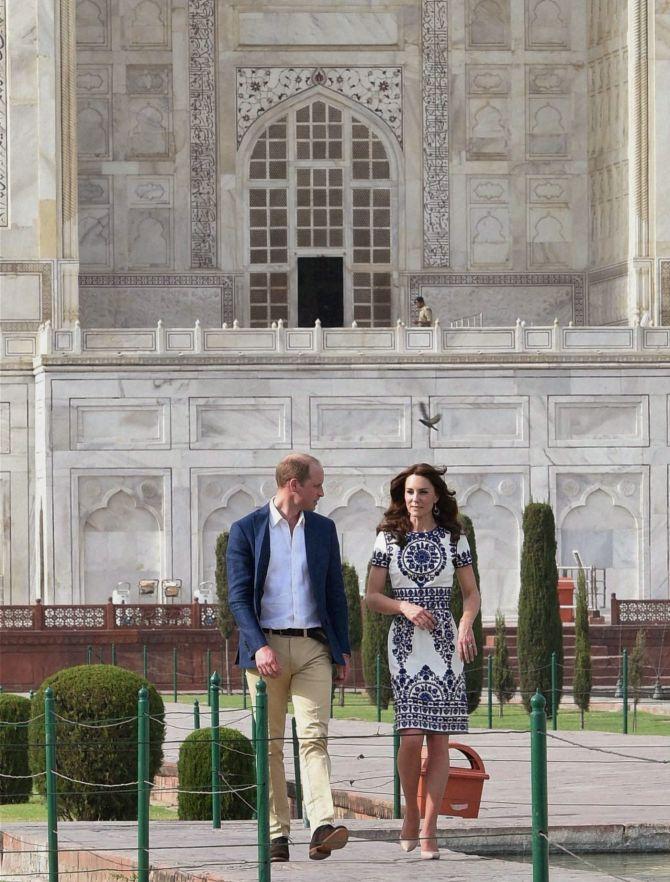 IMAGE:
A spokesperson for Kensington Palace previously said that William feels "incredibly lucky" to visit a place where his mother's memory is kept alive by so many who travel there. Photograph: Chris Jackson/Getty Images
William's mother Diana had visited the Taj Mahal in 1992 and her picture seated alone on the marble bench remains one of the iconic images of the princess, who died in a car crash in Paris on August 31, 1997.
The royal couple's visit generated much excitement here. Tight security arrangements were in place with deployment of Central Industrial Security Force personnel.
The stretch from Amar Vilas hotel to the eastern gate of the Taj Mahal was spruced up and tourists on the western gate were held back for an hour.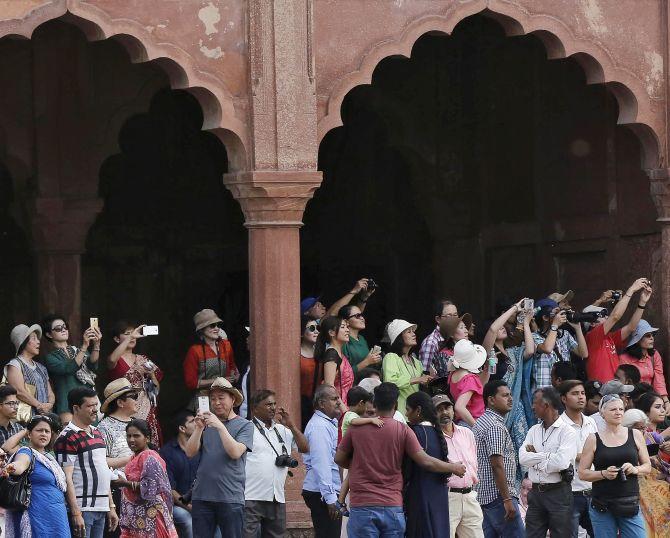 IMAGE: Visitors take pictures of Britain's Prince William and his wife Catherine, the Duchess of Cambridge, as they visit the Taj Mahal in Agra. Photograph: Anindito Mukherjee/Reuters
It is the last stop for the British royal couple during their week-long trip to India and Bhutan. The couple visited Mumbai and KazirangaNational Park in Assam and also met leaders in Delhi.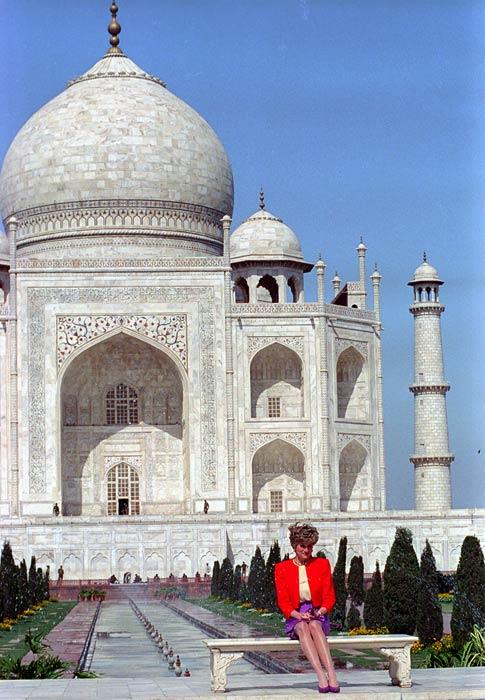 IMAGE:
And here's that iconic image of Princess Diana at the Taj back in 1992. The image quickly became a poignant symbol of her loneliness, as her marriage to Prince Charles unravelled.