A blood red moon lit up the night sky in many parts of the world, including India, during a partial lunar eclipse on Monday.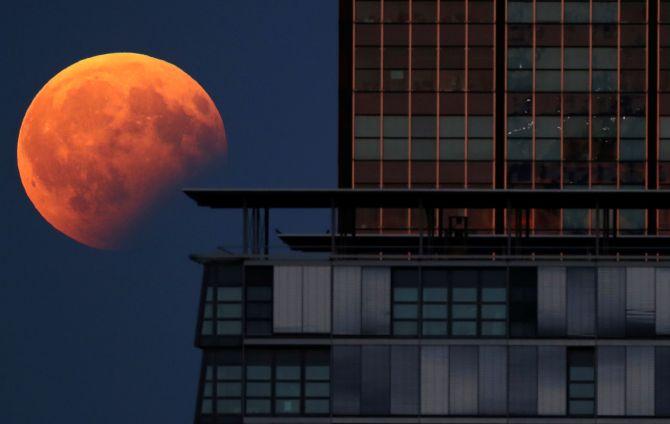 IMAGE: A partial lunar eclipse is pictured beside a building in Berlin, Germany. Photograph: Hannibal Hanschke/Reuters
However, heavy rains and overcast sky prevented Delhiites from viewing the eclipse.
The penumbral part of the lunar eclipse, which is difficult to discern, began at 9.20 pm, while the partial phase began at 10.52 pm, N Rathnashree, director of New Delhi's Nehru Planetarium, said.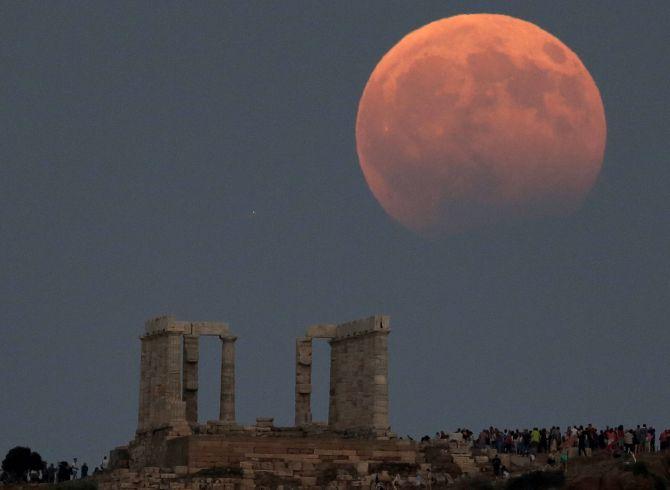 IMAGE: The Temple of Poseidon, with the full moon behind it partially covered by Earth's shadow during a lunar eclipse, in Cape Sounion, east of Athens, Greece. Photograph: Costas Baltas/Reuters
The partial eclipse ended at 12.48 am, while the penumbral eclipse ended at 2.20 am on Tuesday.
A penumbral lunar eclipse occurs when the sun, the earth, and the moon align in an almost straight line.
IMAGE: A partial lunar eclipse as seen in Berlin. Photograph: Hannibal Hanschke/Reuters.
In this scenario, the earth blocks some of the sun's light from directly reaching the moon's surface and covers all or parts of the moon with the outer part of its shadow, also known as the penumbra.
"The full moon enters the Earth's shadow in space and creates a spectacular celestial phenomenon, which is commonly known as partial lunar eclipse. This was the first properly visible lunar eclipse this year," Debiprosad Duari, Director, Research and Academic, MP Birla Planetarium, told PTI.
IMAGE: A view of the partial lunar eclipse as seen in Chennai. Photograph: R Senthil Kumar/PTI Photo.
"An interesting aspect of lunar eclipse is that anywhere on earth from where the moon is visible during an eclipse, the time was the same. This is in contrast to a solar eclipse in which the timings of the contacts change as the location changes on Earth," Rathnashree said.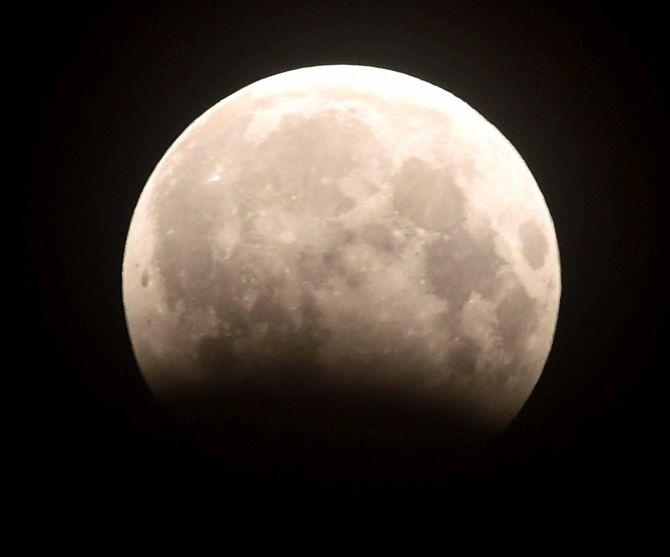 IMAGE: Another view of the lunar eclipse from Chennai. Photograph: R Senthil Kumar/PTI Photo.
The moon passed through the Earth's shadow exactly two weeks ahead of the highly anticipated solar eclipse on August 21.
However, parts of Africa and Asia, including India, will miss the total solar eclipse.
With inputs from PTI.