Metin Dogan, the shirtless protester made a spine-tingling show of defiance to the army soldiers who launched a failed coup attempt on Friday night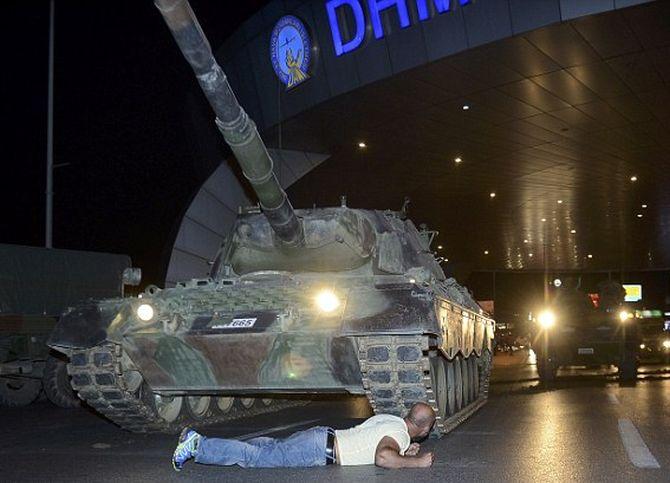 IMAGE: Metin Dogan didn't think twice before he put his body in front of a tank and the armed soldiers. Photograph: Reuters
In an image sure to invite comparisons to the iconic picture of a protester blocking a tank in Tiananmen Square, a man lay down just a few feet from the treads of a Turkish army tank at the Attaturk International Airport.
The shirtless protester made a spine-tingling show of defiance to the army soldiers who launched a failed coup attempt on Friday night.
On Wednesday, as Turkey continues its purge and arrests more officials, who were responsible in trying to overthrow the rule of Turkish President Recep Erdogan, the man behind that iconic image has been identified as Metin Dogan, a 40-year-old medicine student.
Dogan said how he made his way to the airport after seeing news of the unfolding coup. "Advancing through the soldiers, I yelled 'I am a Turkish soldier, whose soldiers are you?'," he was quoted as saying, adding, "Then the tank stopped but I continued shouting at them. I was surrounded by soldiers."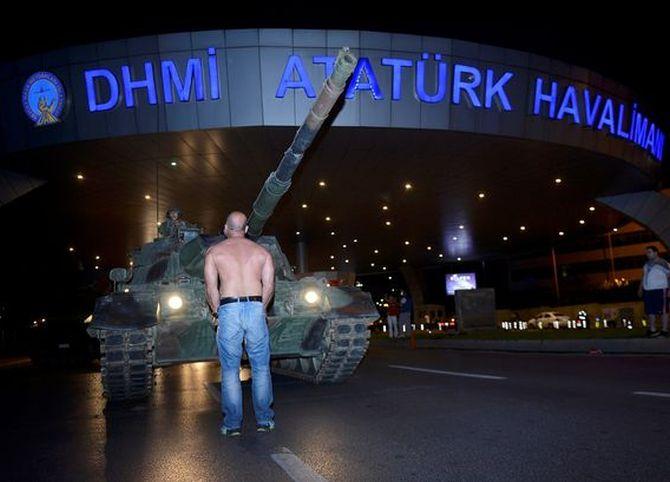 IMAGE:

A man stands in front of a Turkish army tank at Ataturk airport in Istanbul. Photograph: Reuters
He added: "Suddenly the tank started moving again and I lay down in front of the right track of the tank. It stopped again."
Dogan said he had no doubt that at that moment he felt that what he was doing was right and his action has been praised all over the world with '#tankman' trending on social media.
Dogan was among thousands who took to the streets of Istanbul, Ankara and other cities to confront heavily armed coup forces.