Winter Storm Stella, which weather experts and the media have been referring to as a "weather bomb", is walloping northeast United States.
Heavy snowfall has shut major cities like New York, New Jersey, Connecticut and Pennsylvania, leaving thousands of travelers stranded in airports across the nation and prompting warnings from officials urging residents to stay off the roads.
Over 6,000 US flights scheduled for Tuesday were cancelled and more than 3,000 flights delayed because of the storm, FlightAware.com informed. Airlines expect to resume operations on Wednesday morning and will likely be fully operational by Thursday.
Public schools in New York City, Boston, Philadelphia and elsewhere were closed on Tuesday and the above-ground subway service in New York was suspended. In New Jersey, all bus services have been suspended while the rail service was scheduled to run on a weekend schedule, reports CNBC.
The Assoicated Press reported that the storm had knocked out power to approximately 210,000 customers in the mid-Atlantic and Northeast, including 50,000 in Virginia.
Although New York City doesn't seem to have been hit as badly with only four inches of snow so far, more snow is predicted to affect suburban areas and farther up north. The heaviest accumulations are taking place in central Pennsylvania and central New York State.
Scroll down to see how people have been affected by this intense blizzard: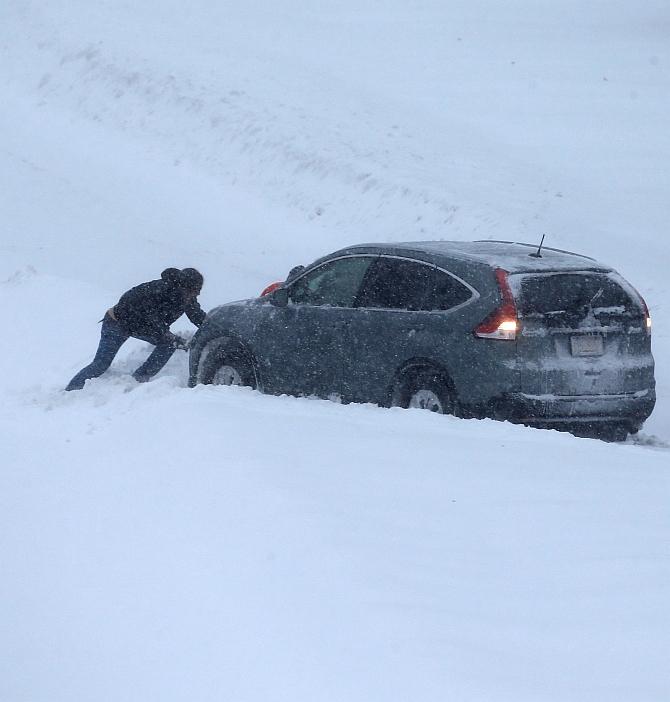 A man tries to push a vehicle stuck in the snow on the New York State Throughway near Nyack, a northern suburb of New York City. Photograph: Mike Segar/Reuters
---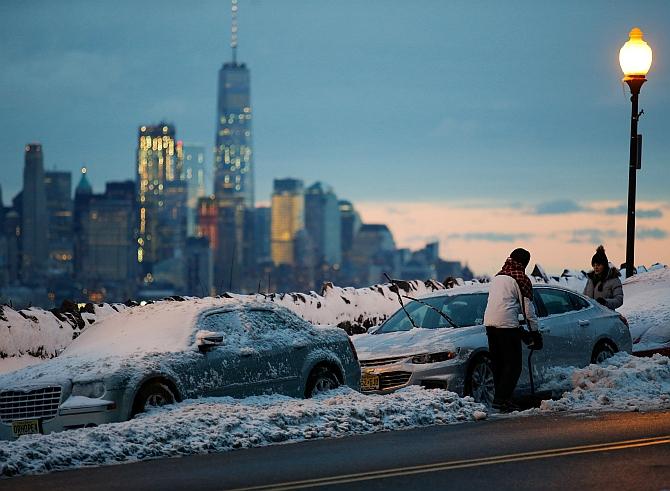 Residents clear their cars and street of snow in Weehawken, New Jersey, as the One World Trade Center and lower Manhattan are seen after a snowstorm in New York. Photograph: Eduardo Munoz/Reuters
---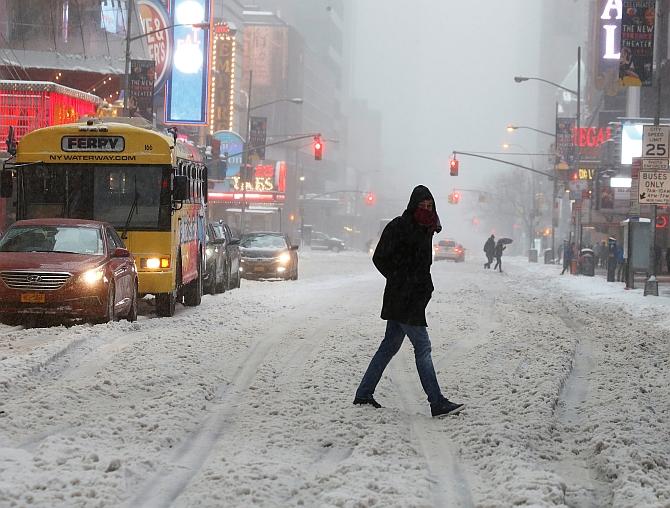 A commuter walks across a street during a snowstorm in Times Square in the Manhattan borough of New York. Photograph: Carlo Allegri/Reuters
---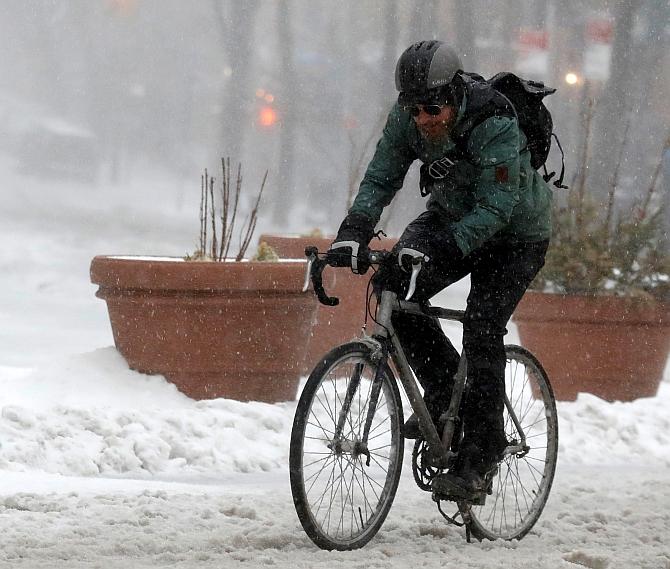 A man rides his bike through the wind and snow in the Brooklyn borough of New York City. Photograph: Brendan McDermid/Reuters
---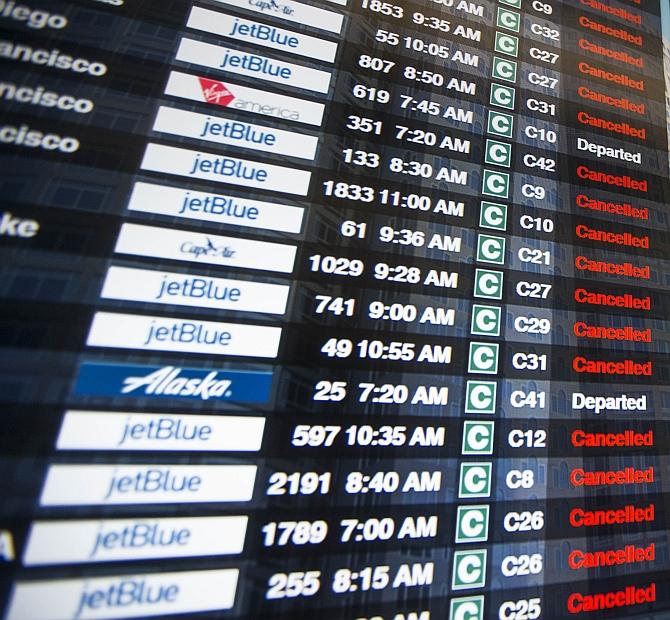 The information board in Terminal C at Logan International Airport shows the majority of flights cancelled as winter storm conditions begin to enter the area during Winter Storm Stella in Boston, Massachussets. Photograph: Scott Eisen/Getty Images
---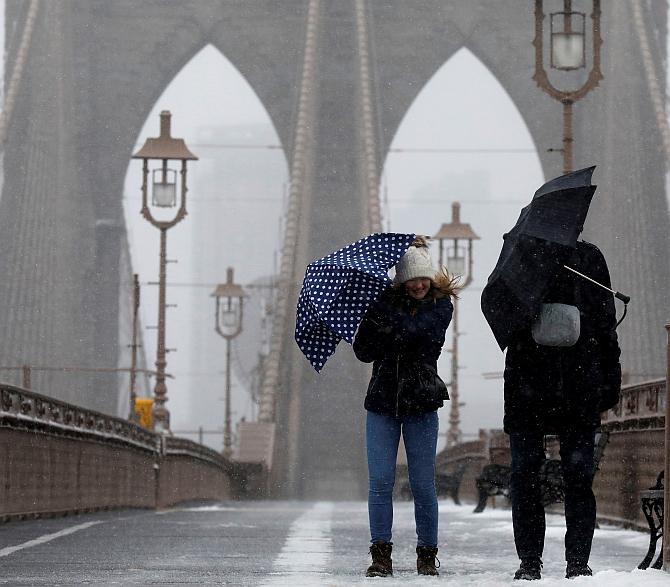 People fight the wind and snow as they walk across the Brooklyn Bridge in New York City. Photograph: Brendan McDermid/Reuters
---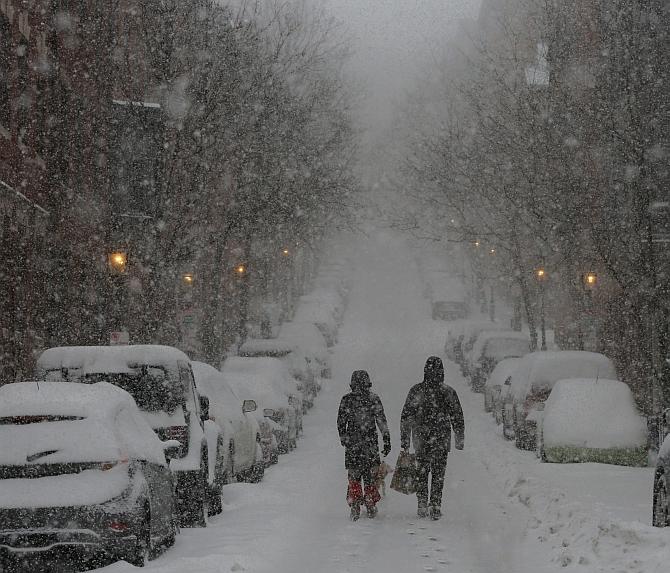 Pedestrians walk up a street on Beacon Hill during white-out, blizzard-like conditions in a winter nor'easter snow storm in Boston, Massachusetts. Photograph: Brian Snyder/Reuters
---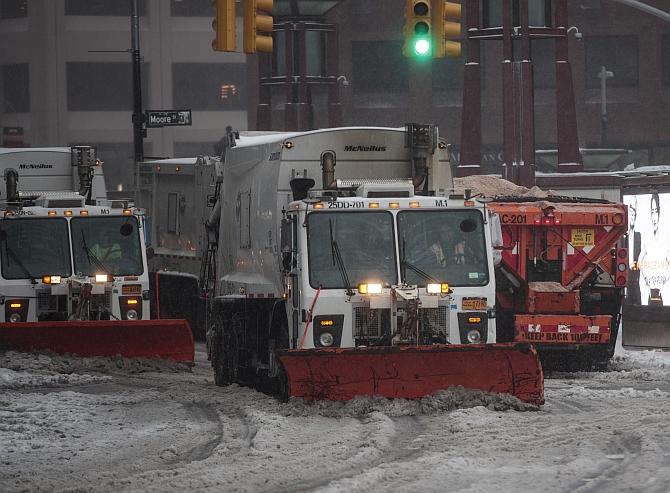 Snow plows work their way through Lower Manhattan in New York City. The blizzard warning for New York City has been cancelled and the National Weather Service is now predicting 4 to 8 inches for the city. Photograph: Drew Angerer/Getty Images
---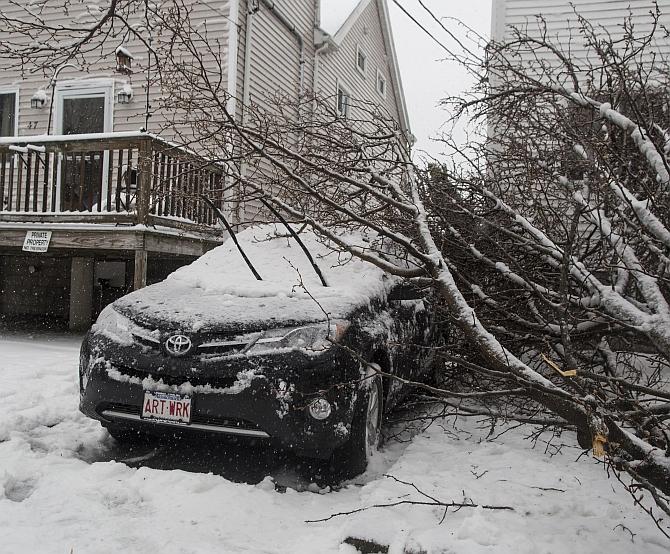 A downed tree on top of a car on Chamberlain Ave as Winter Storm Stella bears down in Revere, Massachusetts. Photograph: Scott Eisen/Getty Images
---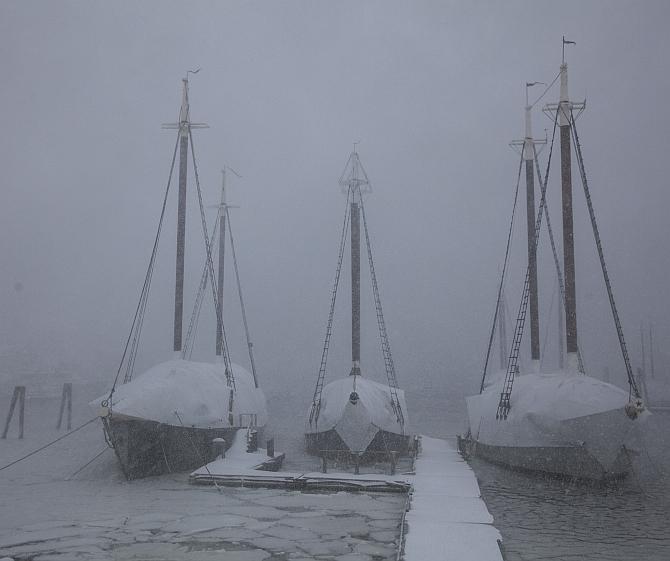 From left, the ketch Angelique, and schooners Lewis R French and Mary Day sit wrapped for winter in the Camden Harbour as winds around 30 mph and heavy snow roll into town in Camden, Maine. Photograph: Sarah Rice/Getty Images
---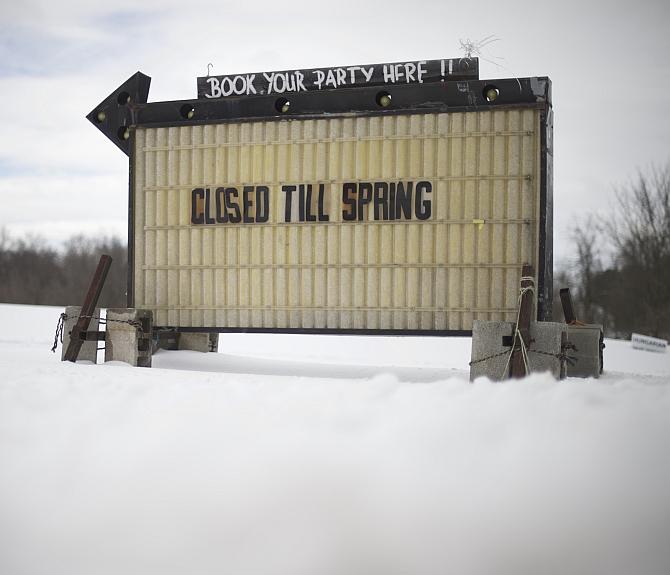 A farmer's market sign states 'Closed Till Spring' as snow blankets the ground in Spring City, Pennsylvania. Photograph: Mark Makela/Getty Images
---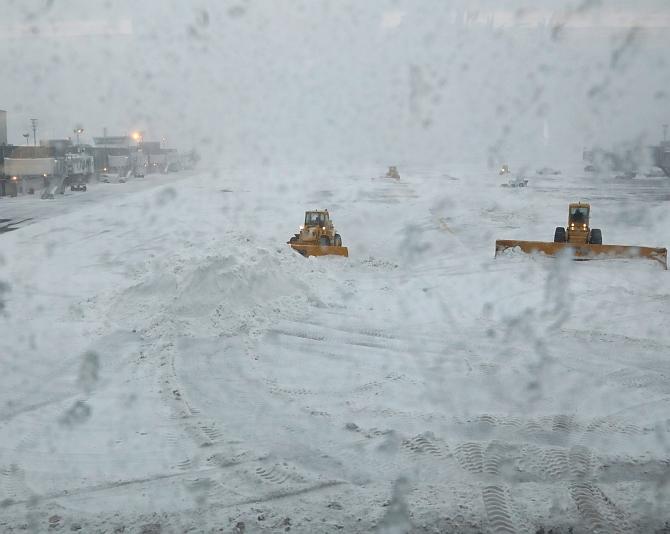 Snow plows clear the runway of snow at LaGuardia Airport in New York. Photograph: Shannon Stapleton/Reuters
---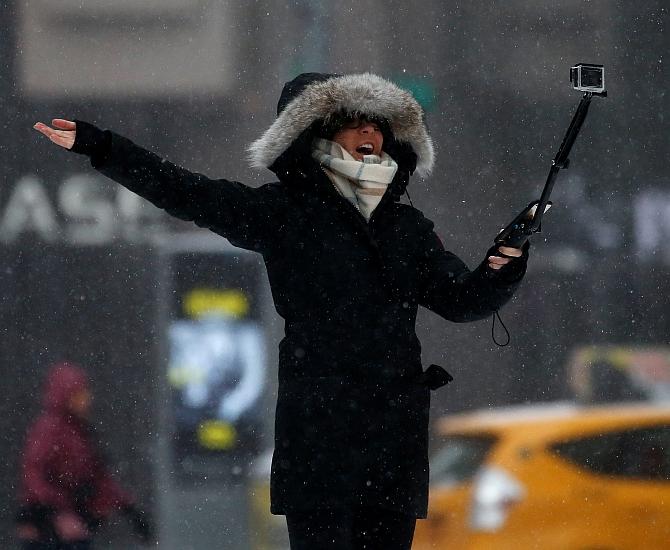 A woman takes a selfie in Times Square during a snow storm in the Manhattan borough of New York. Photograph: Carlo Allegri/Reuters