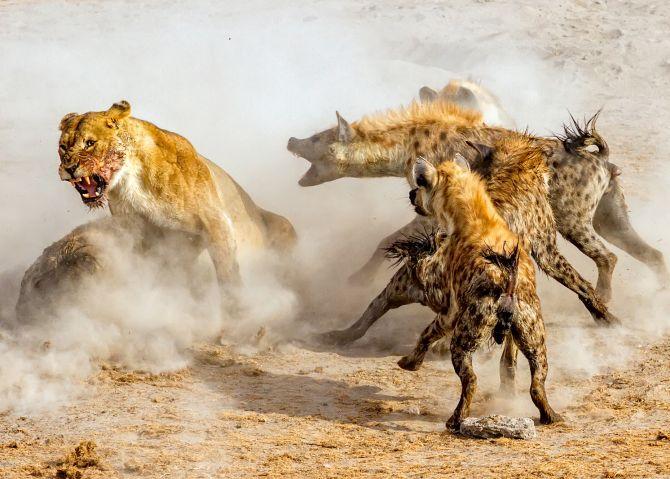 From a volcano spewing ash over the landscape to two kingfishers sharing some food, these are some of the stunning images from around the world that are in the running to be named nature picture of the year.

National Geographic has released a final selection of entries from the magazine's 2016 Nature Photographer of the Year contest and, as you might expect, they're breathtaking.
The deadline for submissions is coming up on Friday. The Grand Prize Winner will receive a 10-day trip for two to the Galapagos Islands.
With their kind permission, here are some of their contest entries so far.
(Please click on the photos for hi-resolution images)
ALSO SEE PART I OF THEIR ENTRIES HERE
---
>> ALADDIN'S CAVE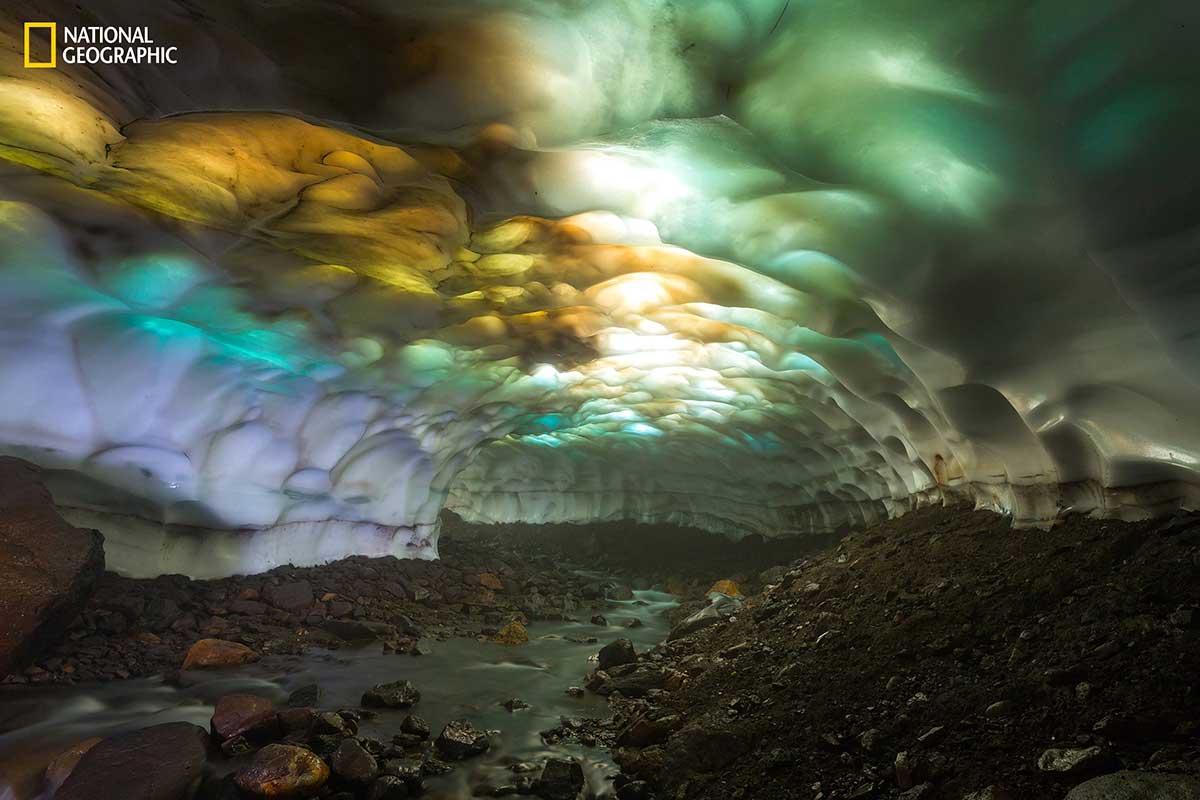 Snow cave on the slopes of the volcano Mutnovsky. Due to of global warming, glaciers have begun to decline. As a result, the ceiling of the cave became thin and the sunlight creates a wonderful picture of the different colours. Photograph: Denis Budkov/2016 National Geographic Nature Photographer of the Year
---
>> FRIENDSHIP KNOWS NO COLOUR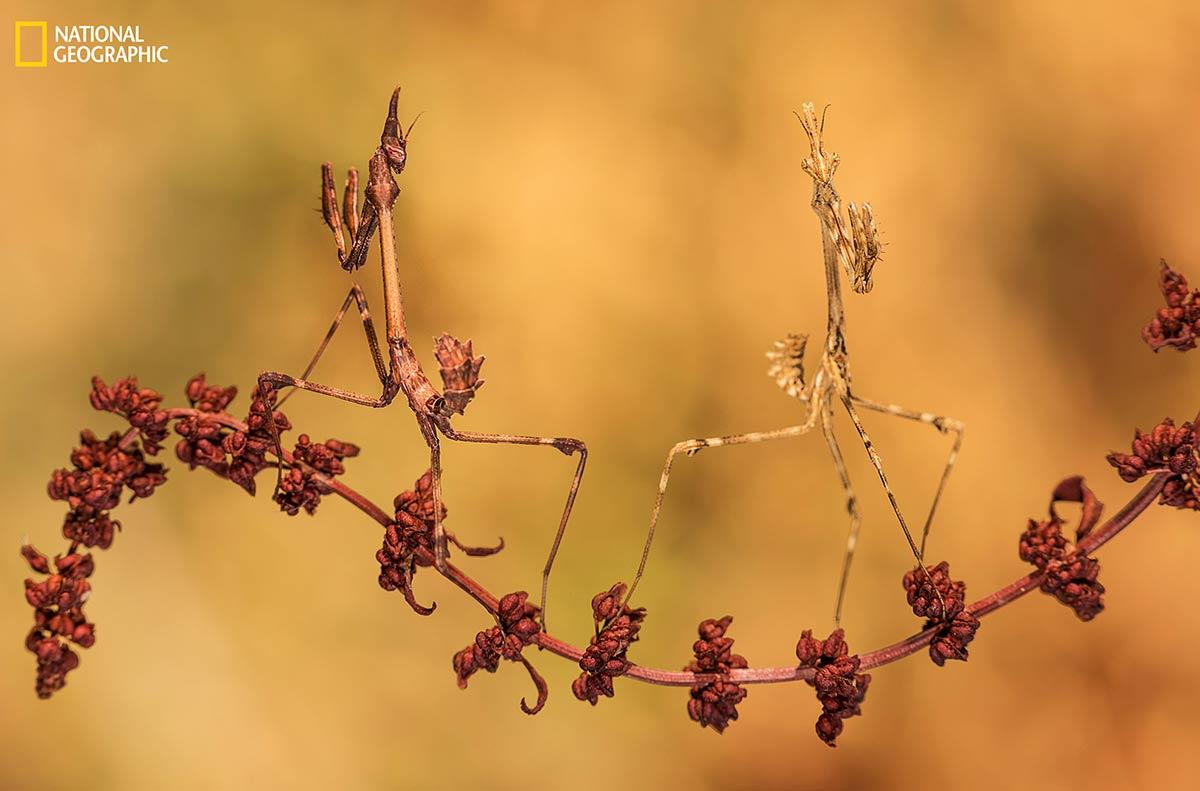 'Friendship knows no colour, nationality, race and social level? Friendship knows no age and gender? Friendship knows no distance' - quoted by Luis A Ribeiro Branco. And this image perfectly could represent that message. Two Empusa Pennata which seem to play a game on the thin plant. Photograph: Jose Pesquero Gomez/2016 National Geographic Nature Photographer of the Year
---
>> I AM ANGRY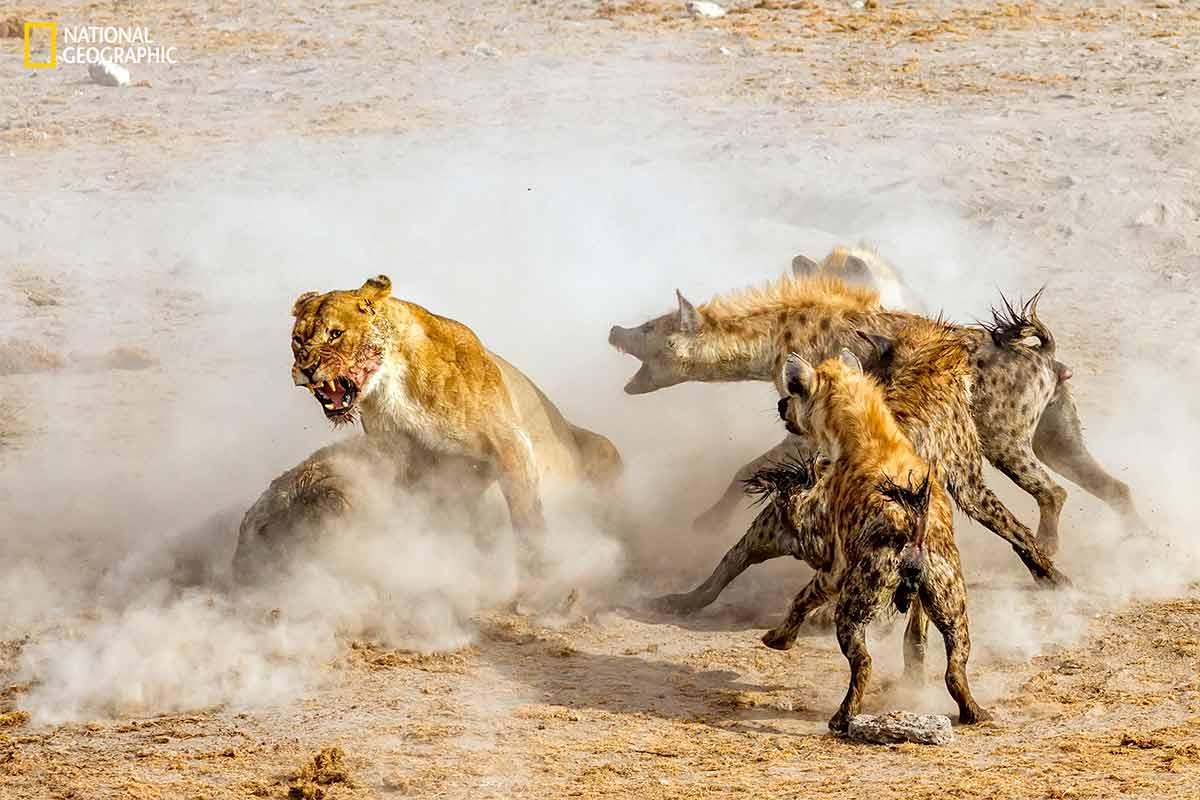 We arrived at one of the watering holes in EtoshaNational Park in the late evening. Four lions were devouring a large kudu that they killed. A pack of hyenas appeared from the bush nearby attracted by the smell of blood and food for them. What ensued was a fight for the dead kudu between four female lions and 16 hyenas. Needless to say, in the end the hyenas won and got the prized kudu. Photograph: NingYu Pao/2016 National Geographic Nature Photographer of the Year
---
>> OIL INFINITIY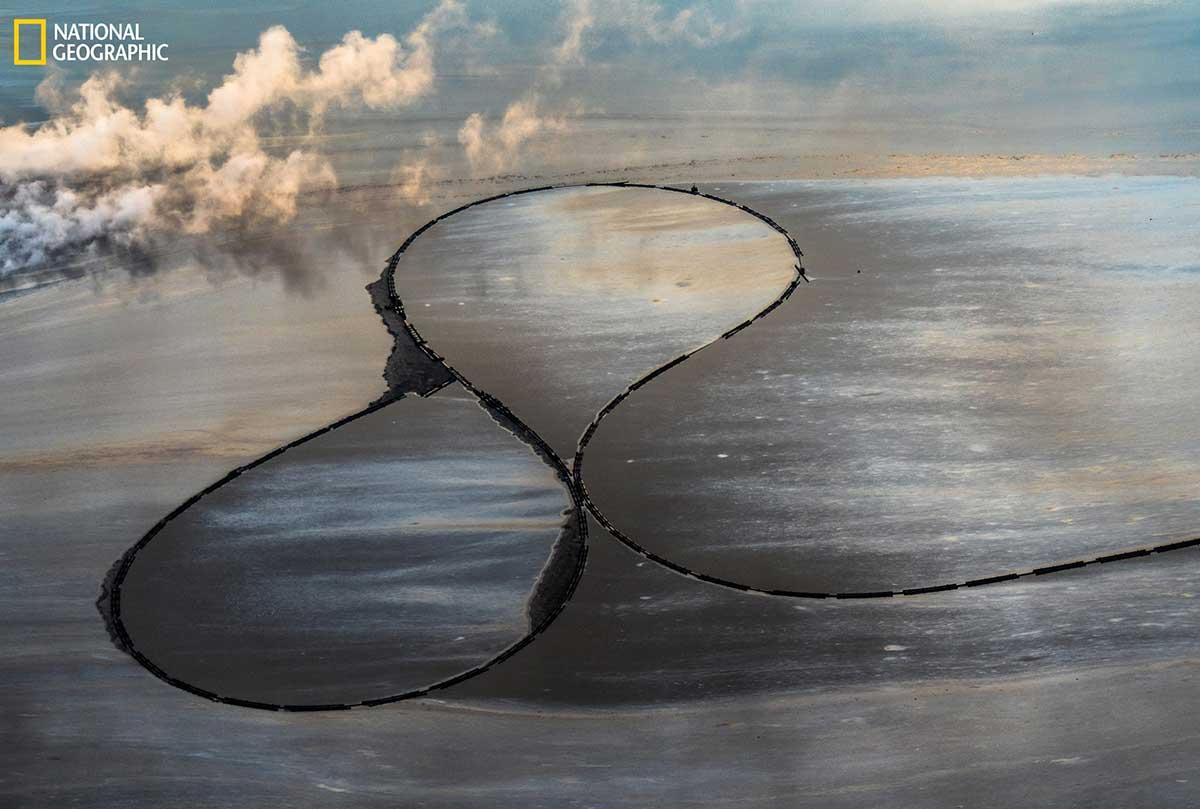 Aerial shot taken over Oil Sands area, Fort McMurray, Canada. Oil sands are one of the biggest sources of harmful air pollutants. Photograph: Stas Bartnikas/2016 National Geographic Nature Photographer of the Year
---
>> ENGAGEMENT PRESENT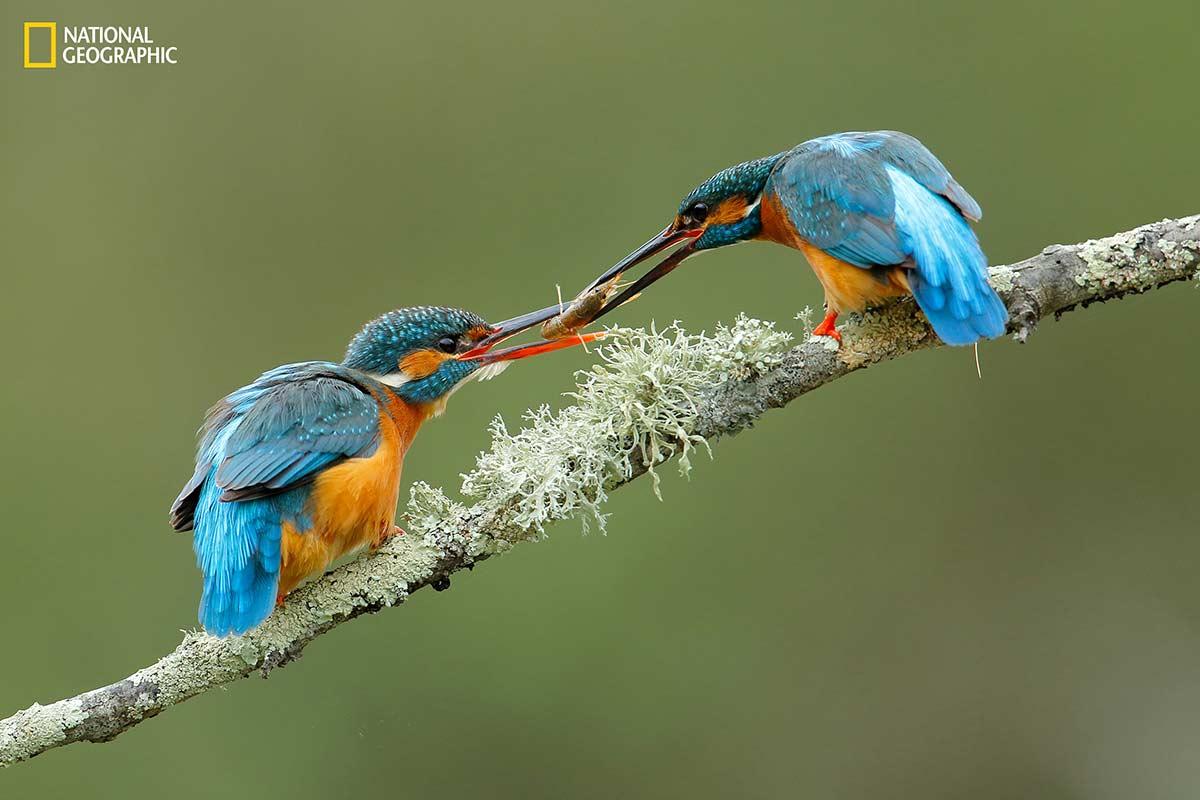 Kingfisher (Alcedo athis) male with an engagement present for the female. Photograph: AndrÈs Miguel DomÌnguez/2016 National Geographic Nature Photographer of the Year
---
>> UNDER THE WAVES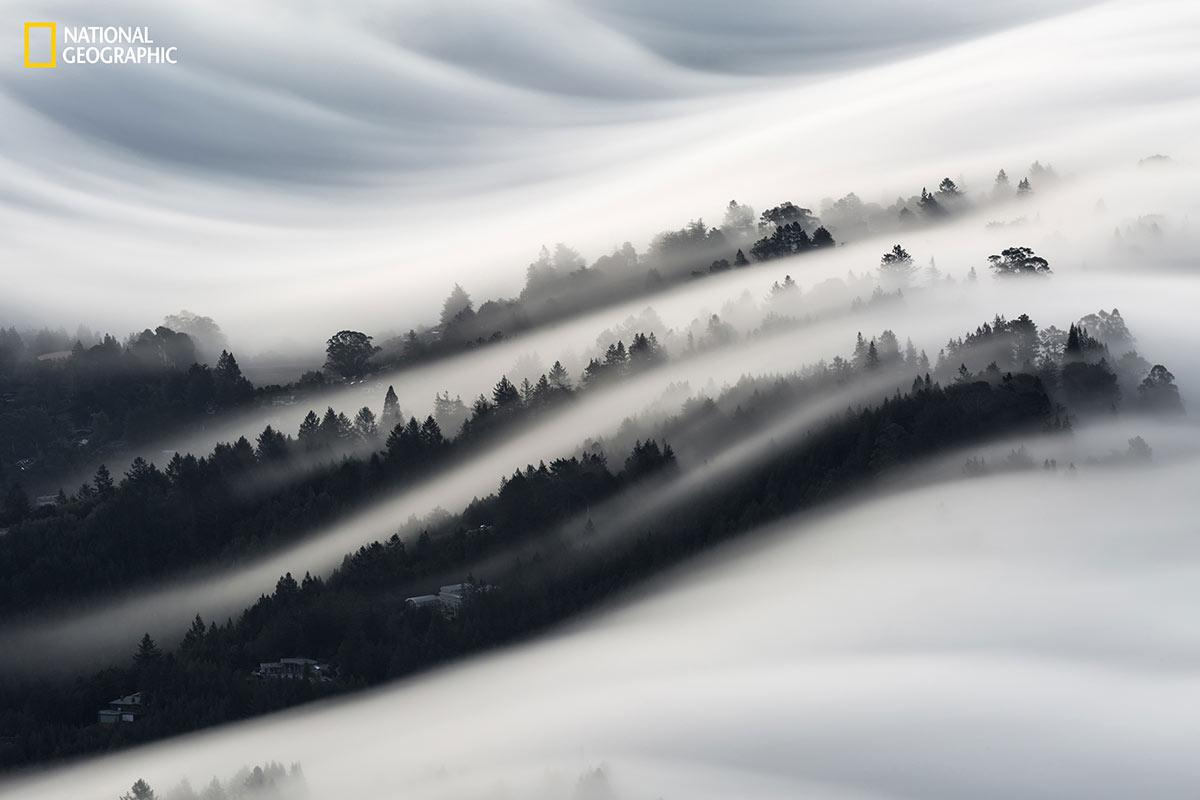 Waves of fog roll over a neighbourhood in Mill Valley, California, as seen from the top of MountTamalpais. Photograph: Christopher Markisz/2016 National Geographic Nature Photographer of the Year
---
>> LARGER THAN LIFE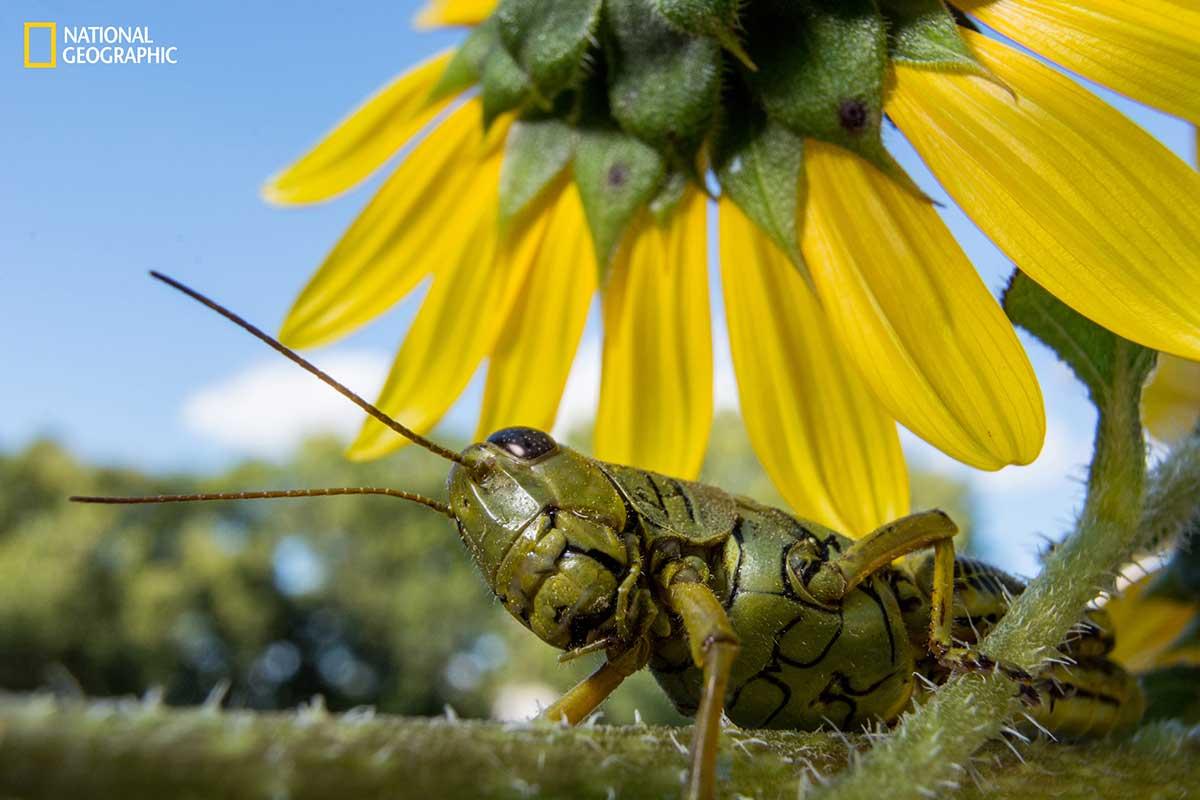 While photographing flowers at eye level, this grasshopper surprised me by crawling overhead and pausing to watch. To get the effect of a wide-angle macro image, I used an inexpensive lens with an extension tube attached. This allowed me to focus at a very close range to capture minor details, yet still allowed for a wide composition. I was so close that the front element of the lens nearly touched the subject. Photograph: Alex Wiles/2016 National Geographic Nature Photographer of the Year
---
>> F/1.4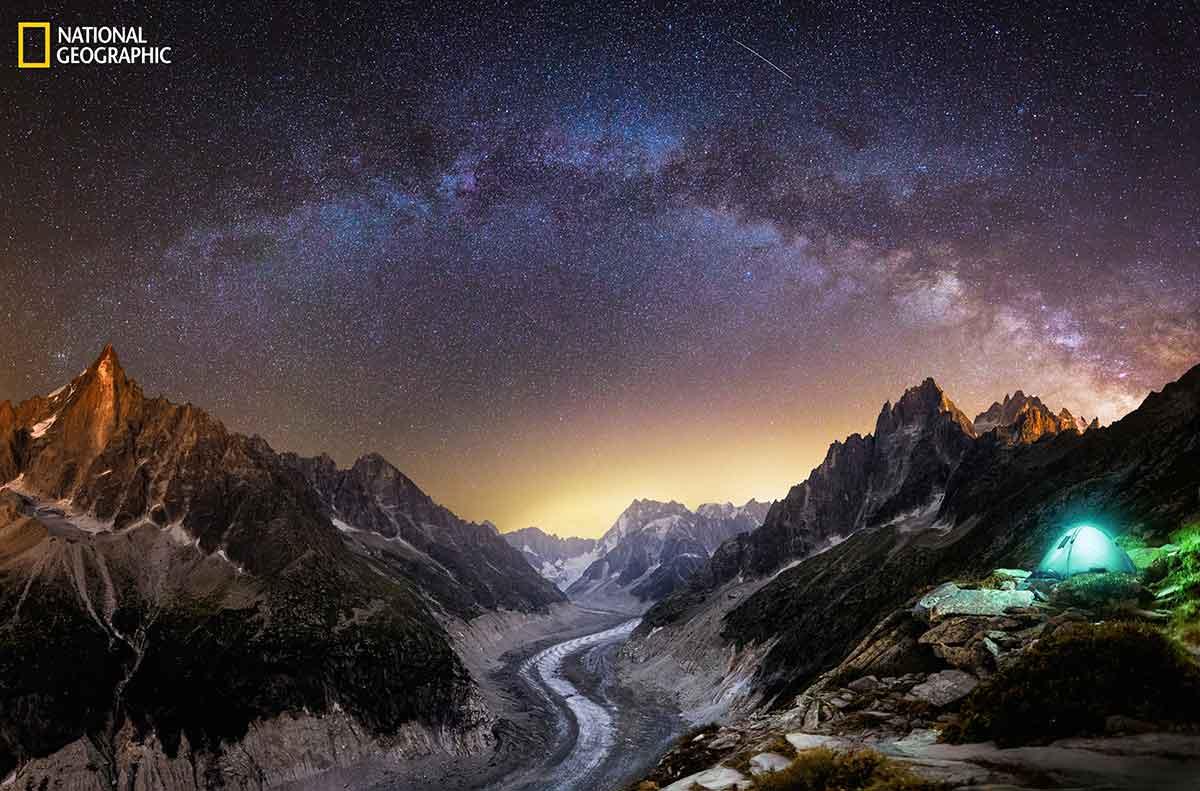 Near the Chamonix glacier, Panorama. Photograph: cmoon view/2016 National Geographic Nature Photographer of the Year
---
>> PUFFIN STUDIO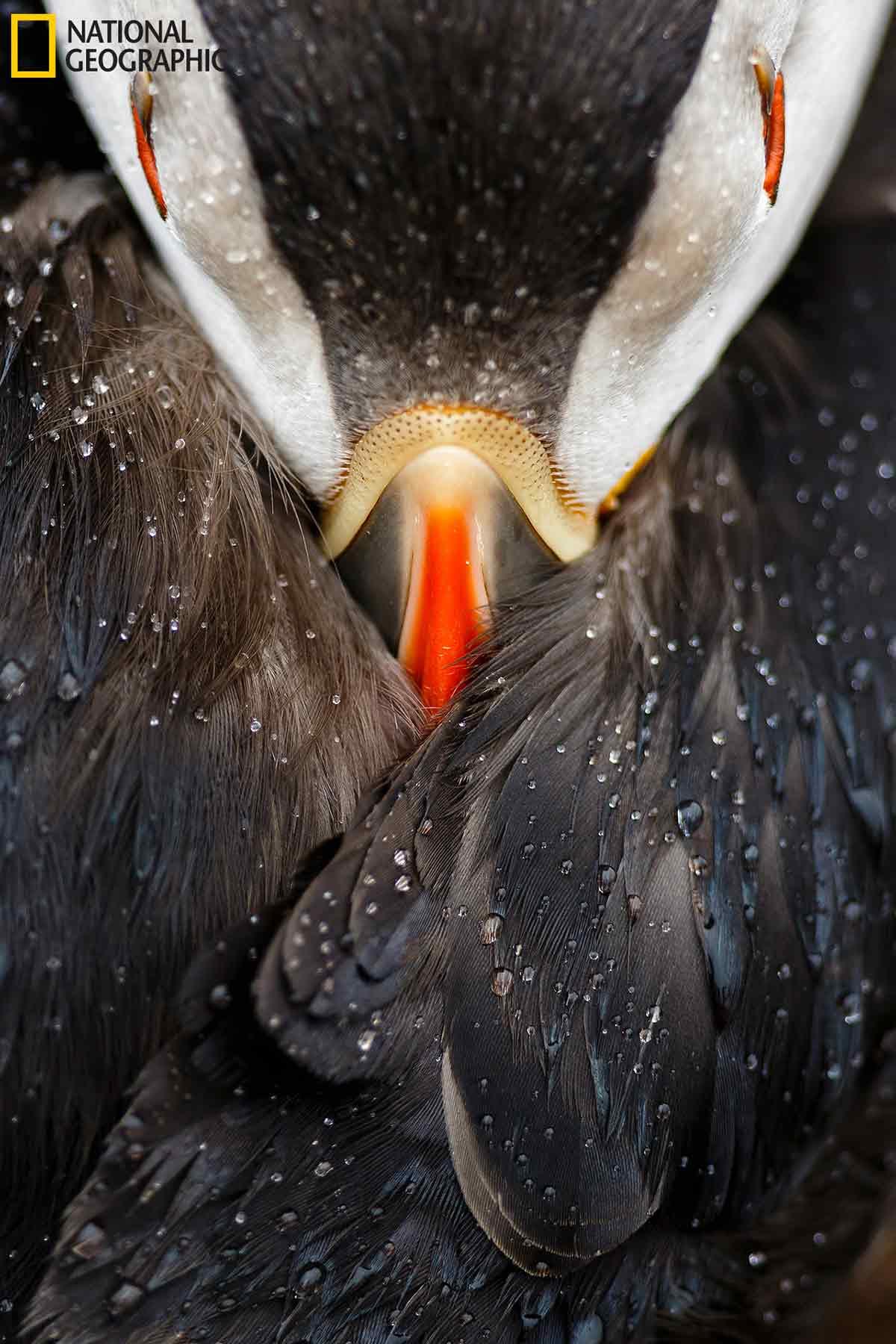 This image was taken last summer on SkomerIsland, Wales. It is well known for its wildlife, the puffin colony is one of the largest in UK. The photo shows a detail or study of an Atlantic puffin resting peacefully under the rain. As Skomer is inhabited, puffins do not feel afraid of humans, and so people can be close to puffins and the photographer can think about the right composition and take this kind of intimate portraits. Also that morning the conditions came together: rain and light. Photograph: Mario Suarez Porras/2016 National Geographic Nature Photographer of the Year
---
>> BREAKING THROUGH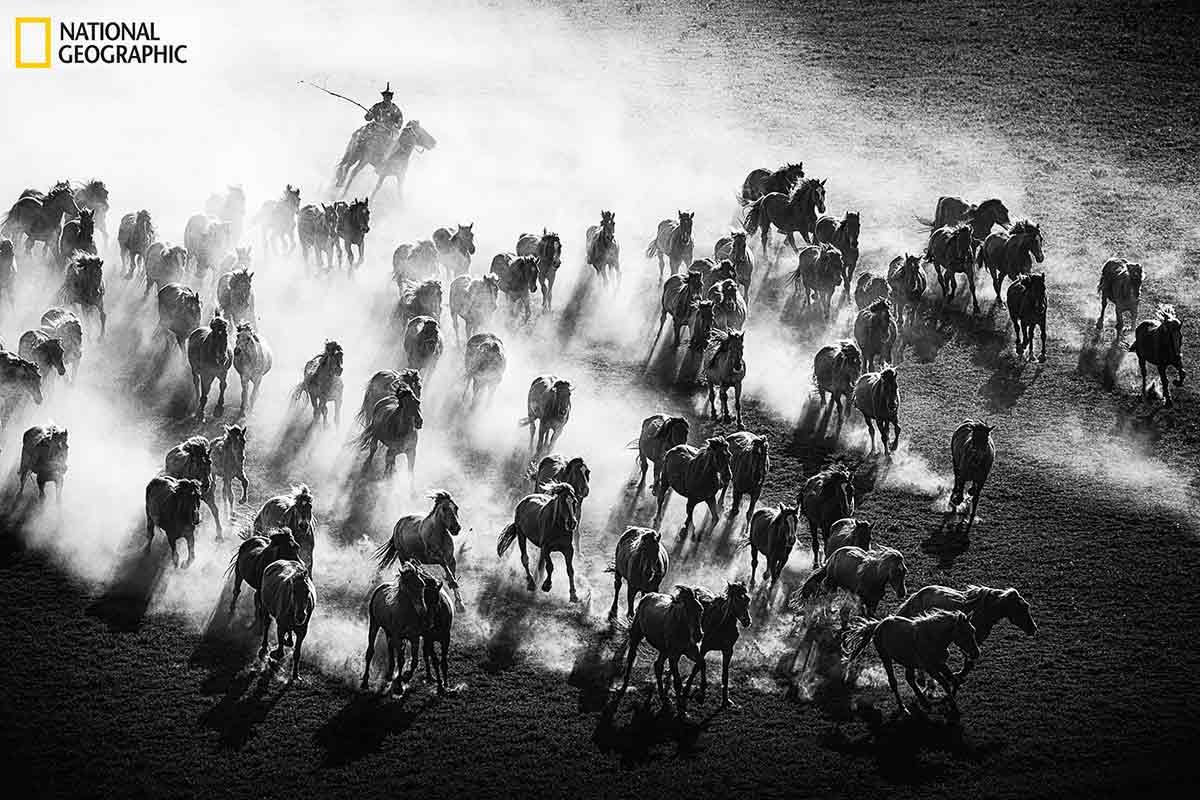 Shot at Inner Mongolia, China. Hundreds of horses rushing down across the Mongolia grassland and that was too impressive to hold a breath and record this moment. Photograph: Kyon. J/2016 National Geographic Nature Photographer of the Year
---
>> GLEN LE FÈERIQUE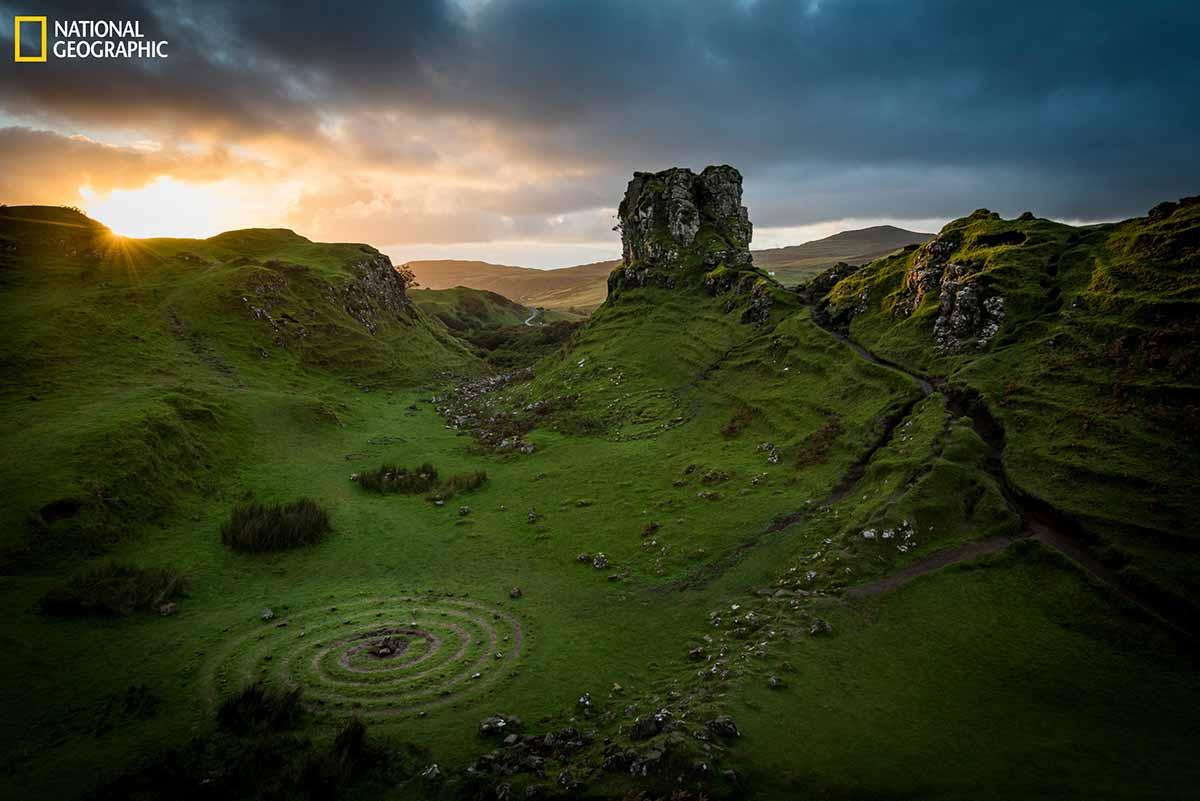 During my trip in Scotland, this shot was one of my first objectives. I spent a lot of hours and days to get it. The sign on left down corner is a Celtic spiral. It represents travel from the inner life to the higher spirit form. To the ancient people of Ireland, it represented the sun and its cosmic energy. Photograph: Fabrice Petruzzi/2016 National Geographic Nature Photographer of the Year
---
>> BEFORE SUNRISE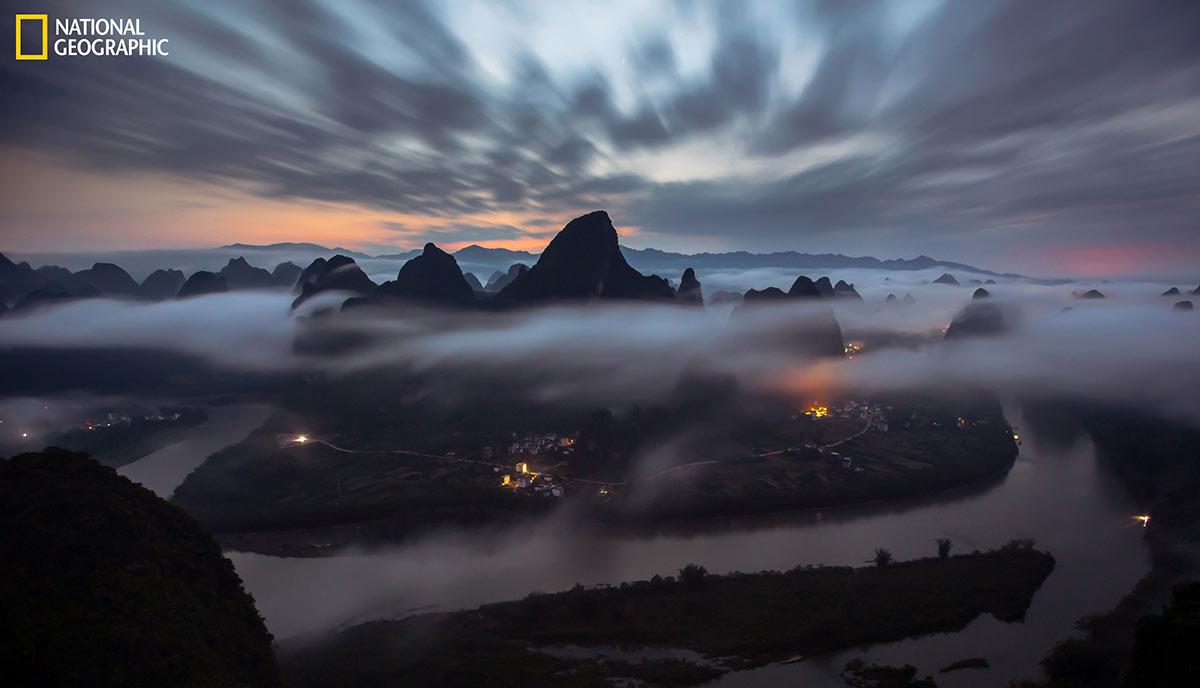 Quiet morning after raining for whole night in Xingping, Yangshuo. Photograph: Tianyuan Xiao/2016 National Geographic Nature Photographer of the Year
---
>> DIVING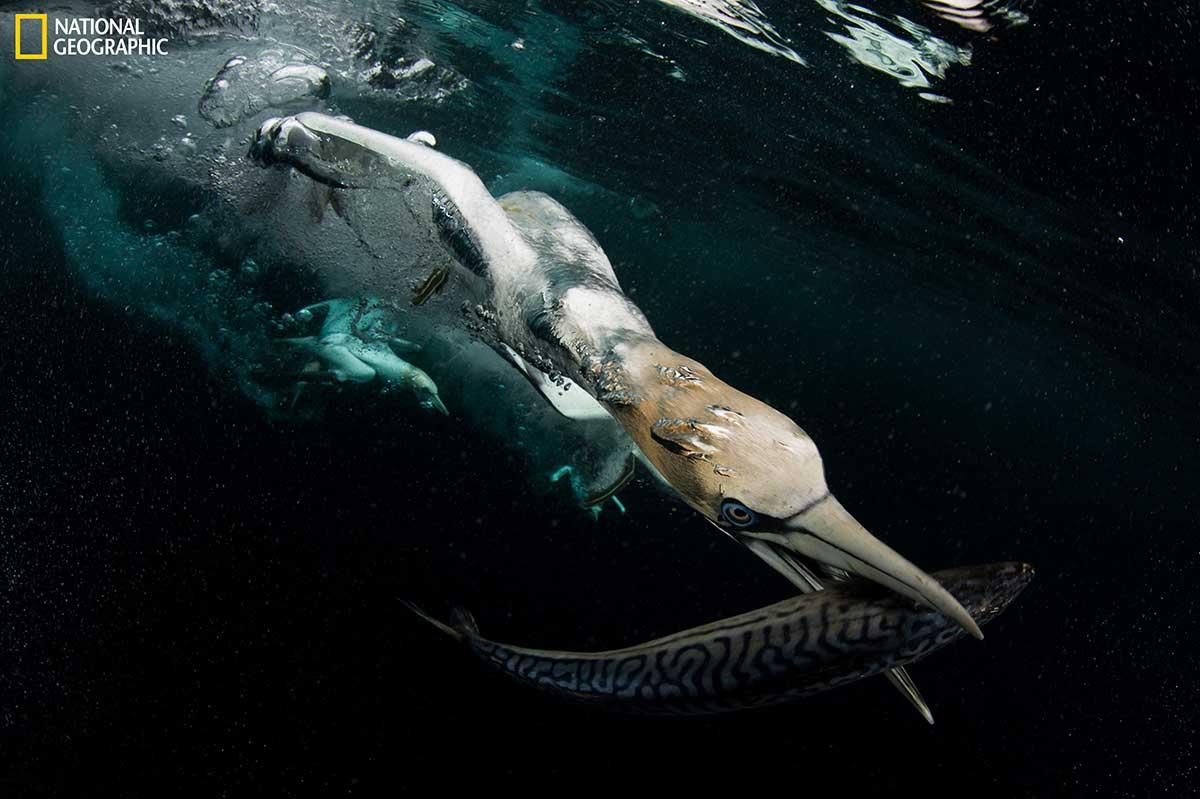 Northern gannets are the largest seabirds in the North Atlantic. They fish by diving into the sea, they can do it from a height of 30 metres with a speed of 80 km/hour, and pursuing their preys underwater. The island of Noss, in Shetland Islands, is one of the most important nesting point, with over 7,000 breeding pairs. I took this picture in front of the high cliffs, from a small boat using an underwater housing, and surrounded by thousands of gannets flying, diving. Photograph: Felipe Foncueva/2016 National Geographic Nature Photographer of the Year
---
>> FIRE DANCER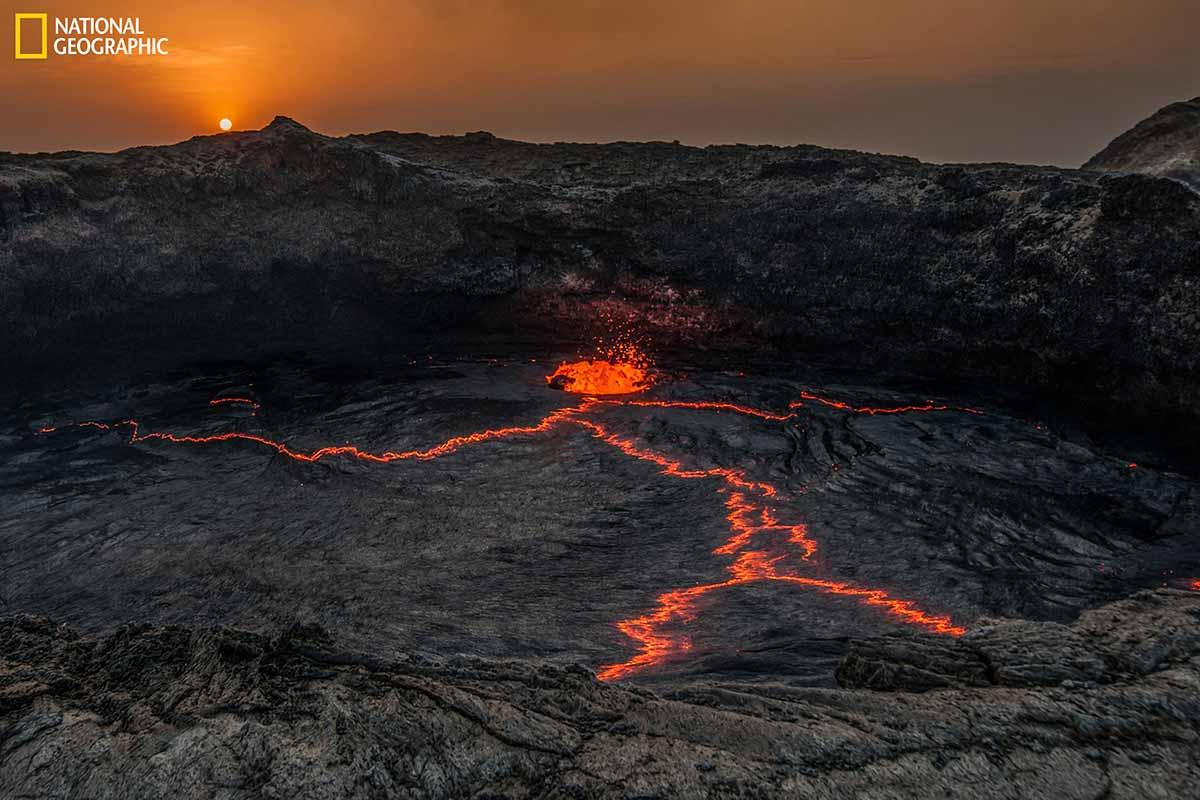 Sunrise over the Erta Ale lava lake created a dramatic dichotomy between the power and intimidation of the angry volcano and the childlike innocence of a dancing stick-figure. The spewing and showering of molten lava, the charred, cracking of the newly formed black basalt, and the fiery sunset within the sulfuric haze created for a dramatic, ethereal experience akin to a "gateway to hell". The volcano had erupted only three weeks before this image was taken. Photograph: Brina Bunt/2016 National Geographic Nature Photographer of the Year
---
>> TOWARDS THE MIST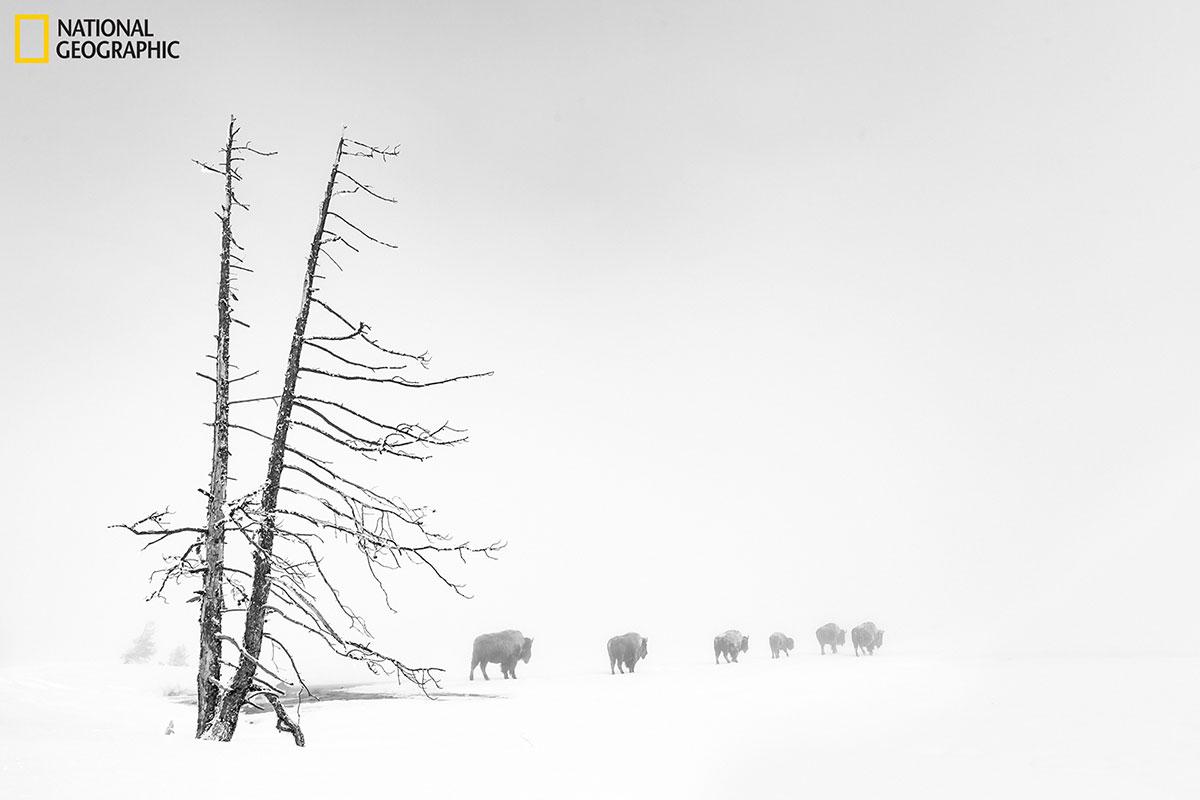 A herd of frosty buffalos walking in the snow towards thick fog produced by the Yellowstone geothermal activity. Photograph: Meril D/2016 National Geographic Nature Photographer of the Year