The Rishikesh-Badrinath National Highway was on Friday closed near Vishnuprayag in Uttarakhand's Chamoli district due to a landslide, following which hundreds of pilgrims were feared stranded at different places in Gopeshwar.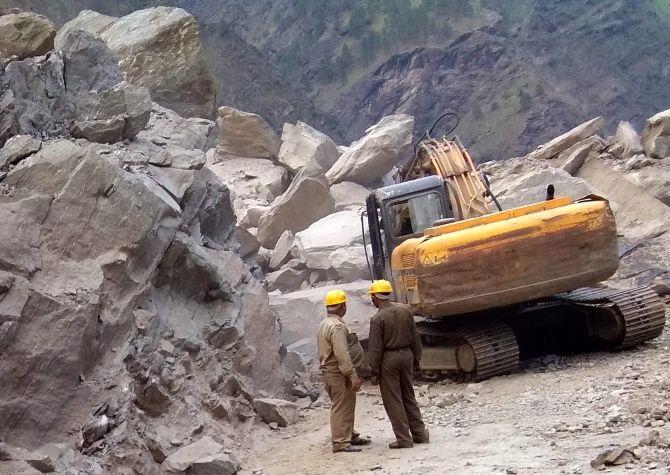 IMAGE: Rescue work in progress after a landslide near Vishnuprayag on the Badrinath route in Uttarakhand. Photograph: PTI Photo
The highway has been closed near Vishnuprayag, one of the five confluences of Alaknanda river, between Joshimath (also known as Jyotirmath) and Badrinath, the famous pilgrim spot in the hill state.
In the afternoon, landslides occurred after huge boulders rolled down the Hathi Pahar mountain. The area between the highway and Alaknanda river was filled with debris.
District Magistrate Ashish Joshi said that Border Roads Organisation personnel are engaged in clearing the roads and it could be opened for the traffic by Saturday afternoon.
He also said efforts are on to provide all facilities to 1,000-1,500 pilgrims who are at Joshimath, Karnaprayag, Pipalkoti, Govindghat and Badrinath.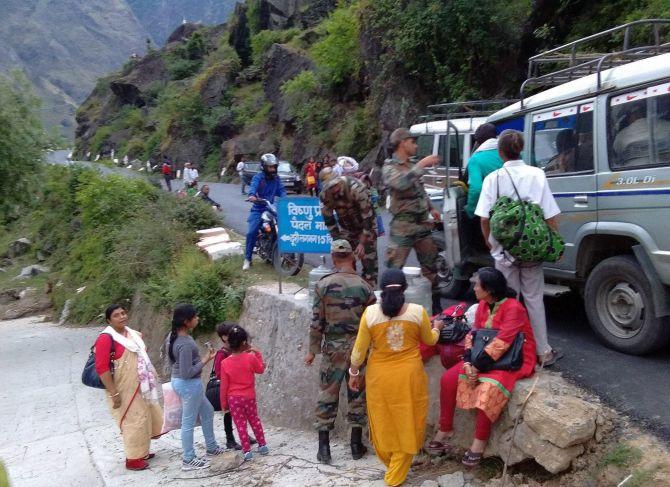 IMAGE: Hundreds of pilgrims are feared stranded. Photograph: PTI Photo
The pilgrims have been asked to stay at these places till the way is cleared.
Keeping in view the danger posed by intermittent fall of debris from the mountain, the district administration has arranged for safety of travellers at convenient places in advance, Joshi said.
However, witnesses said that huge rocks from Hathi Pahar have fallen over the road and it could take a long time to get the way cleared.
Due to the closure, pilgrims on way to Badrinath have temporarily stopped at Joshimath, Pipalkoti and Karnaprayag, and are waiting for the way to get cleared.