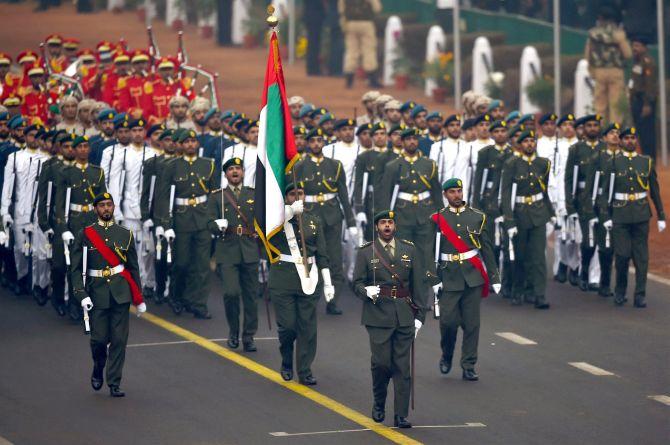 IMAGE: A military contingent of the United Arab Emirates leads the march past at the Rajpath during the 68th Republic Day Parade in New Delhi. Photograph: Kamal Singh/PTI Photo
A 149-member marching contingent from the United Arab Emirates, with a band comprising 35 musicians from that country, led the 68th Republic Day parade at Rajpath on Thursday.
Crown Prince of Abu Dhabi Sheikh Mohamed bin Zayed Al Nahyan was the Chief Guest at the function. Hence, the UAE contingent was given the honour to lead the parade.
Al Nahyan, also the Deputy Supreme Commander of the UAE armed forces, was seated next to Prime Minister Narendra Modi who wore a pink color safa (turban).
Leading the UAE contingent was Lt Col Abood Musabeh Abood Musabeh Alghfeli. Its personnel carrying M-16 rifle were from Presidential Guards, the Air Force, the Navy and Army.
The UAE is the second country after France to send troops to participate in the Republic Day parade of India, a tradition started last year.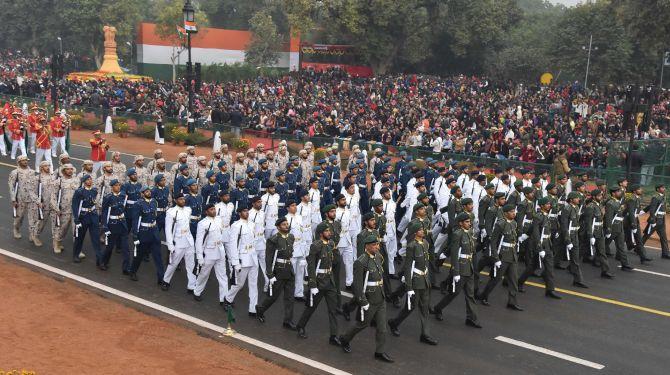 IMAGE: The 149-member marching contingent also comprises a band of 35 musicians. Photograph: PIB
The UAE military contingent was followed by an impressive military band of 35 musicians, dressed in white trousers and red bandhgala coat and playing delightful marching tune "Kaptien".
The UAE contingent got a formal invitation from the Indian Army to participate in the Republic Day parade about three-four weeks ago.
The Arab nation was initially interested to send its paratroopers, but the defence ministry did not agree to it.
Senior army officials said it was a good chance for Indian troops to interact with their UAE counterparts.