United States President Donald Trump said he apologised to Prime Minister Theresa May on Friday over his bombshell interview with a British tabloid, in which he claimed she had ignored his advice on Brexit and praised former Foreign Secretary Boris Johnson's potential as a possible premier.
Trump's comments were condemned by British politicians as it delivered an astonishing political knifing of the already embattled May, comprehensively undermining her fragile position in Britain's tortuous negotiations on leaving the European Union next year.
Addressing a joint press conference at the end of their bilateral talks at the prime minister's country residence, Chequers, Trump said, "She's a total professional."
"I said, 'I want to apologise because I said such good things about you,' And she said, 'Don't worry, it's only the press,'" Trump said of their purported conversation.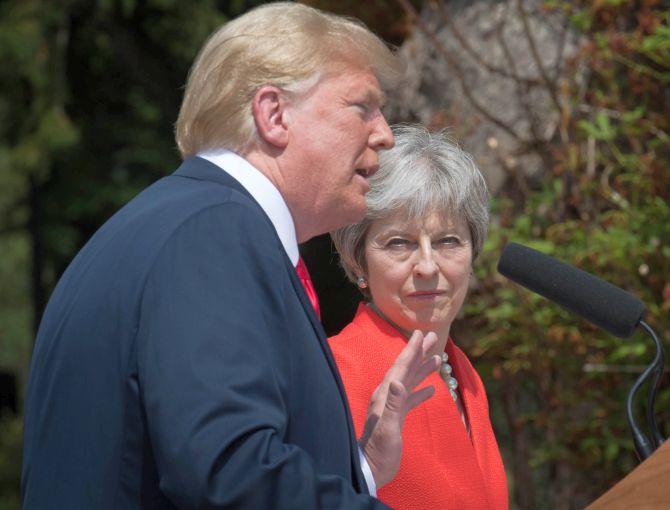 Trump added that he wished the Sun newspaper put the "tremendous things" he said about May in its headline, but acknowledged, "That's one of those things."
Trump has insisted the US-UK relationship is "the highest level of special".
He said Brexit was an "incredible opportunity" and "whatever" the UK did after it left the European Union was "OK with me".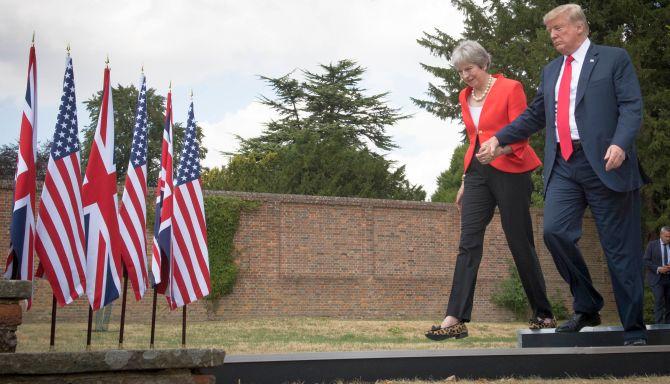 Trump described Brexit as a "very tough situation... between the borders and the entries into the countries and all of the things", saying: "The only thing I ask is that she work it out so that we can have very even trade".
Trump said: "The relationship between our two nations is indispensable to the cause of liberty, justice, and peace."
British Prime Minister May said they had discussed plans for an "ambitious" trade agreement.
May said the US was "keen" to do a deal with the UK, adding: "We will do a trade deal with them and with others around the rest of the world".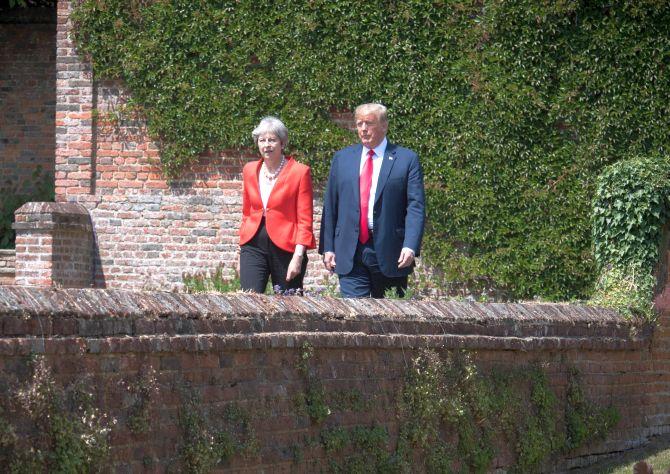 She maintained the government's Brexit agreement "delivers" on the referendum vote.
In the interview with the Sun newspaper, Trump -- who has been a long-time supporter of Brexit -- said May had not listened to his advice on how to do a Brexit deal, saying: "I would have done it much differently."
Trump also said that former British Foreign Secretary Johnson -- who disagrees with May on Brexit and resigned this week -- would make a "great prime minister", adding: "I think he's got what it takes."
But at the Chequers news conference, Trump said he had been responding to the Sun's question about Johnson as a possible prime minister, adding: "He has been very nice to me. He's been saying very good things about me as president".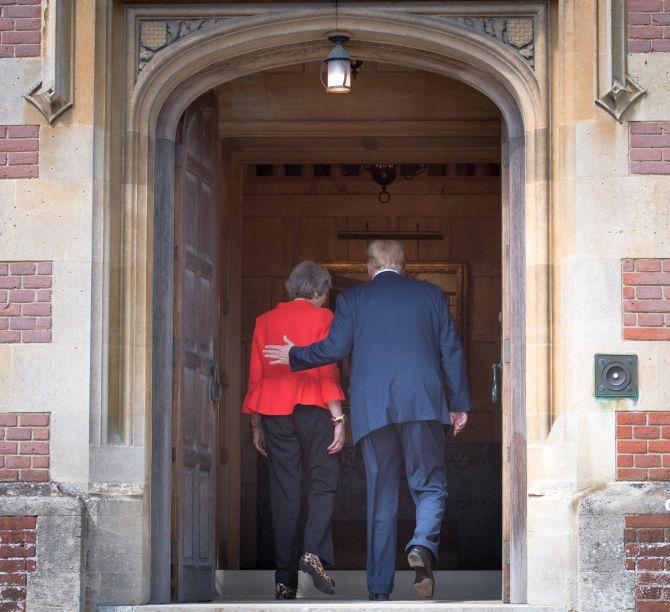 After Trump's interview was published, White House spokeswoman Sarah Sanders said the president "likes and respects Prime Minister May very much", adding that he had "never said anything bad about her".
Meanwhile, shadow foreign secretary Emily Thornberry said the Prime Minister May "should be standing up to [Mr Trump]" after he "slagged her off", instead of holding his hand.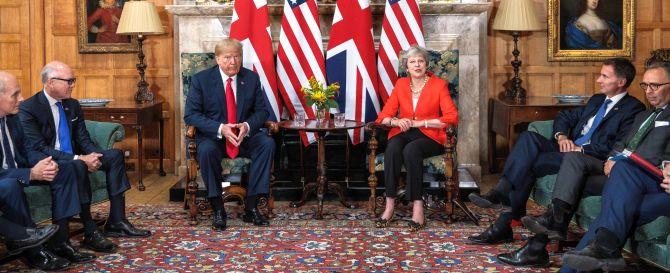 Earlier in the day, British Prime Minister Theresa May presented US President Donald Trump with a special ancestral chart commemorating his mother's Scottish birth.
The illustrated ancestral chart of the Scottish heritage of the US President, currently on tour in the UK, is a nod to his mother Mary Anne Macleod, who was born in 1912 on the Isle of Lewis in the Hebrides.
"President Trump is the first US president for over 100 years with a parent born in the UK. This gift underlines the deep historical links that many modern-day Americans have with the United Kingdom," Downing Street said in a statement.
The second day of Trump's visit to the UK was marked by mass protests across Britain, with a huge blimp depicting him as a baby wearing a nappy flown by demonstrators in London.
Melania bowls over Britain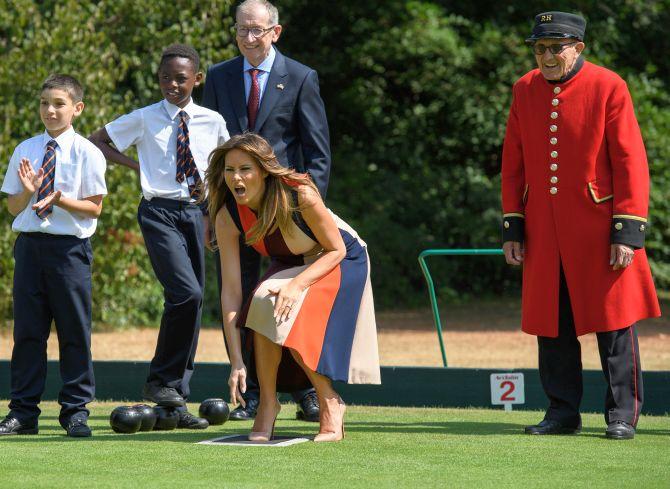 US First Lady Melania Trump howed off her playful side as she tried her hand at bowls during a visit to the Royal Hospital Chelsea on Friday morning.
The First Lady, 48, joined Philip May, 60, for the game with the Chelsea Pensioners and a group of local schoolchildren.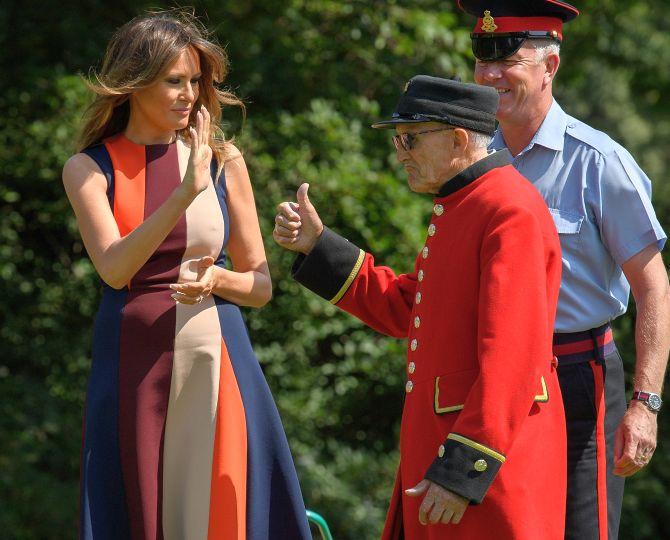 Trump, who wore a Victoria Beckham dress and 5in heels for the engagement, threw herself into the spirit of the competition, groaning with frustration when her turn went awry.
She clapped as May stepped onto the green and later celebrated by high-fiving a uniformed Chelsea Pensioner, much to his delight.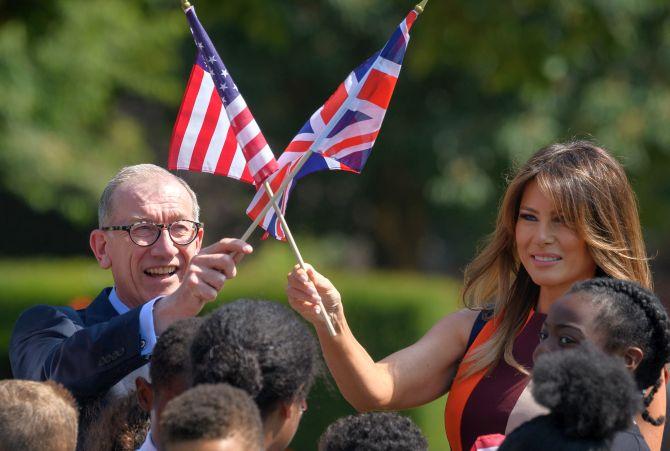 Earlier Philip May and Trump joined the children in making Remembrance Day poppies.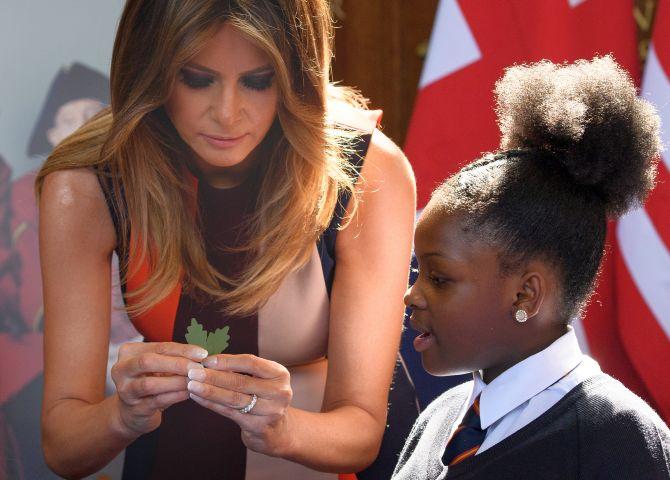 Fit for a king! May hosts dinner reception for Trump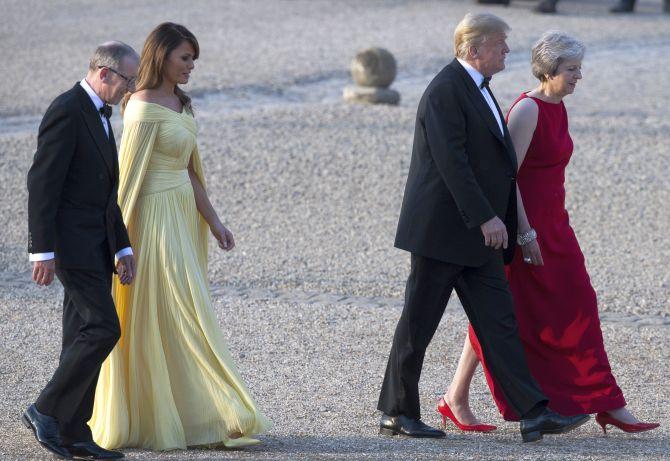 British Prime Minister Theresa May welcomed US President Donald Trump and his wife Melania to Blenheim Palace with a lavish black-tie dinner on the first day of his UK visit.
The US first couple were given a red carpet reception.
The dinner, with 150 invited guests includes dignitaries and government employees.
A report in Vanity Fair read, "She wore a buttercup gown with shoulder capes that says, "I'm the princess now." It's very Beauty and the Beast, which, well, are we tired of sartorial metaphors yet?"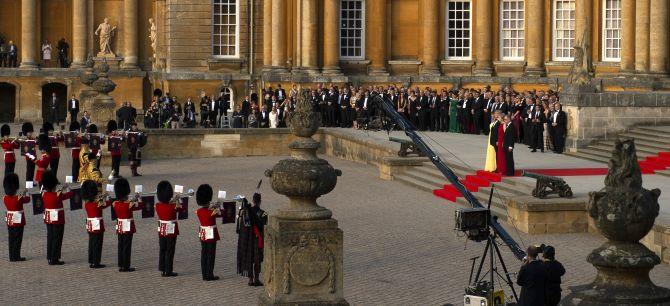 As the US first couple ascended the stairs to the palace, Trump once again clasped May's hand, while Melania walked hand-in-hand with May's husband Philip.
Blenheim Palace is the only palace in Britain that neither the monarchy nor the church own.
The US president is on a seven-day, three-nation European trip.
Trump arrived in the UK for his working visit after concluding the two-day NATO Summit in Brussels.
-- With inputs from ANI, Agencies