With a saffron-coloured cloth covering his head, Canadian Prime Minister Justin Trudeau on Wednesday offered prayers at the Golden Temple in Amritsar, where he was presented with a traditional robe of honour.
The Punjab leg of Trudeau's visit comes after he mingled with Bollywood stars in Mumbai and a visit to the Sabarmati Ashram in Ahmedabad and a trip to Taj Mahal in Agra.
Here are glimpses from Day 4 of the Trudeau India visit.
Canadian Prime Minister Justin Trudeau, accompanied by wife Sophie Gregoire Trudeau, three children -Ella-Grace, Xavier and Hadrien and a delegation of ministers, landed in Amritsar on Wednesday. He was received by Hardeep Singh Puri and Navjot Singh Sidhu at the airport.
Photograph: @VikasSwarup/Twitter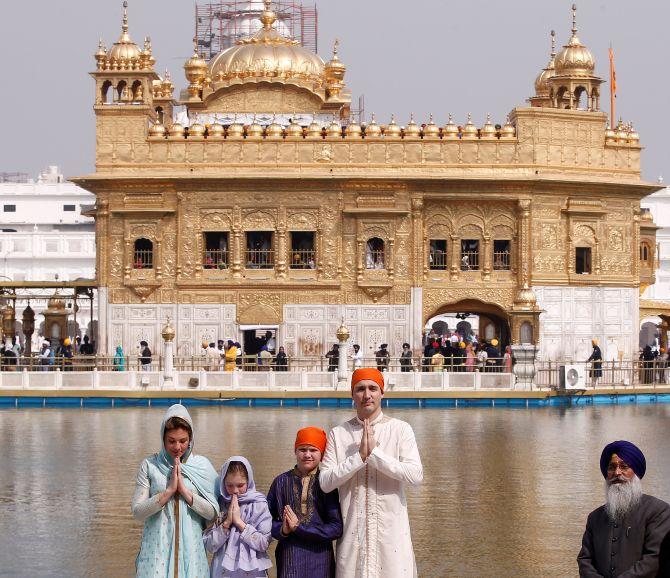 In a white kurta-pyjama, the Canadian premier visited the GoldenTemple where he and his family prayed at the sanctum sanctorum of the temple during an almost hour-long visit to the shrine.
Photograph: Adnan Abidi/Reuters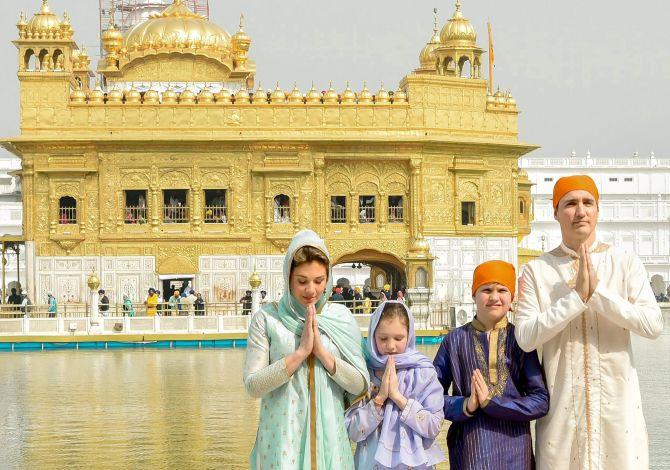 An overwhelmed Trudeau also recorded his thoughts in the visitors' book at the Sikhs' holiest shrine. "What an honour to be so well received at such a beautiful, meaningful place. We are filled with grace and humility," said Trudeau after paying his respects at the temple, which he visited with his wife and children.
Photograph: PTI Photo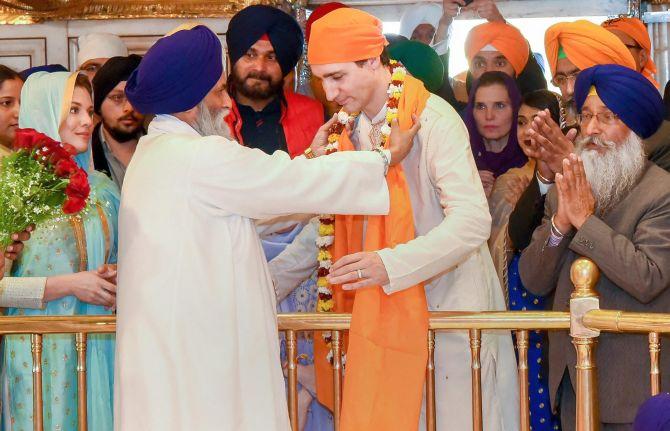 The Canadian PM and his family greeted devotees with folded hands while scores of visitors could be seen holding up their mobile phones to take pictures and videos of the Trudeaus. Punjab police officials and Shiromani Gurdwara Parbandhak Committeetask force sewadars (volunteers) formed a security ring around the dignitaries. Canadian security officials were also part of their security cover.
Photograph: PTI Photo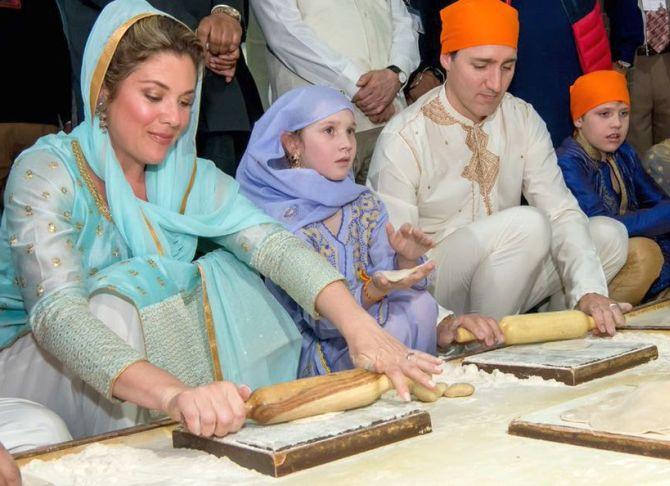 At the GoldenTemple, the Trudeaus also tried rolling out rotis at the Guru Ram Das Jee Langar hall where devotees do voluntary kitchen work for feeding visitors. And who better to teach them but Michelin-star chef Vikas Khanna. Taking to Twitter, the chef now based in New York wrote, "Teaching the beloved Trudeau family to roll Breads at The Holy Golden Temple. The same place where I learnt to cook."
Photograph: @ANI/Twitter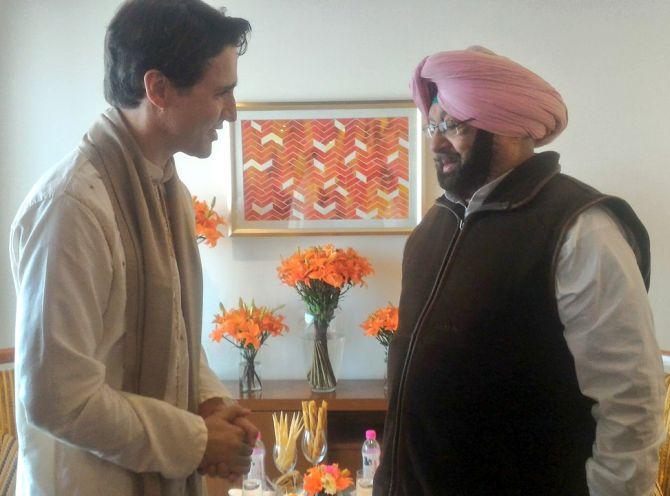 Canadian Prime Minister Justin Trudeau met Punjab Chief Minister Captain Amarinder Singh for a one-on-one meeting at the Taj hotel. Chief Minister Amarinder Singh said he took up with Canadian PM, the militancy concerns the state was facing. He also raised the issue of Khalistan, as money has been flowing in from various countries including Canada, Amarinder said after the meeting. According to reports, the Punjab CM also interacted with other members of the Canadian cabinet, including three Sikh ministers.
Singh also handed Trudeau a list of nine Canada-based operatives allegedly involved in promoting radicalism as the 'Khalistan' issue featured prominently in the talks between the two leaders. Trudeau assured his country did not support separatism in India or elsewhere as he pitched for greater cooperation, an official said.
Photograph: @VikasSwarup/Twitter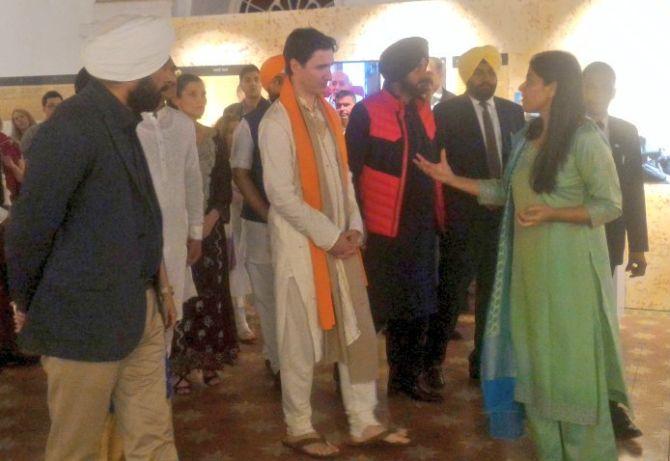 Trudeau visited the Partition Museum, dedicated to the memory of the partition of India in 1947, at Town Hall in Amritsar along with his ministers and MPs. Trudeau was accompanied by his cabinet ministers Harjit Sajjan, Navdeep Bains, Bardish Chagger, Kirsty Duncan, and Amarjeet Sohi. He was escorted by Mallika Ahluwalia, the CEO and Curator of the museum, Union minister Hardeep Singh Puri, Minister of Local Government, Culture and Tourism Navjot Singh Sidhu, and Member of Parliament Gurjeet Singh Aujla. Trudeau spent nearly 25 minutes at the museum.
Photograph: @VikasSwarup/Twitter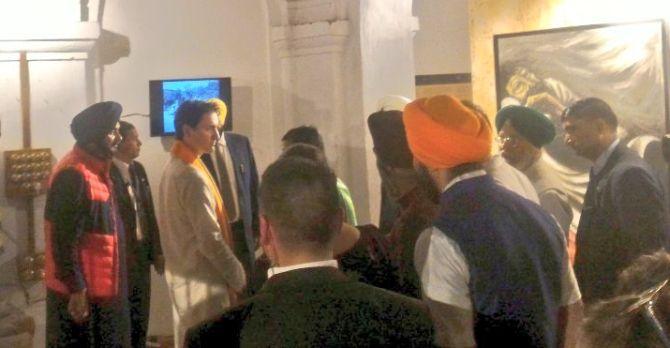 The Canadian PM spent some time in the gallery of migration, hearing stories and looking at objects carried by people as they fled their homes and moved across the newly-drawn borders at the time of Independence. He paused for a while at the well in the Gallery of Divisions, dedicated to the women who were lost at the time of partition. He spent the maximum time in the Gallery of Hope, which focuses on love and reconciliation. He left a note on the Tree of Hope writing that the museum is "a poignant reminder that dividing people is never the answer; we must learn to live together and love our differences."
Photograph: @VikasSwarup/Twitter