Canadian Prime Minister Justin Trudeau, who arrived in India for a week-long visit on Saturday night, began with a trip to Agra's Taj Mahal on Sunday.
Trudeau, accompanied by his wife Sophie Gregoire Trudeau and three children -- daughter Ella Grace, and sons Hadrien and Xavier -- will also visit Agra, Ahmedabad, Mumbai and Amritsar.
Here are glimpses from the Trudeau photo diary in India on Day 1.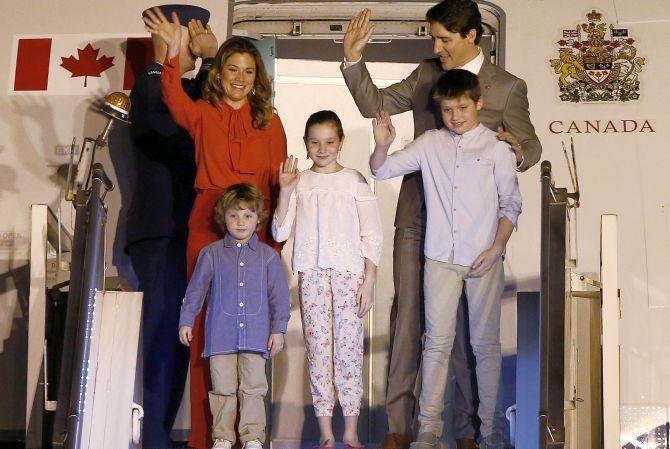 Canadian Prime Minister Justin Trudeau brought his charm offensive to New Delhi on Saturday, arriving in India with his photogenic family for a week of talks. The trip signals Trudeau's intention to improve Canada's relationship with India. The Canadian PM's family comprising of wife Sophie Gregoire Trudeau, their daughter Ella Grace, and sons Hadrien and Xavier, received a warm welcome from their hosts and reciprocated with keen waves and wide smiles as they disembarked their plane.
Photograph: Adnan Abidi/Reuters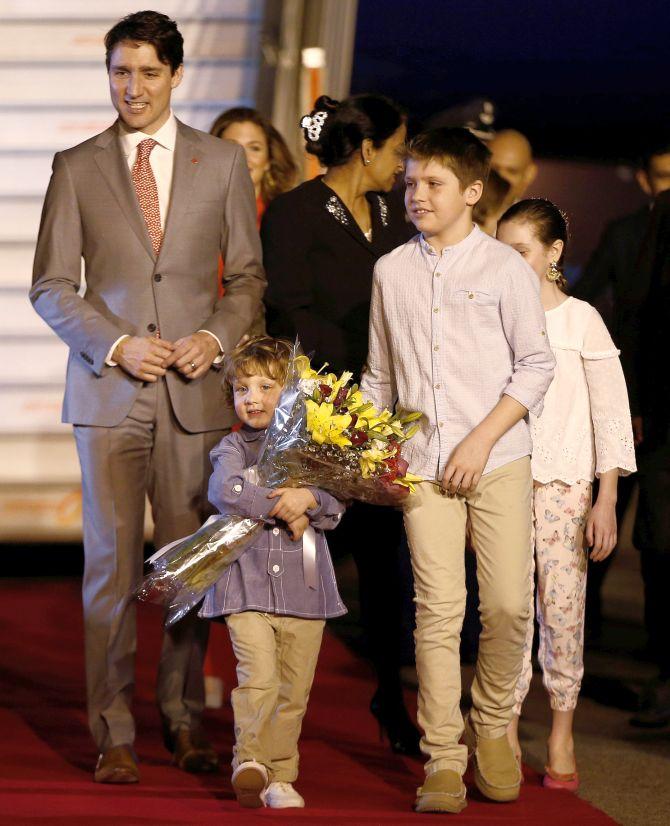 Hadrien, Trudeau's youngest, did his best to steal the show, making off down the red carpet with the flowers handed to his father by an Indian official, leaving the rest of his family to manage the receiving line. His father laughed and smiled as they made their way slowly as a family to a waiting car to be whisked away.
Photograph: Adnan Abidi/Reuters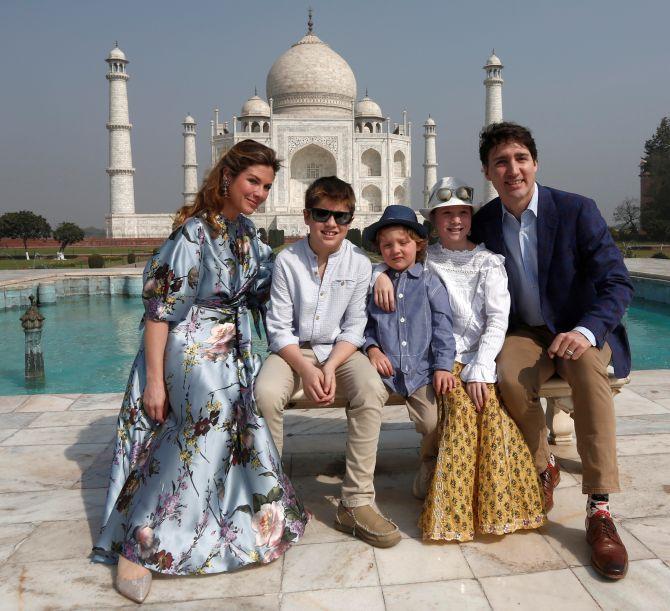 Canadian Prime Minister Justin Trudeau, his wife Sophie Gregoire Trudeau, their daughter Ella Grace and sons Hadrien and Xavier pose in front of the Taj Mahal in Agra.
Photograph: Adnan Abidi/Reuters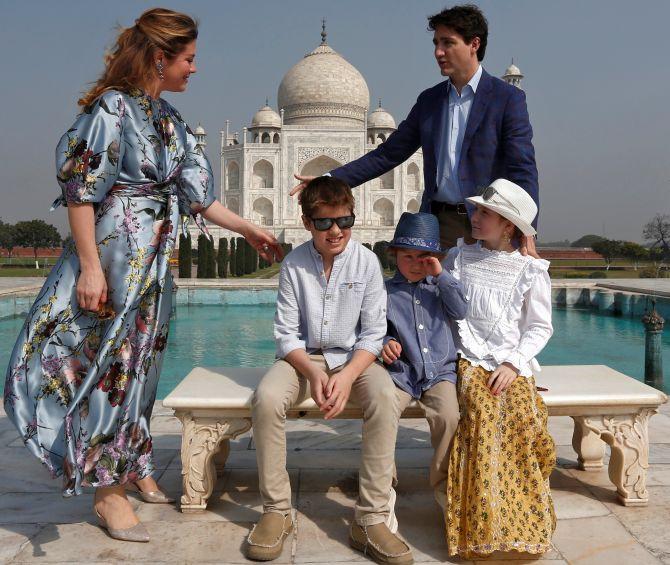 Canadian First Lady First lady Sophie Trudeau, a former television host who is now involved in various women's issues and philanthropic works, has engagements of her own chalked out during their visits to Delhi, Mumbai, Ahmedabad, Amritsar and Agra. According to officials, in Mumbai, Sophie will be meeting women college students at Sophia College and also visiting an NGO that works with women and girls. In Delhi, she will visit Nutrition International, a Canadian NGO that works on malnutrition problems in India and other Asian and African countries.
Photograph: Adnan Abidi/Reuters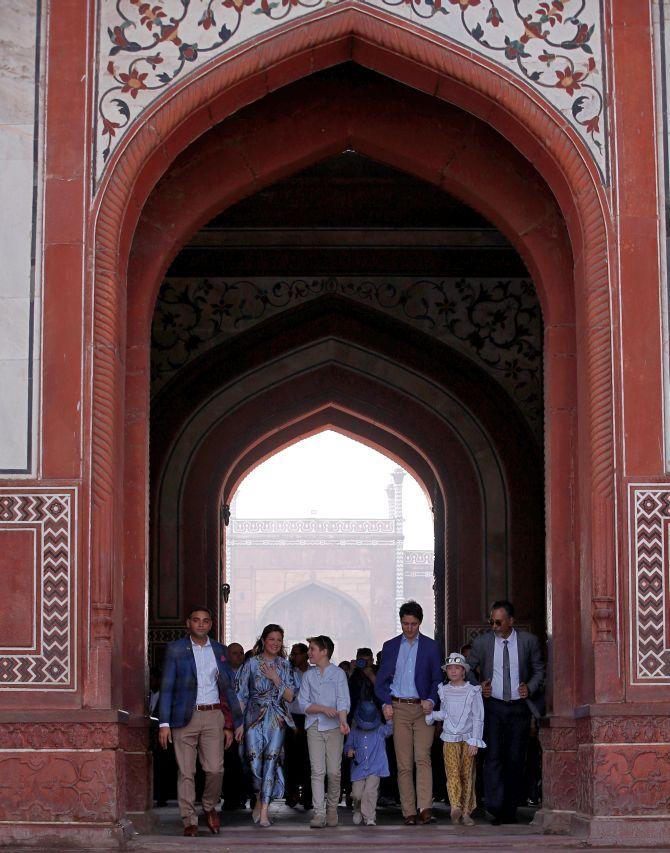 Other than the Taj Mahal, the Canadian first family will also be visiting the wildlife sanctuary in Mathura's Churmura on Sunday. The sanctuary will remain shut for two hours during his visit.
Photograph: Adnan Abidi/Reuters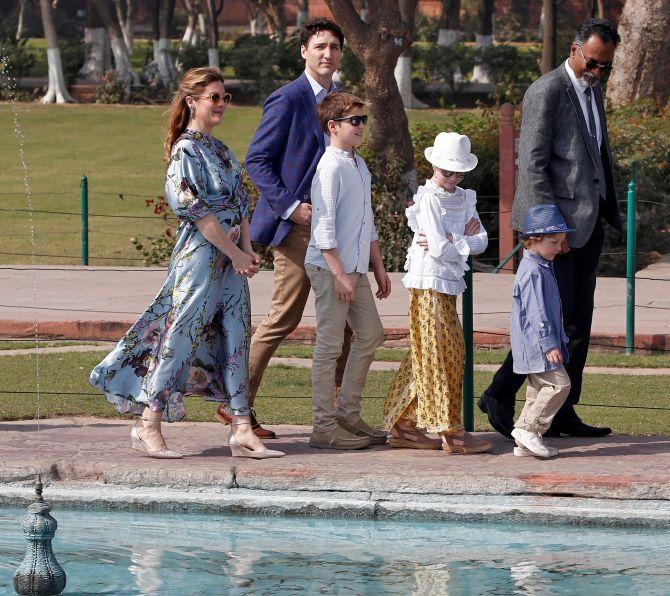 Other than the Taj in Agra, Trudeau will be also visiting Gujarat -- a first for a Canadian PM. He is also expected to visit the Golden Temple in Amritsar and Delhi's Jama Masjid and a cricket ground.
Photograph: Adnan Abidi/Reuters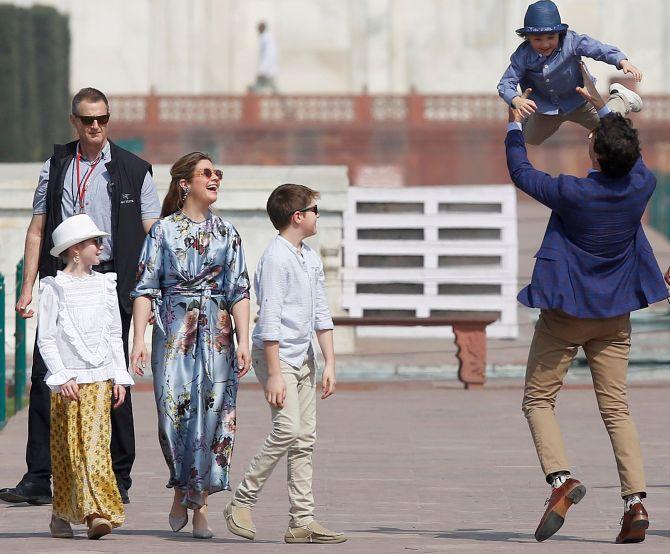 Trudeau shares a playful moment with his youngest child -- Hadrien -- during the family visit to the Taj.
In the visitor's book, the Canadian PM wrote, "Thank you for the wonderful visit to one of the most beautiful places in the world."
Trudeau said that it was his second visit to Taj Mahal. "About 35 years ago, when I was 11 years, I came to India on an official trip with my father (former Canadian Prime Minister Pierre Trudeau). I had come down to see Agra from New Delhi to see the Taj Mahal," Trudeau recalled, adding, "For me to be present on an official trip while bringing my kids with me to share this is really special and being able to enjoy this as a dad with my kids is really nice."
Photograph: Adnan Abidi/Reuters
WATCH TRUDEAU'S VISIT TO THE TAJ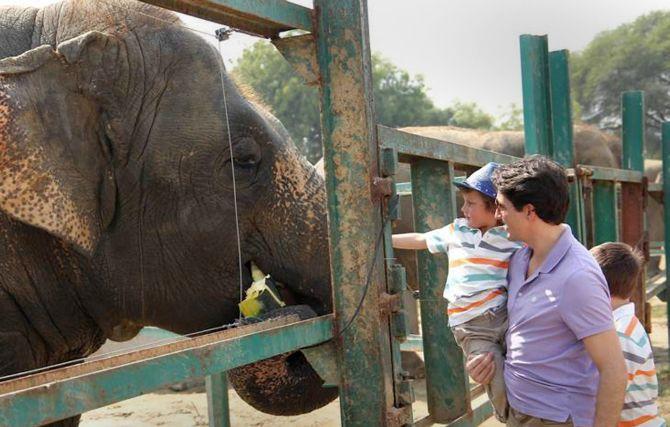 Canada's Prime Minister Justin Trudeau with his son Hadrien feeds an elephant during a tour of the elephant sanctuary in Mathura. The visit to the sanctuary came after the Canadian family visited the Taj Mahal, which Trudeau hailed as one of the most beautiful places to visit.
Photograph: PTI Photo