Heavy rains coupled with thunder and lightning lashed the metropolis on Tuesday, slowing down movement of vehicular traffic and suburban trains, and bringing back memories of torrential downpour late last month when the financial capital came to a standstill.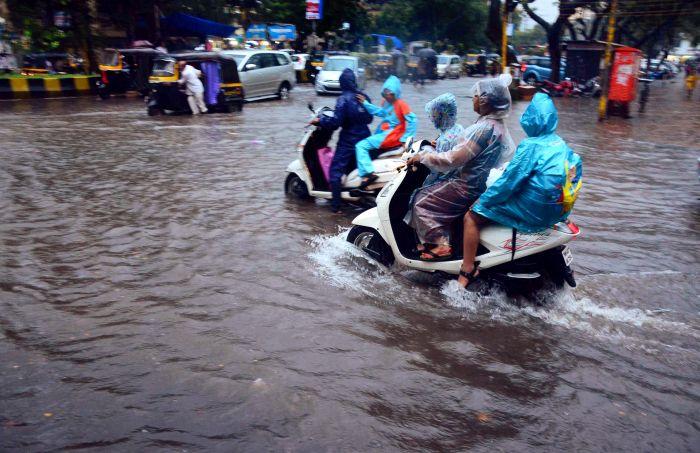 IMAGE: Vehicles wade through a flooded road after heavy rains in Vashi, Navi Mumbai. Photograph: PTI Photo
As the visibility dropped below 550 metres due to the downpour, runway operations at the Mumbai airport were suspended for a brief period during which some flights were diverted to nearby airports.
With the weather department forecasting more rain, the civic administration and other agencies have geared up to tackle any eventuality and keep the city afloat unlike on August 29, when the metropolis was flooded.
Mumbai schools, colleges to be shut on Wednesday
Schools and colleges in Mumbai Metropolitan Region have been instructed to remain closed on Wednesday in the backdrop of heavy rains, the Maharashtra government announced on Tuesday.

"Schools are instructed to remain close tomorrow for safety due to mixed predictions; This holiday will be compensated in Diwali #MumbaiRains," tweeted Maharashtra Education Minister Vinod Tawde.

"The precautionary holiday will be applicable for schools and colleges in Mumbai Metropolitan Region. #MumbaiRains," Tawde said in another tweet.
According to the India Meteorological Department, a forecast of heavy to very heavy rainfall at few places with extremely heavy rainfall in Raigad district adjoining Mumbai is expected in the next 24 hours.

Some isolated places are likely to receive extremely heavy rainfall, the forecast stated.

Similar forecast has been issued for south Konkan as well.

The IMD has also predicted that North Madhya Maharashtra would get heavy rainfall at isolated places in the 24 hours beginning September 21.
"No untoward incident has been reported so far owing to the rains and our contingency services are in alert mode," said a senior official attached with the disaster management cell of the Brihanmumbai Municipal Corporation.
"Till 5 this evening, our weather station in South Mumbai has recorded 28.71 mm rainfall. The eastern and western suburbs have recorded 28.93 mm and 25.11 mm rainfall, respectively," said the official.
On Sunday, the weather department had forecast heavy rains in Mumbai and the coastal Konkan region for the next three days.
However, the metropolis did not receive any significant amount of rainfall on Monday.
IMAGE: Heavy rains coupled with thunder and lightning lashed the metropolis, slowing down movement of vehicular traffic and suburban trains. Photograph: Shashank Parade/PTI Photo

On August 29, Mumbai received more than 300 mm rainfall that crippled transport services and threw normal life out of gear.
Several parts of the city and its suburbs, including South Mumbai, Borivali, Kandivili, Andheri and Bhandup, received heavy rainfall, the official said.
The downpour, which started in the afternoon, was accompanied by thunder and lightning.
As per information received from the Colaba observatory, the north Konkan region of Maharashtra, including Mumbai and its neighbouring areas, is expected to receive more rainfall, the official said.
There were reports of slow movement of vehicles on the city's streets, while suburban trains were running late.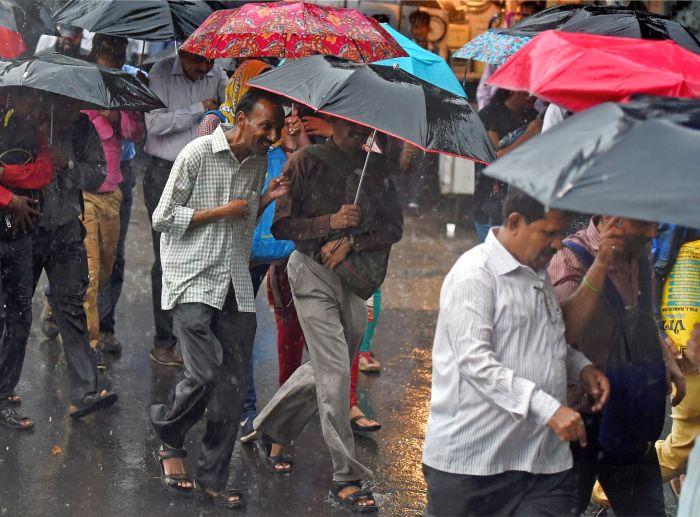 IMAGE: People were caught in the rain. Photograph: Photograph: Shashank Parade/PTI Photo
PRO of Central Railway A K Jain said, "(Suburban) trains are running a bit late, but there has been no cancellation till now."
A tree branch fell between Andheri and Vile Parle stations on the Harbour corridor in the afternoon, briefly halting the traffic, he added.
Mumbaikars, meanwhile, took to social media to express that all too familiar sinking feeling.
"Offices closing. Roads jammed. Water logged. A Mini 29 Aug is back. Stay Safe Mumbai," Pankaj Gupta tweeted with a hashtag #MumbaiRains
Spicejet plane overshoots wet runway at Mumbai airport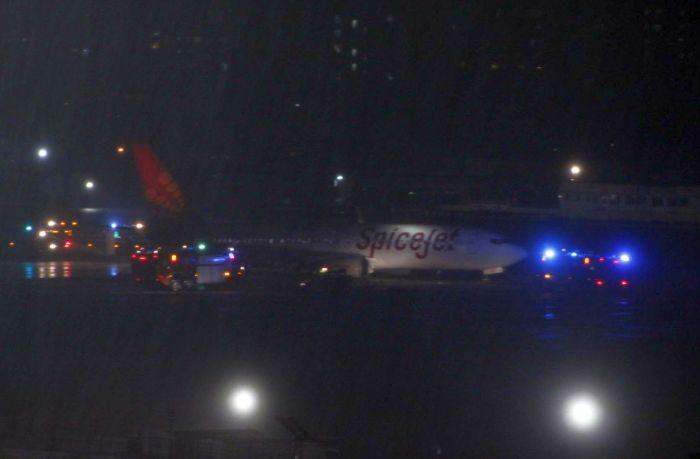 IMAGE: All passengers were safely evacuated using the emergency chute.
A Spicejet plane carrying 183 people overshot a wet runway while landing at the airport in rain-hit Mumbai and got stuck in the mud, officials said.
The passengers were safely evacuated using the emergency chute of the Boeing 737 aircraft, an airport official said.
The mishap, that occurred at around 10 pm, forced suspension of operations on the main runway. A Notice to Airmen (NOTAM) has also been issued regarding closure of the runway till 10:30 am tomorrow, sources said.
"During landing, the aircraft overshot the runway and skidded off into the unpaved surface due to wet conditions caused by heavy rains. All passengers deplaned safely and were taken to the arrival hall," a statement from the airline said.
No fire or smoke was reported in the aircraft, which had come from Varanasi, after the mishap which happened at around 10 pm, the official said.
Flights have been hit as the airport's secondary runway can only carry out limited operations.
"All operations at #Mumbai airport have been temporarily suspended. Our flights to & from Mumbai are affected," a tweet from Jet Airways said.
The Chhatrapati Shivaji International airport handles around 930 arrivals and departures a day.