Trinamool Congress workers on Wednesday took to the streets in various parts of West Bengal to protest arrest of party leader Sudip Bandopadhyay and staged a demonstration in front of union minister Babul Supriyo's house demanding his arrest.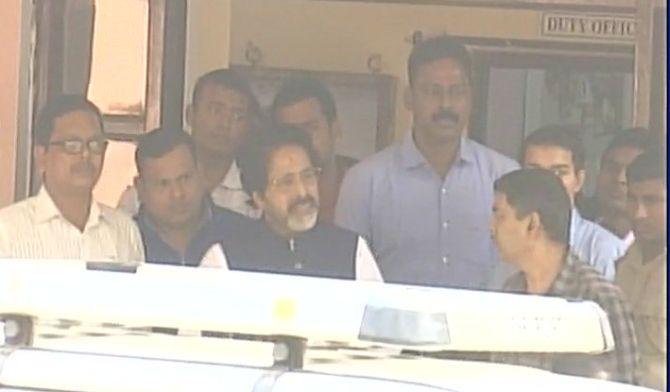 IMAGE: TMC MP Sudip Bandyopadhyay being taken to court from CBI office in Bhubaneswar on Wednesday

. Photograph: ANI/Twitter
The Bharatiya Janata Party, whose office was attacked on Tuesday by the people carrying TMC flags, meanwhile, urged state governor K N Tripathi to send a report to the Centre demanding imposition of President's Rule in view of 'growing lawlessness' in the state.
TMC activists staged protest in front of the housing society where Supriyo's house is located, demanded his arrest and resorted to rail blockade at some places.
Supriyo said the TMC activists burnt the BJP flag in front of the society and questioned the role of the police.
"My parents and other residents are scared. Let Didi (Mamata Banerjee) give proof of my involvement in the Rose Valley scam, I will be arrested", he said.
TMC also took out processions at various places and organised rail blockade at Kankurgachi and staged a protest in front of the Central Bureau of Investigation office.
A TMC delegation led by party secretary general Partha Chatterjee also met the governor and complained of "political vendetta" by the Centre against TMC which is opposing demonetisation.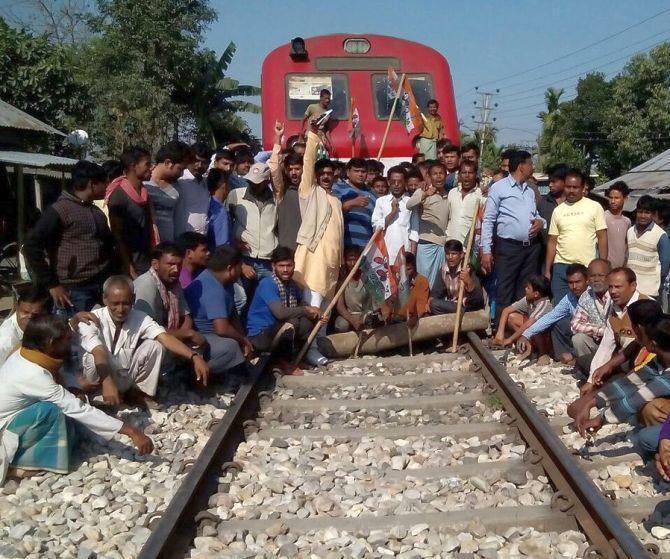 IMAGE:

TMC supporters stage a rail-roko protest in Cooch Behar over arrest of TMC MP Sudip Bandyopadhyay. Photograph: ANI/Twitter
Bandyopadhyay was on Wednesday remanded in six days of CBI custody by a special court in the Rose Valley chit fund scam case.
Following the court order, his party activists staged a demonstration before CBI's Odisha headquarters in Bhubaneswar.
The TMC MP's lawyer Rajiv Majumdar and others were present in the Chief Judicial Magistrate's court when judge P K Mishra remanded Bandyopadhyay for six days against CBI's appeal for a 12-day remand.
The CBI lawyer argued in the court that the agency should be given maximum time to interrogate the MP as he was not actively cooperating with the investigation.
The MP's petition for bail was also rejected by the court even as his lawyer pleaded that his client was unwell.
"I am innocent. I have no involvement in the scam. I have placed my point of view before the court and will again appeal the court to consider my point of argument," Bandyopadhyay told reporters after appearing in the court.
He was produced at the CBI-designated special court amid tight security after his medical examination at the Capital Hospital.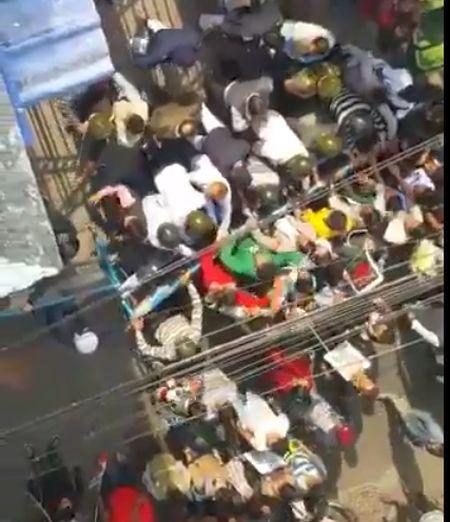 IMAGE: TMC workers protesting outside Babul Supriyo's house. Photograph: Babul Supriyo/Twitter
He also demanded that CBI arrest Supriyo in connection with Rose Valley chit fund scam.
"They (BJP) cannot stop TMC by conspiring and arresting our leaders", he said.
On BJP's demand of imposition of President's rule, he said, "They can demand anything".
State BJP president Dilip Ghosh led a party delegation to Raj Bhavan and apprised the governor of the attack on their party office yesterday by TMC men.
"It was unthinkable. We did not expect this. Our party office was attacked at different places including Hooghly and Durgapur. Babul Supriyo's house was attacked. We are concerned. It should stop," he said.
The state BJP chief also accused Chief Minister Mamata Banerjee of provoking her party workers to attack BJP offices and leaders.
MPs marching towards PM's residence held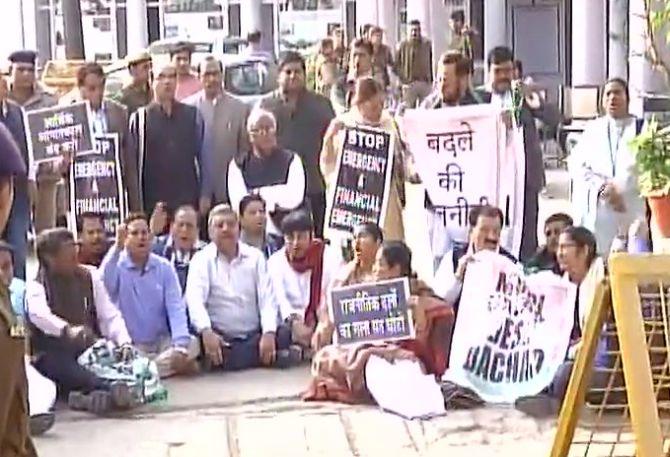 IMAGE: TMC leaders, including Kalyan Banerjee and Saugata Roy, protest after being detained at Tughlaq Road Police Station in New Delhi on Wednesday. Photograph: ANI/Twitter
In New Delhi, Trinamool Congress MPs took out a protest march towards the prime minister's residence but were taken into police custody before they could reach 7 Lok Kalyan Marg.
"We were marching peacefully towards the prime minister's residence, but the police detained us mid-way and manhandled few of our MPs," TMC leader Saugata Roy told reporters.
He added that as many as 36 MPs from the party took part in this protest march and they will continue to raise their voices against 'injustice done by the Modi government'.