Thousands of people stranded in isolated buildings and rooftops in flood-hit Kerala were rescued on Saturday, even as rains and fresh landslides were reported in some places as the toll touched 324 in the second spell of monsoon fury since August 8.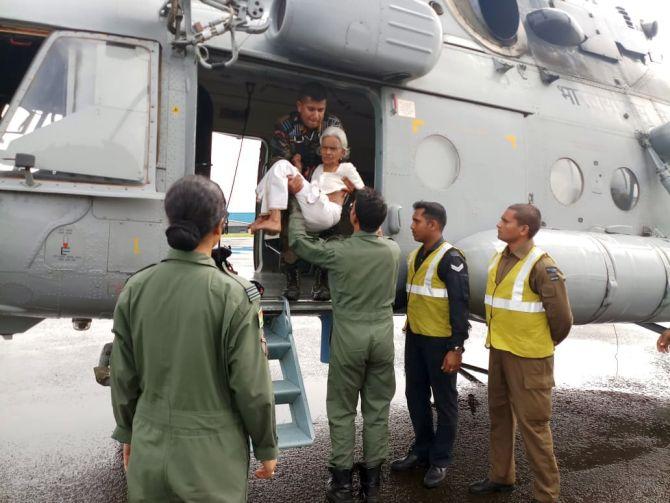 A large number of people, including senior citizens, women and children were airlifted from isolated buildings, while many others were evacuated in army boats, large fishing vessels and makeshift yachts, official sources said.
Packed house boats and rafts moving through inundated roads could be seen in all the flood-hit regions of the state.
However, people in worst-hit places like Pathanamthitta and Chengannur said that hundreds were yet to be evacuated.
In many places, the local people were in the forefront of the evacuation along with defence and National Disaster Response Force personnel.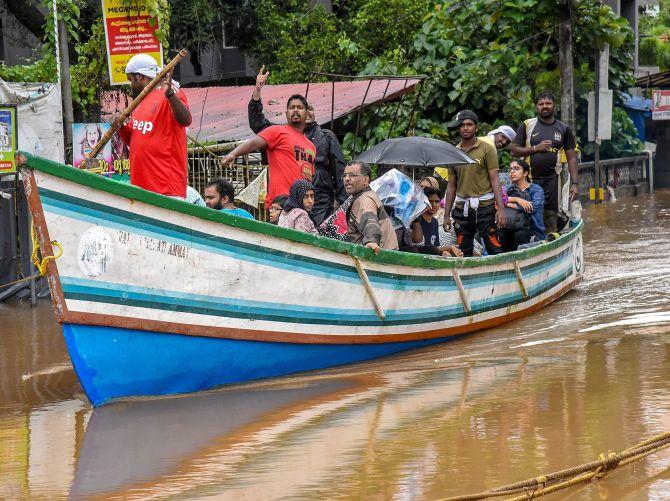 Lack of information about the isolated areas and houses, where a large number of people are believed to be stuck, is a worrying factor for rescuers, official sources said.
Over 54,000 people were rescued in Ernakulam district, mainly in Paravur and Aluva taluks which had witnessed heavy rains and severe water logging in the past two days.
Over 600 students, who were stranded in a building at the campus of Sree Sankaracharya University at Kalady near Kochi, since the past two days, were rescued on Saturday, they said.
According to navy sources, two sets of siblings from Kalady were rescued and brought to the naval base in Kochi and are waiting to join their parents.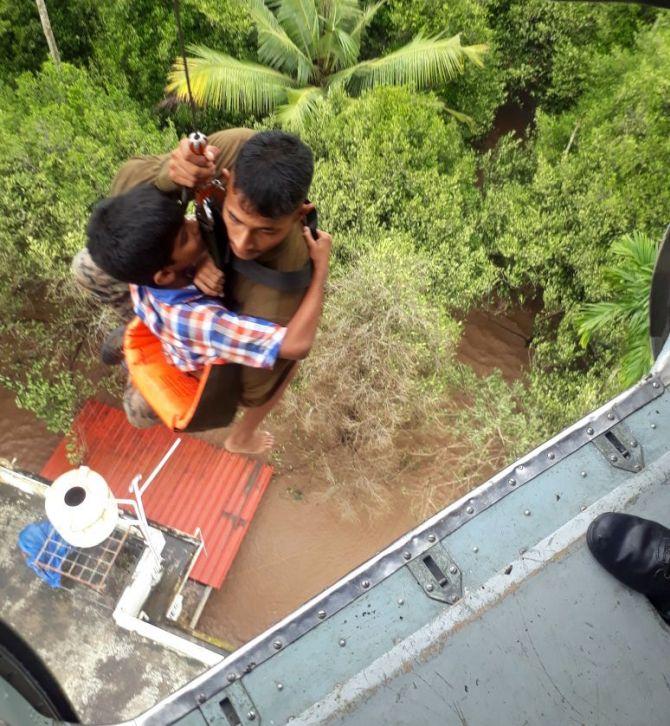 Local leaders said thousands of people are stuck in Paravur region of Ernakulam district.
With several people yet to be rescued, authorities issued orders to release private boats and school buses for rescue operations.
Fishing boats are already being using for the mission.
The plantation town of Nelliyampathy in the battered Palakkad district is fully cut off as a bridge was washed away and massive boulders fell on a main road in incessant rains and landslides.
Huge granite blocks, which had fallen from atop mountains, could be seen perched precariously amidst gushing flood waters.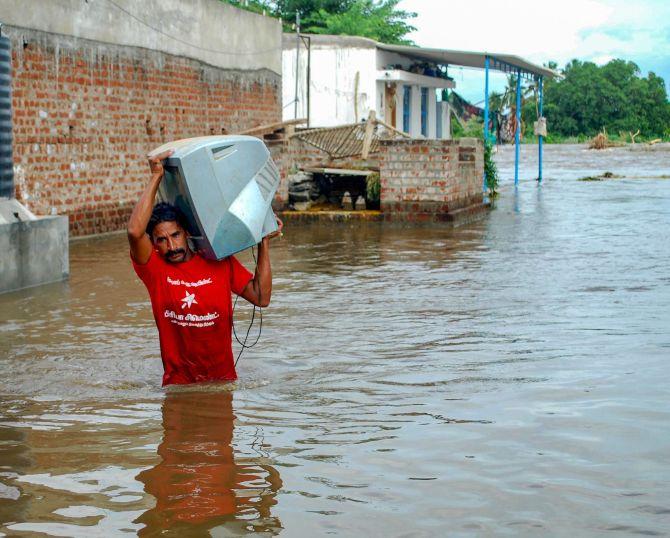 Youngsters could be seen helping women and the elderly cross the waters by lifting them.
Fresh landslides were also reported in high range Idukki.
Dead bodies were seen floating in several places, including Pandanad, Aranmula and Nenmara, where a massive landslide was reported two days ago.
Those returning home from relief camps were in for a shock, seeing muddy interiors of their homes, floating furniture, damaged books and reptiles and snails crawling inside.
District authorities have asked people living downstream of Kakki dam in Pathanamthitta to be vigilant as three of its four shutters were lifted up to 75 cm-90 cm.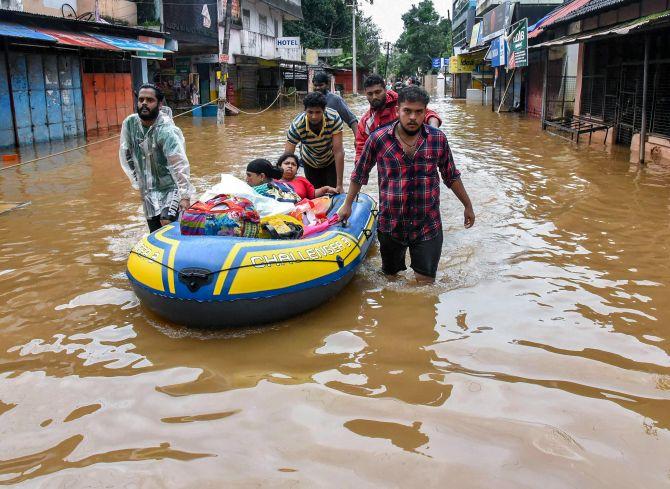 The weatherman has predicted heavy rains in various places of Kerala till August 20.
Idukki district received the maximum rainfall with Munnar and Peermade towns recording 11 cm and 10 cms respectively, they said.
According to authorities, since August 8, 194 people have lost their lives and 357 people have perished since May 29, when the south west monsoon hit the state.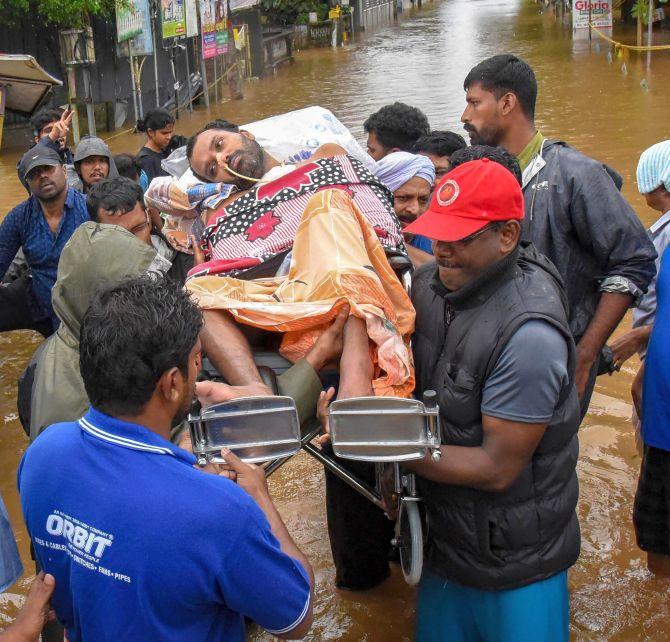 Over 3.53 lakh people are in 3026 relief camps across the state after the rains savaged Kerala.
Agriculture crops in over 40,000 hectares have been destroyed, they said.
Over 1,000 houses are fully destroyed and 26,000 partially.
Officials said 134 bridges and 16,000 km of Public Works Department roads and 82,000 kms of local roads were completely destroyed, causing a total loss of Rs 21,000 crore.