From the tallest dog to the high-jumping Llama, a bearded female to the most tattooed senior citizen... the 2017 edition of the Guinness World Records reveals a selection of the most jaw-dropping records and record holders.
After months of research and scouring the globe looking for the best of the best, the 2017 Edition teems with fun and educational content that will fascinate, entertain and educate knowledge-seekers of all ages and interests, the Guinness World Records said in a statement.
Rediff.com gives you a glimpse of some the records featured in the latest edition of the Guinness World Records.
Scroll down to see:
---
Youngest female with a full beard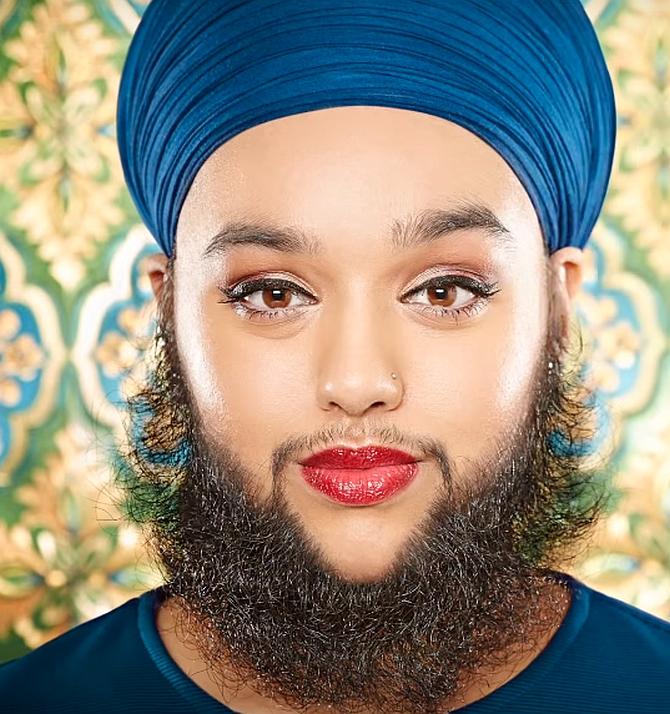 Anti-bullying activist, body image activist and catwalk model Harnaam Kaur of Slough, United Kingdom, has a fascinating story to tell.
Now with a beard measuring as long as six inches in places, she overcame years of bullying to take ownership of her appearance and achieve this record title at the age of 24 years 282 days.
She describes her place in the Guinness World Records book as "absolutely humbling" and hopes it will help her to impart her empowering message. 2016 has been a huge year for Harnaam, having become the first female with a beard to walk the runway at London Fashion Week in March.
---
Longest duration full-body burn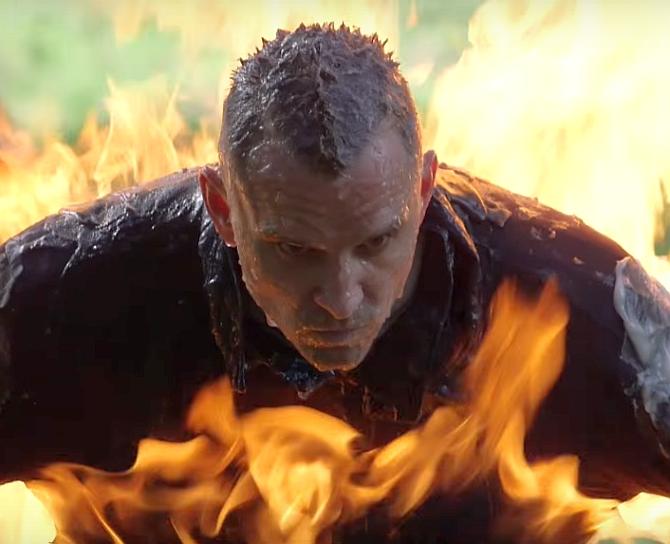 With 49 movie credits to his name, most recently in the 2015 remake of Point Break, stunt man Josef Toedtling from Austria has built a successful career by putting himself harm's way...
His exploits have seen him enter the Guinness World Records book for the first time this year -- he holds the Longest duration full-body burn (no oxygen) with an awesome 5 mins 41 seconds, beating the previous record by 16 seconds.
He also holds the record for Farthest distance pulled by a vehicle (full body burn) reaching a huge 582 metres – another skill learned on various film sets over his career.
---
Highest jump by a Llama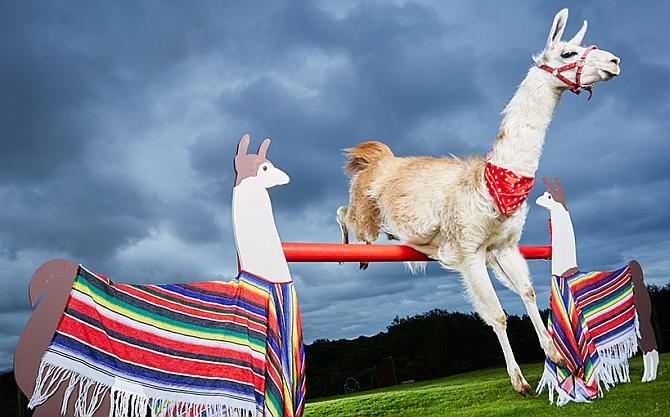 Nine-year-old Caspa has been with his owner, Sue, from Porthmadog, Wales, since he was two years old. Sue describes him as "a total diva".
Like most Llamas, Caspa was more adept at spitting and kicking when he first arrived on the farm but after spotting his extraordinary talent, he and Sue have been able to bond through his positive reinforcement training.
Caspa can now clear a bar standing at a huge 1.13 m (3 ft 8.5 in), making him the envy of all the other Llamas on the farm.
---
Tallest dog living (female)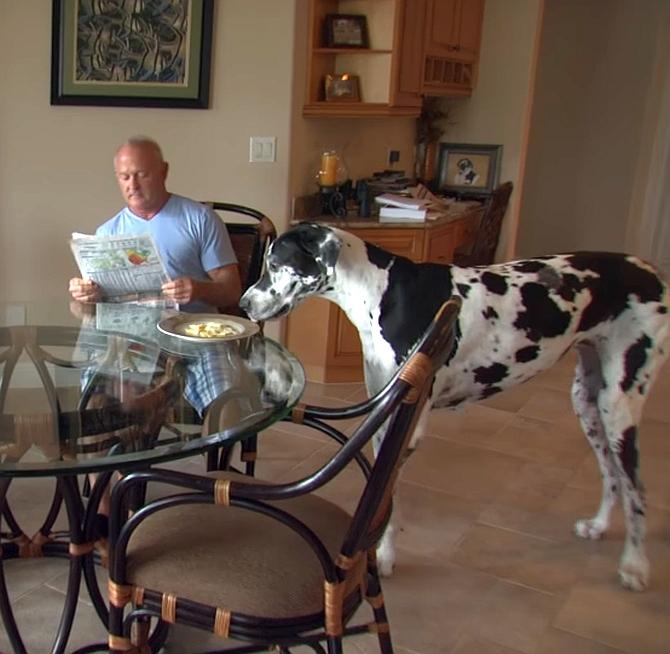 Meet Lizzy, the Great Dane from Florida, who measures a huge 96.41 cm (37.96 in) tall!
Lizzy is so tall, has to eat her food from a bowl that sits on a chair as she cannot reach the floor, and her water bowl has to stay in the garage because she makes such a mess!
Her owner, Greg, says Lizzy is a gentle giant and very sociable -- he puts this down to her spending much of her life surrounded by cats and two tiny pet terriers.
---
Most tattooed senior citizens (male & female)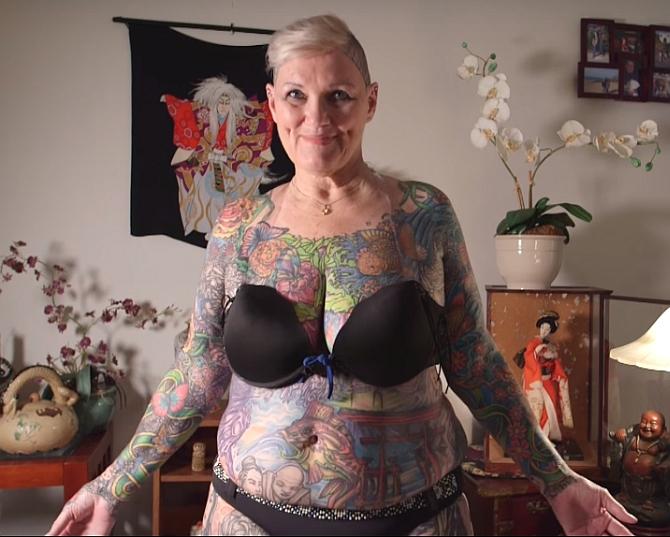 Charlotte Guttenberg, 67, of Florida, US has covered 91.5% of her body with tattoos since first being inked just 10 years ago while grieving following the death of her husband.
Nervously, she sat in the chair at her chosen tattoo parlour when a regular stopped in to say hello to favourite tattoo artists. Chuck was asked to sit with Charlotte to ease her nerves, love blossomed and they have been together ever since.
Chuck, also from Florida, has 93.5% of his body tattooed and aside from one army tattoo, has had the rest of his work done in the last 16 years. Chuck is a martial arts expert and says he served on the security detail for JFK.
---
Longest domestic cat (living)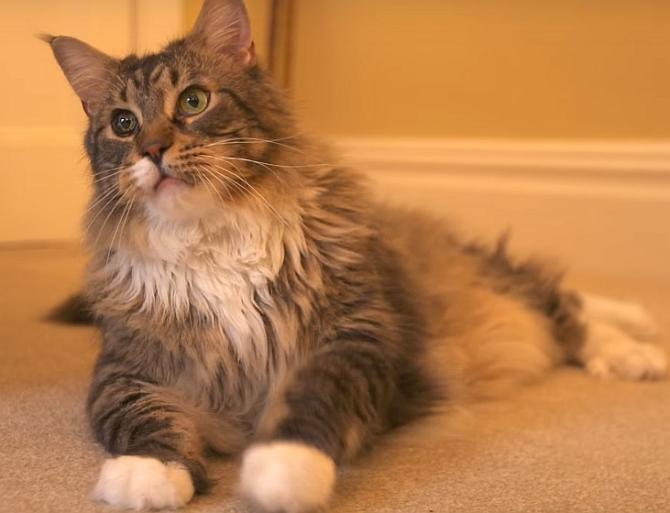 Ludo the Maine Coon from Wakefield in South Yorkshire measures a whopping 118.33 cm (3 ft 10.59 in) long and brings this record title back to the UK following a six-year run between two record holders based in the US.
Ludo is one of three Maine Coons in the Gill household and owner Kelsey describes him as a just like any other cat, "relaxed and laid back cat" as well as loving a good sleep -- he just happens to be a giant!
---
Longest Monster Truck
Jennifer and Brad Campbell of White Hills, Arizona, wanted to build a Monster Truck to take Las Vegas by storm, and have ended up conquering the world with theirs.
Measuring 9.8 m (32 ft) and weighing in at a monster 6.804 tons, the truck can be found entertaining revellers in Las Vegas, dwarfing any of Sin City's achievements.
Jen said: "I would get the book every year when I was a kid and was always blown away with the records. I knew I was never going to outdo the longest nails, or lowest limbo... it is awesome!"
---
Fastest monowheel motorcycle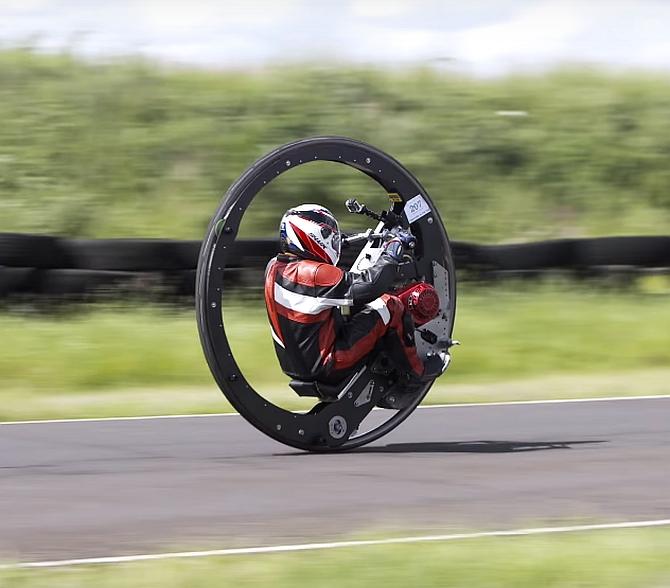 Most people will have heard about land speed records being set in cars and aircrafts, but there is now a new vehicle on the scene and it has earned a coveted space in the Guinness World Records 2017 book for being the world's Fastest monowheel motorcycle.
A monowheel motorcycle is one large wheel that revolves around a track, inside which the engine and rider are housed. The driver has to control the vehicle using careful control of throttle and perfect balance. UK Monowheel Team and Kevin Scott recorded a staggering speed of 98.464 km/h on their incredible monowheel WarHorse, at Elvington Airfield in North Yorkshire, UK.
Previously the fastest monowheel motorcycle reached a speed of 91.7 km/h and was achieved by Kerry McLean (US) -- who is considered a pioneer in this vehicle category -- at the Irwindale Speedway, California in 2001.
---
Most tricks performed by a dog in a minute
Parson Russell Terrier Smurf is arguably one of the most talented pooches that has ever earned a place in the Guinness World Records archives, having set a brand new record for the Most tricks performed by a dog in one minute.
At the age of six, the lovable canine executed a record-breaking 32 tricks on command. His extensive repertoire includes reversing through legs, twisting in a circle, rolling over, speaking (barking), crawling backwards, walking on hind legs and even making a cup of tea.
---
Most functional gadgets on a cos-play suit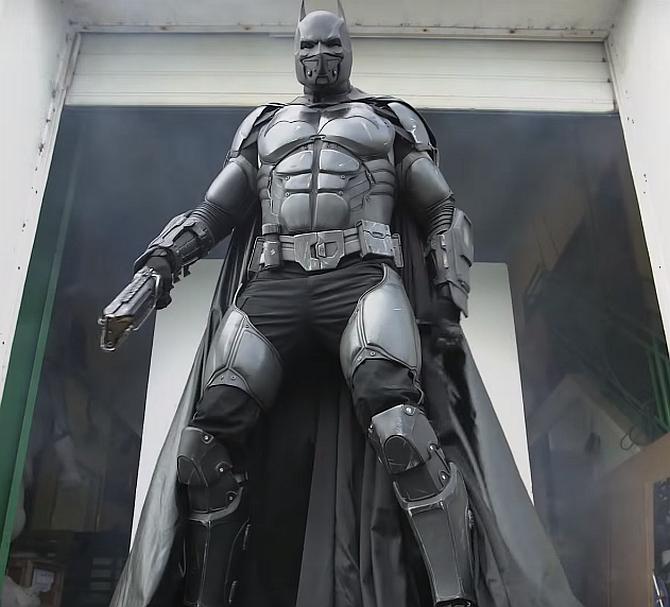 An incredible Batman outfit adorned with 23 functioning gadgets has earned its owner the world record for the Most functional gadgets on a cos-play suit.
Created by special creature effects expert Julian Checkley, the ingenious gadgets are concealed and attached to the Batman suit. Devices include smoke bombs, a grapnel gun and 'bat tracker', UV lamp, NBC (nuclear, bacterial, chemical) bat respirator and even a bat sign projector for the night sky.
The suit, which is based on Bruce Wayne's outfit from the Batman: Arkham Origins videogame, was 3D printed and then moulded and cast in a flexible urethane rubber. When fully kitted out, Julian strikes an imposing figure, towering over 6"10' (208cm), the bat ears make a difference! The 23 gadgets increased in complexity as his project progressed and Julian enlisted the help of an electrical engineer to create the most challenging gadget -- the 2000watt EMP Stun Gun.
---
Most expensive sandwich ever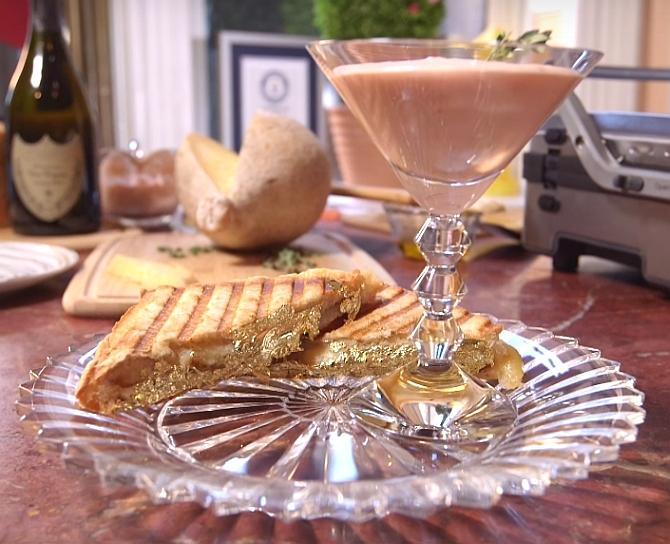 New York-based restaurant Serendipity 3 has earned a Guinness World Records title after crafting the Most expensive sandwich ever. The confidently named "Quintessential Grilled Cheese" is sold for an eye-watering $214 (Rs 14,216).
The exclusive and extravagant ingredients used include two pieces of French Pullman champagne bread which is made with Dom Perignon champagne and 24 carat edible gold flakes, white truffle butter and the very rare Caciocavallo Podolico cheese. The sandwich is then served on a Baccarat Crystal plate with South African Lobster Tomato Bisque as a dipping sauce.
Previously, the most expensive sandwich commercially available was the von Essen Platinum Club Sandwich, created by Chef Daniel Galmiche (UK) and is available on the menu of Cliveden, Buckinghamshire, UK for $200 (Rs 13,290). The sandwich was added to the menu in March 2007.