Nine persons were on Tuesday killed and over 10 others injured when a roadways bus caught fire in Peeparpur area, police said.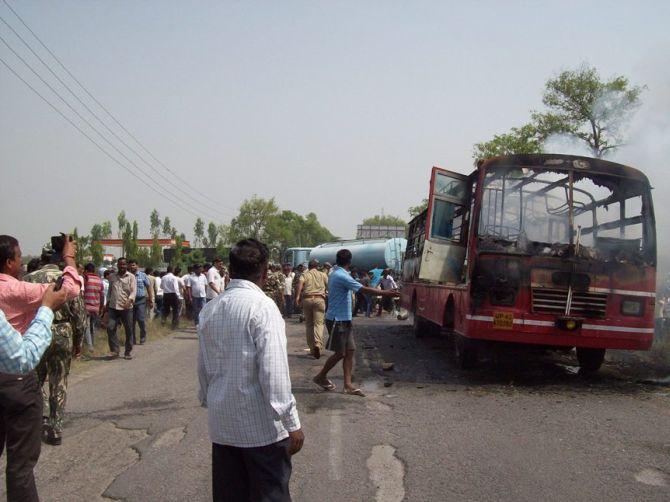 The incident occurred on Tuesday morning when the UP State Roadways Transport Corporation bus going from Faizabad to Allahabad caught fire near Ramgaon village, 150 km from state capital Lucknow, Superintendent of Police Heera Lal said.
He said 42 passengers were on board and the lucky ones escaped by smashing window panes of the ill-fated bus which suddenly went up in flames and moved some 100 metres before it came to a halt.
The SP said efforts were being made to identify the victims as their bodies were charred beyond recognition in the inferno. He said the injured were rushed to hospital in Sultanpur and Pratapgarh.
Lal said the fire was suspected to have been caused by a short circuit in the engine.
UPSRTC Managing Director Mukesh Meshram, however, said in Lucknow that whether the incident occurred due to short circuit or was triggered by leakage in an LPG cylinder could be ascertained only after a thorough inquiry. The bus was carrying an LPG cylinder, which was taken out safely, he said.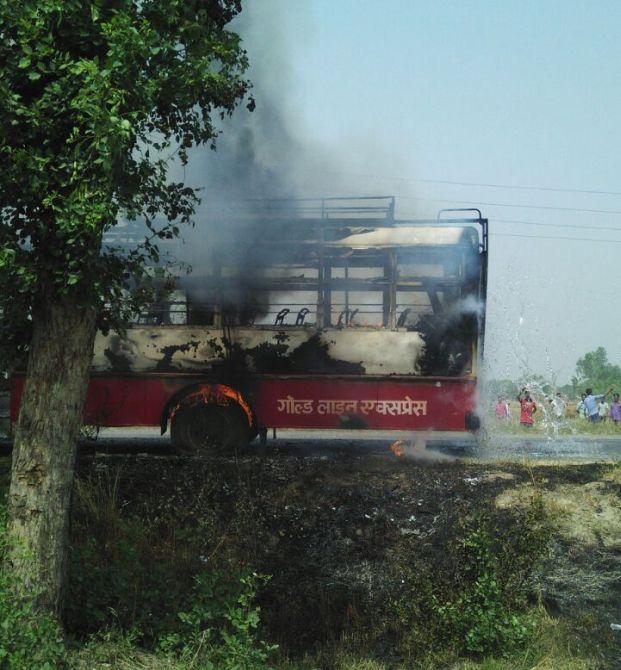 The Uttar Pradesh government announced an ex-gratia of Rs five lakh each to the kin of those killed, Rs one lakh to those grievously injured and Rs 50,000 to those suffering minor injuries.
Local MP and Congress vice-president Rahul Gandhi expressed profound grief over the incident and directed party workers to provide all possible help to the injured, his representative Chandrakant Dubey said.
He said Gandhi, who was preoccupied with Parliament session at present, might come to meet the injured.
The UPSRTC managing director said that District Magistrate Amethi Jagatram Tiwari has ordered a magisterial inquiry into the incident and the manager responsible for maintenance of buses at UPSRTC depot in Faizabad Santosh Kumar has been suspended.
Mesharam said that Chief General Manager (Technical) Satya Narain and CGM (Ops) H S Gabba rushed to the site of occurrence to take stock of the situation.
Photographs: The UP State Roadways Transport Corporation bus going from Faizabad to Allahabad caught fire near Ramgaon village. Photographs: Sandeep Pal