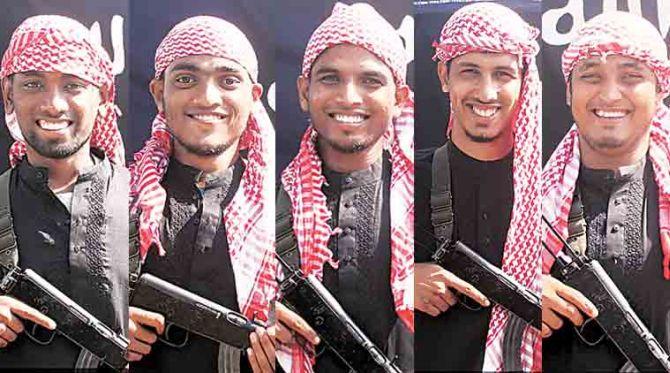 As Bangladesh mourns the loss of lives after Islamic State gunmen hacked to death 20 people, mostly foreigners, in a cafe in Dhaka on Friday, photographs of those involved in the attacks have been released by Islamic State, according to US-based Site Intelligence.
It emerges that they are from well-known schools with Western curriculum for the children of the well-to-do in the city, not from any of the madrassas that are often termed as breeding grounds for militants.
Friends and investigators, in fact, say that these five used to frequent the popular upscale eatery in Gulshan where they later carried out the gruesome attack.
One of them has been identified as Rohan Imtiaz, son of Imtiaz Khan Babul, a former youth and sports secretary of Dhaka City Awami League.
Another has been identified as Nibras Islam. His classmates at the private North South University, where students pay high tuition fees, made the recognition.
Young Nibras was the 'treasurer' of Australia-based Monash University's International Student Services for its Malaysia campus.
He returned from Malaysia and enrolled at the private university in Dhaka because 'he didn't like it in Monash'. He liked football.
Another gunman has been identified as Mir Samih Mubashir. He had gone missing before the incident.
A local newspaper has reported that Mubashir had been missing for the previous four months.
Gunmen, shouting 'Allahu Akbar', stormed the Holey Artisan Bakery, the cafe in Dhaka's diplomatic heart of Gulshan, on Friday evening.
The assailants took a number of hostages and killed two policemen, who had earlier tried to end the siege.
Commandos stormed the eatery on Saturday morning and rescued 13 hostages. The Army said six attackers had been killed and another caught alive during the rescue operation.
It also said 20 hostages were found dead on the premises. The victims include nine from Italy, seven from Japan and one from India. The three others are Bangladeshis, including one with US citizenship.
Image: US-based SITE Intelligence Group published photos of five unnamed persons, reported to be the Dhaka attackers.