The nation on Friday remembered Mahatma Gandhi on his 146th birth anniversary with President Pranab Mukherjee, Prime Minister Narendra Modi, Congress chief Sonia Gandhi and other leaders paying floral tributes to him at his memorial.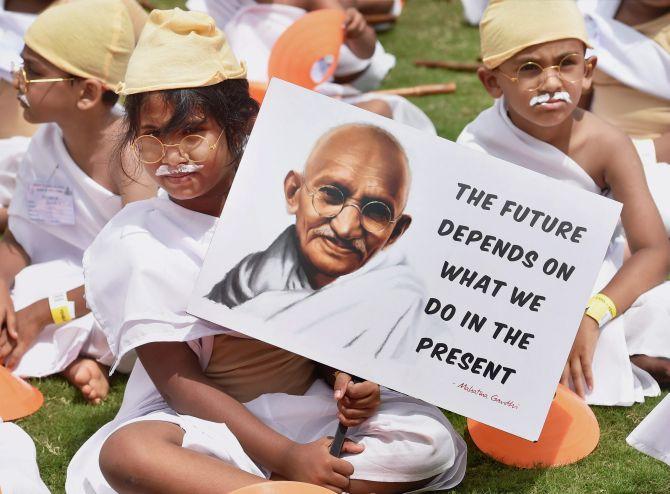 Students of Venkat International School attempt to make the world record for the largest gathering of people dressed as Mahatama Gandhi on the occasion of Gandhi Jayanti at Kanteerava stadium in Bengaluru. Photograph: Shailendra Bhojak/PTI
Vice President Hamid Ansari, Union Ministers M Venkaiah Naidu and Mahesh Sharma, Delhi Chief Minister Arvind Kejriwal, Bharatiya Janata Party leader L K Advani and Congress leader Ghulam Nabi Azad too joined in paying homage to the Father of the Nation.
Modi, who arrived at Rajghat at around 7:40 am, offered rose petals to the 'samadhi', which attracts a large number of Gandhian followers and admirers.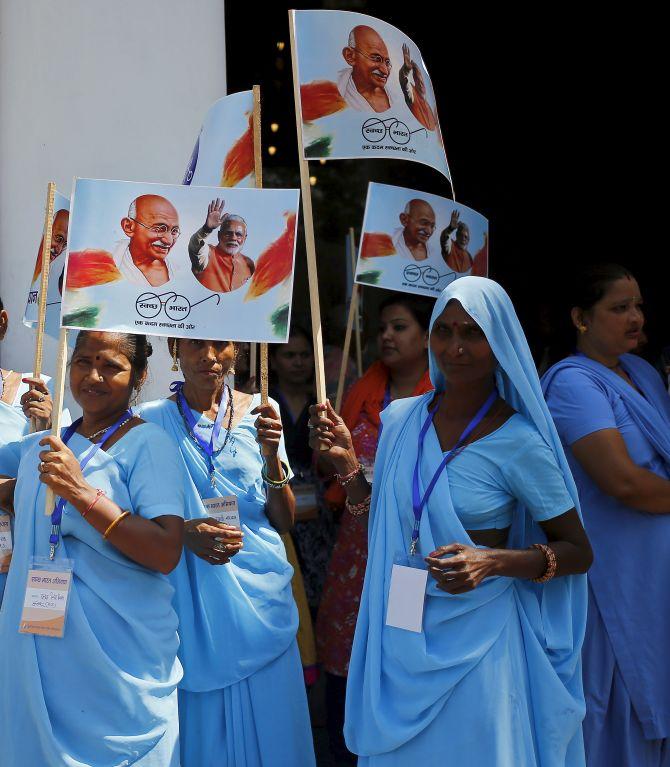 Women hold placards of Gandhi and Prime Minister Narendra Modi on the birth anniversary of the Father of the Nation. Photograph: Anindito Mukherjee/Reuters
Clad in a khadi kurta and white pyjama, and a long traditional scarf, Modi, during his brief visit there, paid homage to the Mahatma by bowing his head at his memorial and performing a 'parikrama' (circumambulation) around it.
"Heartfelt homage to revered father of the nation ('Poojya baapu ko shat shat naman')," Modi wrote on Twitter on Friday.
He also posted a sepia-toned picture of Gandhi, standing beside a broom, to emphasise the Gandhian vision-driven mission of 'Swachh Bharat'.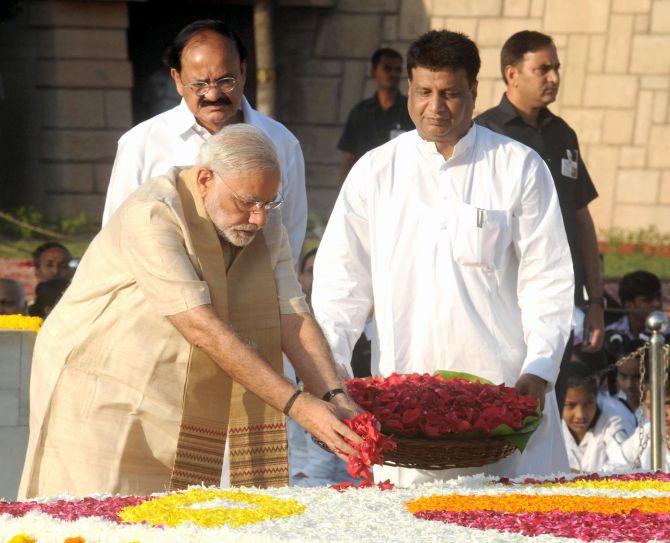 Prime Minister Narendra Modi pays floral tributes to Mahatma Gandhi at his samadhi. Photograph: Press Information Bureau
Mahatma Gandhi, besides standing for liberty and freedom, also championed the cause of cleanliness, and prime minister's 'Clean India' campaign which completed one year on Friday is a tribute to his values.
"Cleanliness was very close to Mahatma Gandhi's heart. Let us reaffirm our commitment for a Swachh Bharat & fulfil our beloved Bapu's dream. A clean India will enhance our development journey & benefit the poor," said Modi on the picture post.
President Mukherjee also paid floral tributes to the Mahatma at his memorial.
An all-faith prayer ceremony was also held on the occasion at the memorial. Both Modi and Mukherjee attended the function during their brief visits.
Former Delhi chief minister Sheila Dikshit, who arrived along with Sonia Gandhi, also paid homage to the Mahatma on his birth anniversary.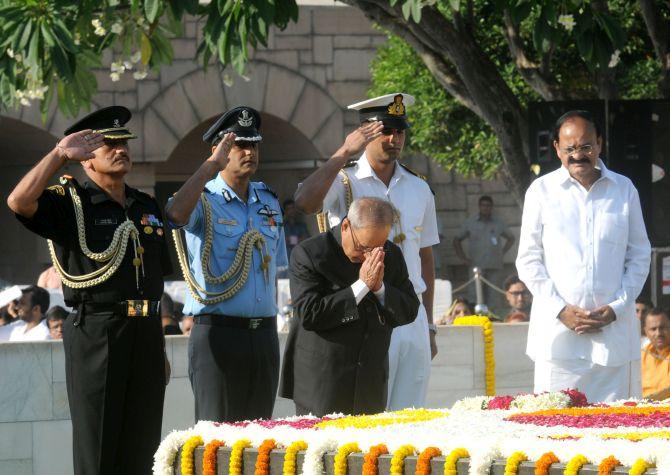 President Pranab Mukherjee bows his head and pays his respects to Gandhiji at the samadhi. Photograph: Press Information Bureau
Ambassadors of France, Japan, among other dignitaries also attended the function.
A large number of school children also gathered at the venue to pay homage to the father of the nation.
The nation also remembered former Prime Minister Lal Bahadur Shastri on his 111th birth anniversary with Prime Minister Narendra Modi leading the nation in paying homage to the leader, who gave the slogan 'Jai Jawan, Jai Kisan', at his memorial at Vijay Ghat.
"Salutation on the anniversary of Lal Bahadur Shastri ji (Lal Bahadur Shastri ji ki jayanti par mera pranam," Modi tweeted.
In his message, he also posted a picture, saying, "I bow to the proud son of India Shri Lal Bahadur Shastri on his birth anniversary."