Torrential rains in the past 48 hours have wreaked havoc in the north-eastern states, claiming seven lives in Assam, Tripura and Manipur, disrupting rail services and rendering thousands of people homeless across the region.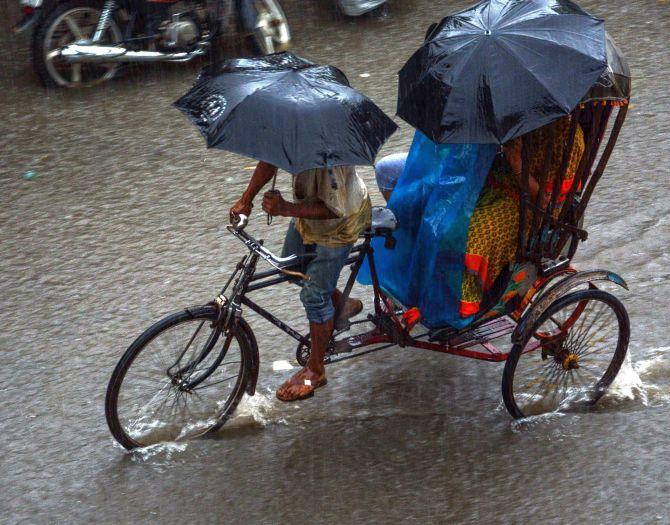 In Tripura, the state government has sought assistance of the Army and the National Disaster Response Force for evacuation and rescue operations in marooned areas.
Chief Minister Biplab Kumar Deb, who visited the flood-hit areas of Unakoti district on Wednesday, briefed Union Home Minister Rajnath Singh about the 'critical situation' in the state on Thursday morning, a senior official of the state administration said.
At least two villagers were swept away by strong river currents in Tripura on Wednesday, while over 14,000 lost their homes as the downpour submerged parts of the state, an official of State Emergency Operation Centre said.
The state has announced a compensation of Rs 5 lakh for the next of kin of those killed in the flash floods.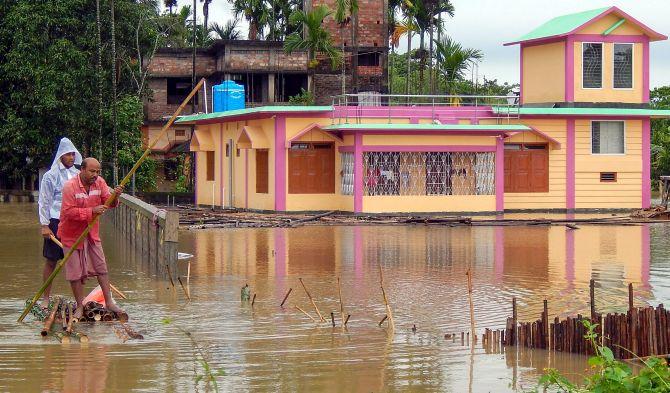 Altogether, 25,805 people have taken shelter in 189 relief camps due to flash floods following incessant rainfall on June 12 and 13, said an official of State Emergency Operation Centre adding that final report is yet to be compiled.
The overall flood situation in Tripura has improved as water level has started receding but the condition is still grim in Kailashahar subdivision of Unakoti district.
Five columns of Assam Rifles have been pressed into service along with NDRF to evacuate marooned people in Kailashahar subdivision, said an official of Unakoti district administration.
The situation in Assam worsened today with three persons losing their lives and nearly 1.7 lakh people affected across seven districts.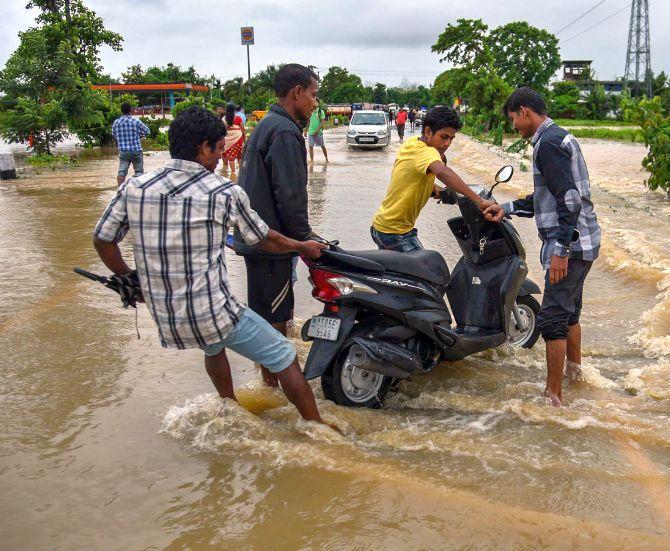 In Manipur, incessant rains over the past 24 hours have triggered flash floods in the Imphal Valley with several low-lying areas in Imphal East, Imphal West, Thoubal and Bishenpur districts have been inundated, officials said..
The General Administration Department declared a holiday for all government offices and educational institutions.
Incessant rain in the past 24 hours has affected as many as 1,48,912 people in Assam's 222 villages under eight revenue circles in the districts of Biswanath, Karbi Anglong West and Karbi Anglong East, Golaghat, Karimganj and Hailakandi, according to the Assam State Disaster Management Authority report.
Karimganj in the Barak Valley remained the worst-hit with the breaching of the Longai river at the Nayadhar area. The State Disaster Response Force has so far evacuated 124 people in the district. The authorites have opened 71 relief camps.
According to Assam State Disaster Management Authority (ASDMA), two persons died in a landslide in Mahur under Halflong revenue circle in Dima Hasao district and another person died in a flood related incident at Bokakhat revenue circle in Golaghat district, it added.
ASDMA said 1.67 lakh people have been affected at Hojai, Karbi Anglong East, Karbi Anglong West, Golaghat, Karimganj, Hailakandi and Cachar districts in the state's first wave of flood this year.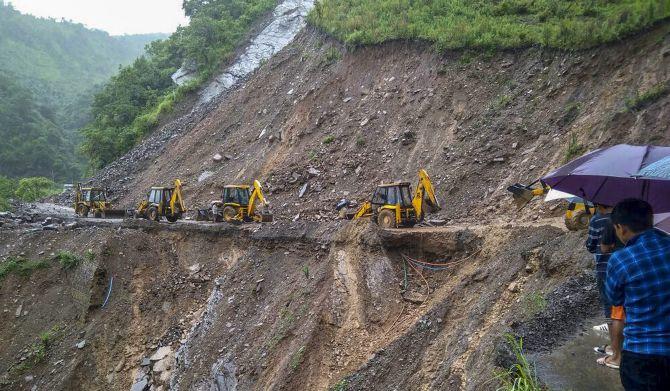 Till Wednesday, 1.49 lakh people were hit by floods across six districts in Assam.
As per the report issued today, Karimganj is the worst hit with over 77,000 affected, followed by Hailakandi with more than 58,000 people affected in the deluge.
Currently, 370 villages are under water and 1,376 hectares of crop areas have been damaged, ASDMA said.
Authorities are running 116 relief camps and distribution centres in five districts, where 35,927 people have taken shelter at present.
The floods have damaged embankments, roads, bridges and other infrastructures in Biswanath, Karbi Anglong East, Karbi Anglong West, Golaghat, Dima Hasao, Hailakandi and Karimganj districts.
Currently, Dhansiri river at Numaligarh in Golaghat, Barak at AP Ghat in Cachar and Badarpurghat in Karimganj, Katakhal at Matizuri in Hailakandi and Kushiyara at Karimganj town are flowing above the danger marks.
In neighbouring Manipur, the state government has declared holiday till Friday in all educational establishments and government offices in Imphal and its adjoining districts in view of the flood situation, an official release said.
Two people have drowned in swollen rivers in separate incidents on Wednesday, a police officer said.
Water level in major rivers of the state has receded this morning but the situation continues to remain 'vulnerable', a government official said.
Acknowledging that the flood situation was 'grim', Chief Minister N Biren Singh said that he had requested the officials of National Highway and Infrastructure Development to construct road diversion along the NH-37, which had been hit by landslides.
In Assam, train services were disrupted in North East Frontier Railway's Lumding-Badarpur hills section, following landslides in five places of Dima Hasao district, a railway official said.
Heavy rain continued to lash parts of Mizoram on Thursday, cutting off Lunglei, Lawngtlai and Siaha districts in southern parts of the state from the rest of the country, state disaster management and rehabilitation (DMR) department officials said.
The swelling rivers along Mizoram-Assam border deluged the lone railway station in the state and other thoroughfares, forcing people to commute in rafts and engine boats.
Heavy rainfall accompanied by lightning and thunder lashed Meghalaya last night. Sohra (erstwhile Cherrapunjee) recorded a whopping 281.7 mm rainfall in the past 24 hours, officials said on Thursday.
The onset of monsoon has also resulted in intermittent showers occurring during the day and the state capital here recorded 17.3 mm of rainfall, they said.
The state is expected to experience similar cloudy skies with one or two spells of thundershowers in the next four days, officials at the Indian Meteorological Department office at Sohra said.