In a gesture that touched many hearts, Congress vice-president Rahul Gandhi on Friday hugged a part-time woman lecturer after listening to her plight during an interactive session with the teaching community of Gujarat.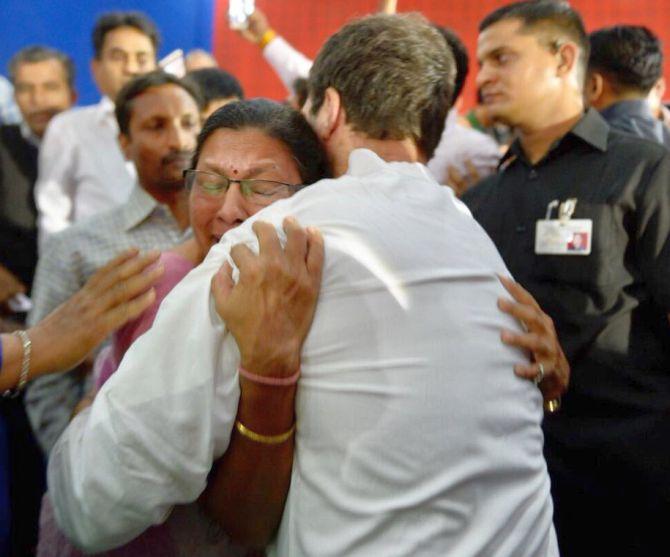 IMAGE: Ranjana Avasthi wept as she explained the plight of part-time lecturers, prompting Rahul Gandhi to walk of the dais and console her. Photograph: @INCIndia/Twitter
Ranjana Avasthi, a PhD holder, was among the lecturers, professors and schoolteachers invited to attend a session with Gandhi, who is on a two-day campaign tour of Gujarat ahead of the first phase of assembly polls next month.
After Gandhi's address to the guests at the Thakorbhai Desai Hall, Avasthi, nearing retirement, poured her heart out when she was handed over the mic to ask a question. She sought to know the Congress plans to solve the problems faced by her fraternity if the party comes to power in Gujarat.
With a choked voice, Avasthi, who claimed to be a part-time teacher, explained how several lecturers in Gujarat like her are being "denied" their basic right, be it adequate remuneration, medical leaves or pension.
"Ever since I completed my PhD in Sanskrit in 1994, we have been living in a miserable condition. Even after 22 years of service as a part-time lecturer, our salary is just Rs 12,000 per month.
"We were not even granted maternity leave. We have seen some of the worst days of our life during this service," said Avasthi with a heavy heart.
"Now, the government is planning to annul our entire service by offering us Rs 40,000 salary under a fixed-pay regime. Like others, we also wanted to retire with pension benefits to be able to live a respectable life.
"But now, there is no hope. Only we know what kind of struggle we did and what kind of pain we have gone through," said a teary-eyed Avasthi.
IMAGE: The Congress vice president was addressing lecturers, professors and schoolteachers at an interactive session at Thakorbhai Desai Hall ahead of the Gujarat polls. Photograph: @INCIndia/Twitter
She then urged Gandhi to ensure people like her do not suffer if his party comes to power in Gujarat after the next month's polls. Avasthi appealed to Gandhi to make sure even part-time teachers get pension after retirement.
Moved by Avasthi's representation, Gandhi, who was holding his mic and listening to her plight, paused for a moment and said, "Sometimes, you can't answer some questions with words."
The 47-year-old Congress MP then put down his microphone on the dais and walked towards the lecturer, sitting on the middle row of the hall, to console her.
Gandhi spoke with Avasthi for a while and then hugged her before returning to the stage, surprising the audience with his impromptu gesture which must have touched many hearts.
He promised the teaching fraternity that if the Congress comes to power, it will focus on building a robust public education and healthcare system in Gujarat.
Gandhi termed the fixed-pay system of the Gujarat government as "unfair" and promised to change it.
The policy was introduced by the Gujarat government in 2006, wherein such direct recruits were only entitled to get a fixed salary for a period of five years.