The show must go on. And it did on Thursday as Sanjay Leela Bhansali's much debated Padmaavat unspooled in single and multiplex screens across the country under the shadow of security personnel and simmering tensions.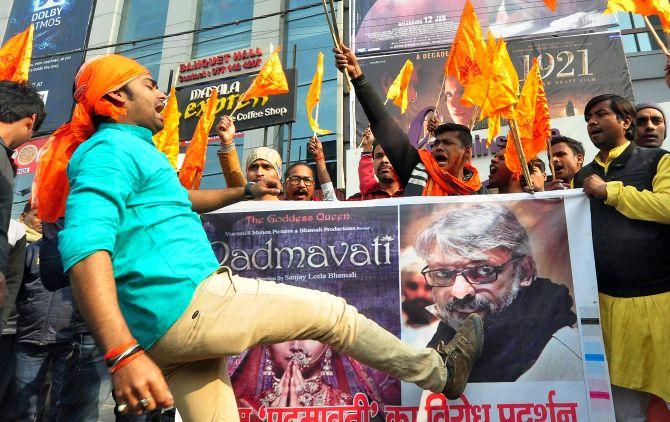 IMAGE: A group of protesters shout slogans against the director Sanjay Leela Bhansali after the release of film Padmaavat, outside a cinema hall in Patna. Photograph: PTI Photo
A day after a school bus in Gurugram was attacked by stone-pelting protesters, audiences defied threats of violence to stream into theatres to watch the opening day shows of the period film starring Bollywood A-listers Deepika Padukone, Ranveer Singh and Shahid Kapoor.
Many of those who watched Padmaavat condemned the violence of the last few weeks and said there is nothing objectionable in the film.
The Rs 150 crore film was released in 4,000 screens across the country with one million watching it on the first day, maker of the film Viacom 18 said in a statement.
The Multiplex Association of India had said the film would not be screened in Rajasthan, Gujarat, Madhya Pradesh and Goa in view of the tenuous law and order situation.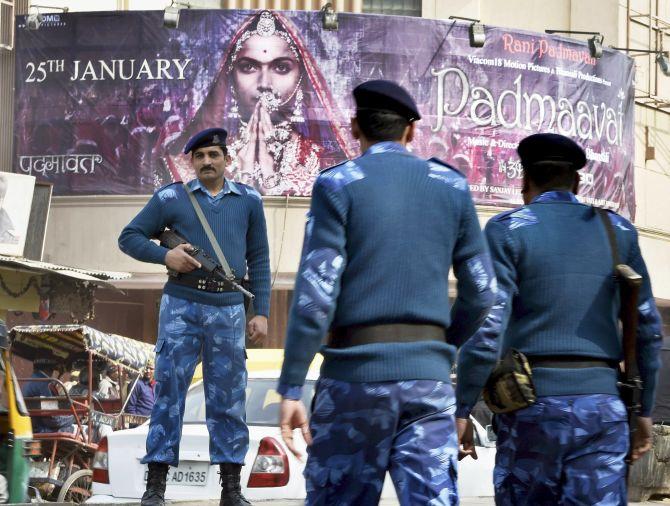 IMAGE: Security personnel guard outside a cinema house after release of the film Padmaavat in the walled city of Delhi. Photograph: Ravi Choudhary/PTI Photo
The film has been the focal point of protests by various Rajput groups, which allege that it distorts their history and defames their queen Padmavati.
The tension was palpable with security personnel mounting vigil at cineplexes and single screen halls but the day passed without any major incident despite violence in some places, including in Rajasthan, Bihar, Uttar Pradesh and Madhya Pradesh.
As protests continued in some places, the Centre made it clear that maintenance of law and order is the responsibility of state governments.
States, which have witnessed violence, should deploy the Rapid Action Force, which is trained to handle mob protests, a senior home ministry official said.
In Uttar Pradesh's temple town Varanasi, a man attempted to immolate himself but was stopped from doing so.
The state -- where a fringe group on Wednesday announced a bounty for Deepika Padukone's nose -- was on high alert. Additional Director General (Law and Order) Anand Kumar directed all district police chiefs to ensure that the force remains alert with anti-riot gear.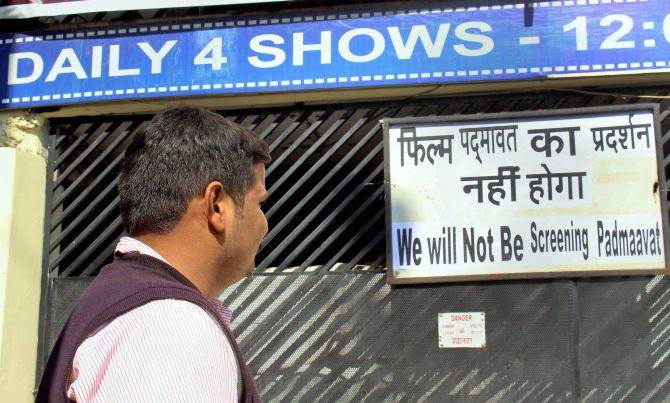 IMAGE: A visitor reads a notice affixed to a board outside a cinema hall over not screening the controversial film Padmaavat following threats issued by Karni Sena activists, in Bhopal. Photograph: PTI Photo
Arterial roads were blocked, shops vandalised and bike rallies taken out in some places in Rajasthan.
"Our protest against the film is continuing. The Rajput Karni Sena took out a bike rally in Jaipur and similar protests took place in other areas also," said the group's president Mahipal Makrana.
About two dozen shops were damaged in stone-pelting incidents in Udaipur.
In Gurugram, schools were closed following Wednesday's violence and tension persisted but many multiplexes screened the film.
Elsewhere in the state, fearing ransacking of their properties, theatre owners in places such as Sonipat and Panchkula refused to screen the movie.
Neighbouring Punjab was relatively more relaxed.
In Madhya Pradesh, educational institutions remained open but commercial establishments were closed in places such as Indore, Ujjain and Gwalior.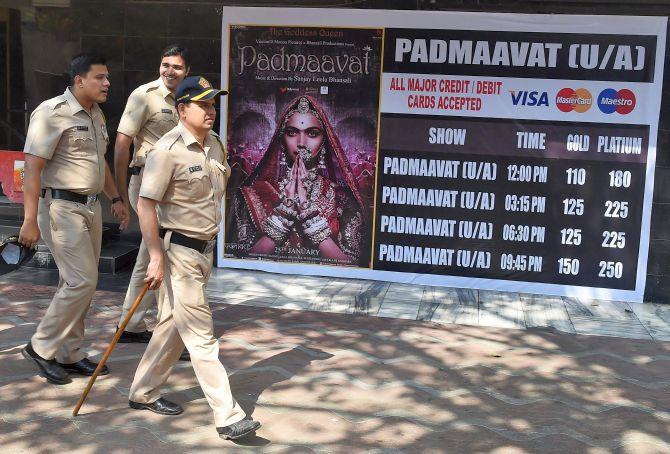 IMAGE: Police personnel stand guard outside the residence of Sanjay Leela Bhansali on the release day of his movie Padmaavat in Mumbai. Photograph: PTI Photo
In Gujarat, however, the bandh called by the Karni Sena evoked a tepid response with educational institutions, offices and markets open in most parts of the state.
As a precautionary measure, the Gujarat State Road Transport Corporation suspended bus services from Ahmedabad to Mehsana and Banaskantha, an official said.
In some parts of the country, multiplex owners took the precaution of not putting up posters to ward off trouble.
And at the Satyam multiplex in west Delhi, the entire front row was occupied by uniformed security men. Bouncers were on hand too in case of trouble breaking out.
But that did little to curb the enthusiasm of the intrepid Bollywood fan.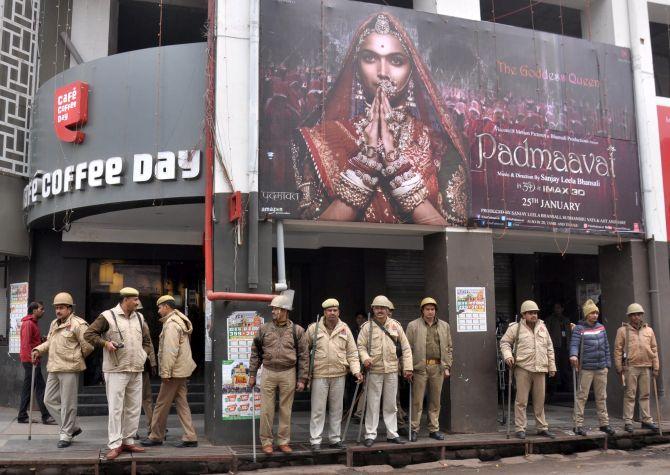 IMAGE: Heavy police force deployed at Novelty Theatre in Lucknow where film Padmaavat was released. Photograph: Nand Kumar/PTI Photo
Like banker Vineet, who said he would not miss the film just because of unrest created by groups like the Karni Sena.
"I believe in the Constitution and I am not scared to watch this movie. I trust our police," he said while queuing up outside a hall in Delhi.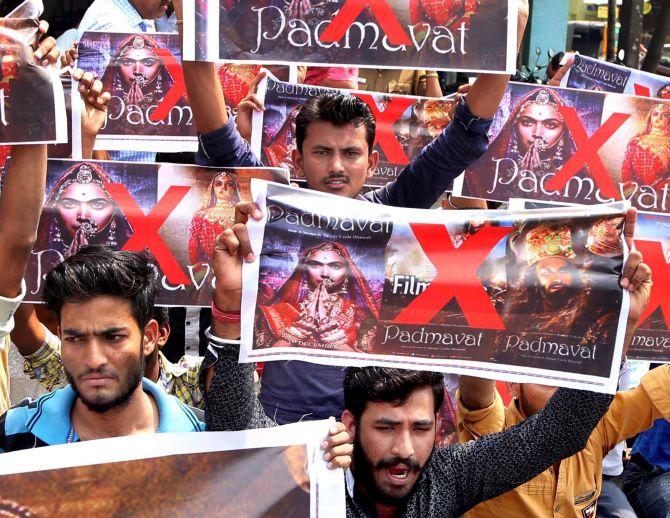 IMAGE: Activists of Rashtriya Rajput Karni Sena holding banners and raising slogans during a protest against the release of the film Padmaavat in Coimbatore. Photograph: PTI Photo
Mumbaikar Dhruv Singh, who hails from Rajasthan, also wondered what the fuss was all about.
He referred to the "dream sequence" between Padmavati and Khilji, which several groups had objected to despite Bhansali clarifying that there was no such scene.
"There was not a single dream sequence in the film so I don't know what the fuss is all about. The attack on children, burning buses is not something we Rajputs endorse," he said.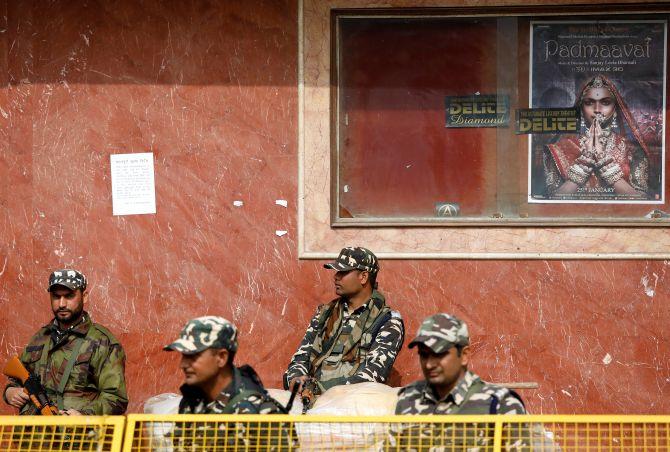 IMAGE: Security personnel stand guard outside a theatre after the release of "Padmaavat" in New Delhi. Photograph:

Saumya Khandelwal/Reuters
As the row took on the inevitable political overtones with Congress leader Digvijaya Singh saying that films which are not based on historical facts should not be made and Aam Aadmi Party chief Arvind Kejriwal condemning those "who pelt our children with stones", the film's makers were quiet.
However, an emotional Deepika said in Mumbai that she was overwhelmed and confident that "Padmaavat" would get an "earth-shattering response".