Close to 99 per cent voting was recorded on Monday for electing India's next president, the returning officer for the poll announced saying it was perhaps the highest-ever percentage.
The counting of votes will take place on July 20.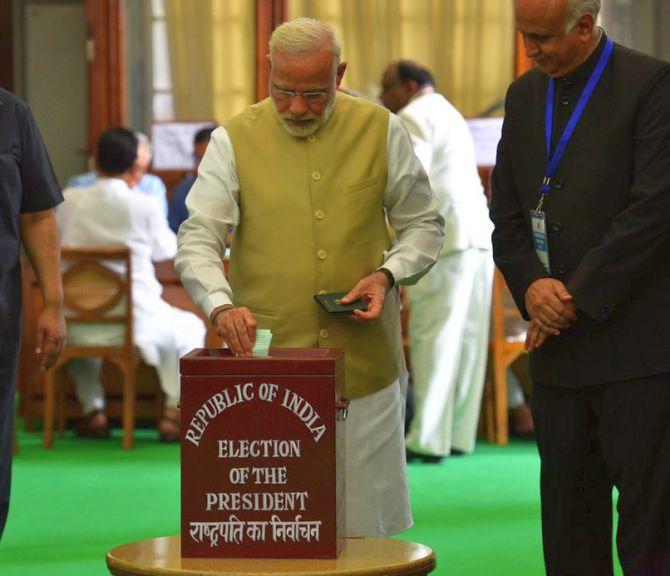 IMAGE: Prime Minister Narendra Modi casts his vote in the Presidential Election in New Delhi.
Photograph: Press Information Bureau

The numbers are stacked in favour of the ruling coalition's nominee Ram Nath Kovind, a former Bihar governor, over the Opposition's candidate and former Lok Sabha Speaker Meira Kumar.
"The voting was close to 99 per cent. I think this would perhaps be the highest ever percentage," Lok Sabha Secretary General and returning officer for the election Anoop Mishra told a press conference in New Delhi.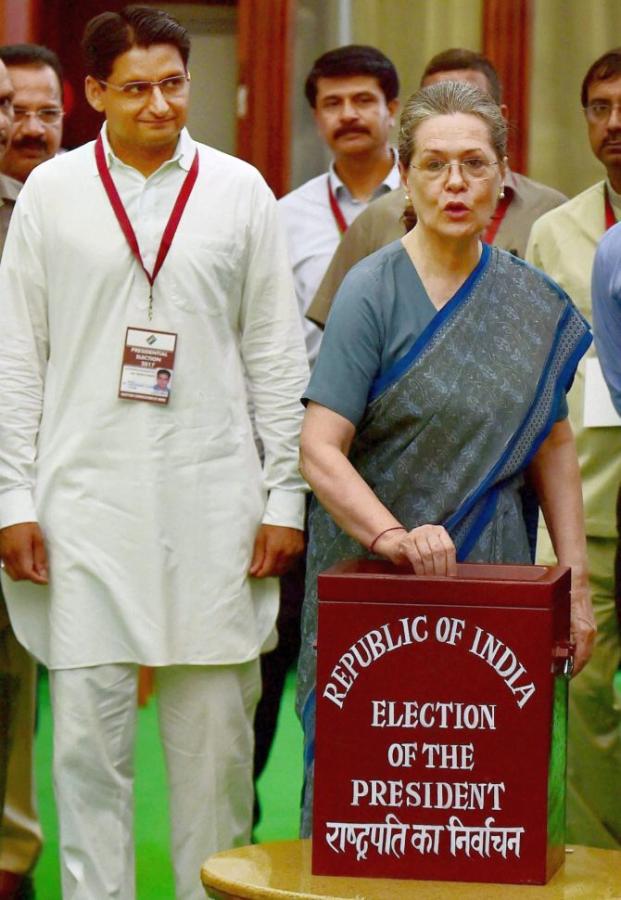 IMAGE: Congress president Sonia Gandhi casts her vote in the Presidential Election, in New Delhi.
Photograph: Manverder Vashist/PTI Photo
Arunachal Pradesh, Chhattisgarh, Assam, Gujarat, Bihar, Haryana, Himachal Pradesh, Jharkhand, Nagaland, Uttarakhand and Puducherry recorded 100 per cent voting.
In Parliament House, the voting percentage was 99 per cent, said Mishra.
He said while the sanctioned strength of the Lok Sabha and the Rajya Sabha is 776, 771 MPs were eligible to cast their votes.
There are two vacancies each in the Lok Sabha and the Rajya Sabha, while one Bharatiya Janata Party MP Chedi Paswan does not have voting rights following a judicial pronouncement, he added.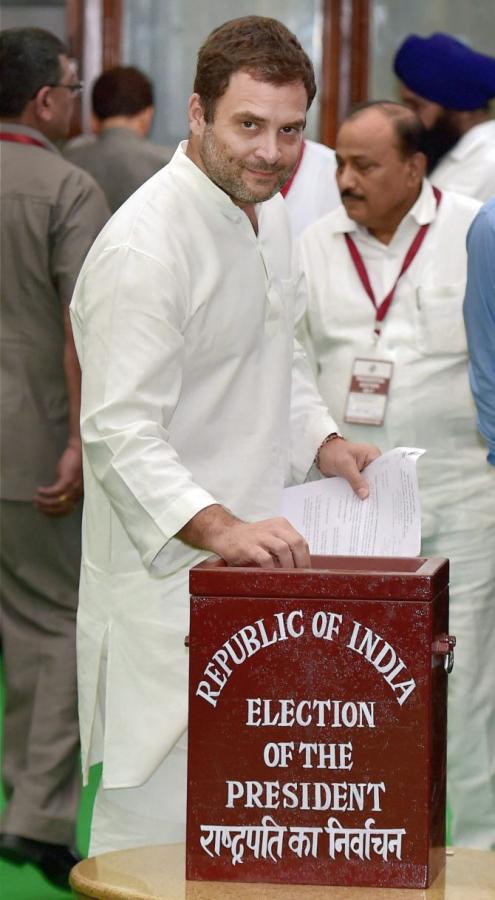 IMAGE: Rahul Gandhi casts his ballot. No guesses who's he voted for! Photograph: Manverder Vashist/PTI Photo
In Delhi, 717 MPs were to cast their ballot but only 714 exercised their franchise. Trinamool Congress' Tapas Pal, Biju Janata Dal's Ram Chandra Hansdak and Ambumani Ramadoss of the Pattali Makkal Katchi did not cast their votes.
Fifty-five MPs had sought permissions to cast their vote in state capitals. These included Goa Chief Minister Manohar Parrikar, his UP counterpart Yogi Adityanath and his deputy Keshav Prasad Maurya and Union minister Uma Bharti.
BJP chief Amit Shah, who is an MLA from Gujarat, had also sought permission to cast his vote in Delhi.
Trinamool Congress MPs cast their votes in Kolkata.
IMAGE: DMK working president M K Stalin casts his vote at Tamil Nadu assembly.
Photograph: ANI
West Bengal Chief Minister and Trinamool president Mamata Banerjee said all TMC lawmakers voted for the joint opposition candidate, Meira Kumar, in the presidential election to register their protest against 'what is going on in the country'.
She claimed that Kumar would get the maximum number of votes from West Bengal.
Delhi Chief Minister Arvind Kejriwal said MLAs should vote in the presidential poll according to their conscience.
"We are supporting Meira Kumar. All should vote following their conscience," he said.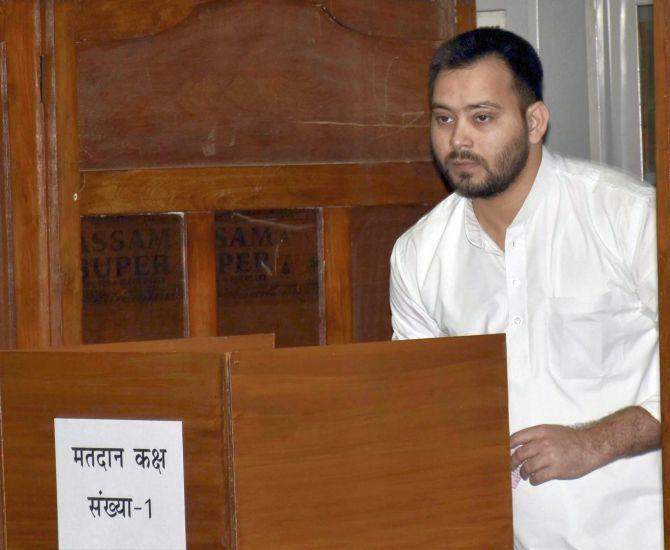 IMAGE: Bihar Deputy Chief Minister Tejashwi Yadav casts his vote at Bihar Vidhan Sabha in Patna
Photograph: PTI Photo
There were rumours of cross-voting in Maharashtra and Delhi assemblies.
A Maharashtra BJP leader claimed that besides the National Democratic Alliance's share of 186 votes in the state, the alliance hopes to increase its tally to 205 with a split in the United Progressive Alliance camp.
Sources in the NDA camp said Independent MLA Ravi Rana has claimed that about 14 to 15 MLAs from the opposition Congress-Nationalist Congress Party-led UPA camp are in touch with the BJP-led NDA camp.
The NCP rubbished 'rumours' and asserted that the party stands firmly with Meira Kumar.
"The rumours that NCP MPs and MLAs are voting for the NDA presidential candidate are false. We are voting for our candidate Meira Kumar," NCP spokesperson Nawab Malik said in Mumbai.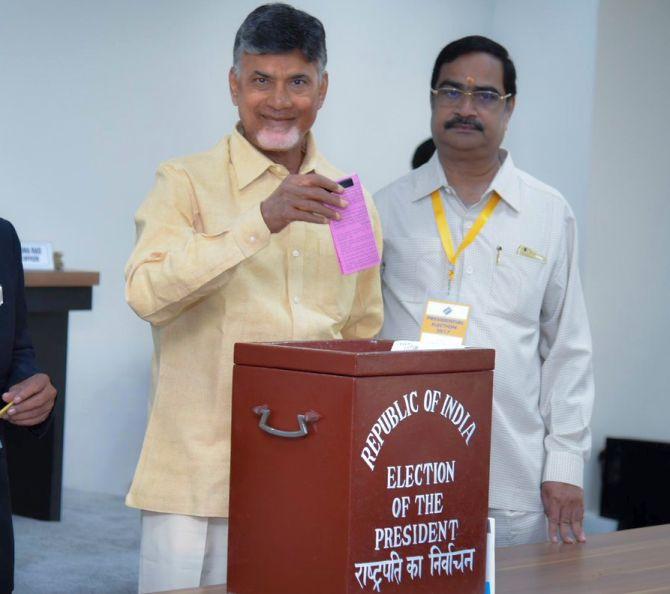 IMAGE: Andhra Pradesh Chief Minister N Chandrababu Naidu casts his vote at the state assembly in Amaravati. Photograph: N Chandrababu Naidu/Twitter
In Delhi too, speculation was rife about alleged 'cross-voting' by a few Aam Aadmi Party MLAs.
BJP MLA Om Prakash Sharma claimed that at least '10-12 AAP MLAs' had voted for NDA candidate Ram Nath Kovind.
In UP, Samajwadi Party legislator Shivpal Singh Yadav voted for Kovind.
The senior Samajwadi party legislator arrived at the assembly complex along with Independent MLA Aman Mani Tripathi and Nirbal Indian Shoshit Hamara Aam Dal's (NISHAD) lone legislator Vijay Mishra, who too told reporters that they supported Kovind.
"My open support is for Kovindji, who belongs to Kanpur dehat and is our neighbour," Shivpal told reporters, adding, "Meira Kumar did not seek vote from me and I voted on the directions of netaji (Mulayam Singh Yadav)."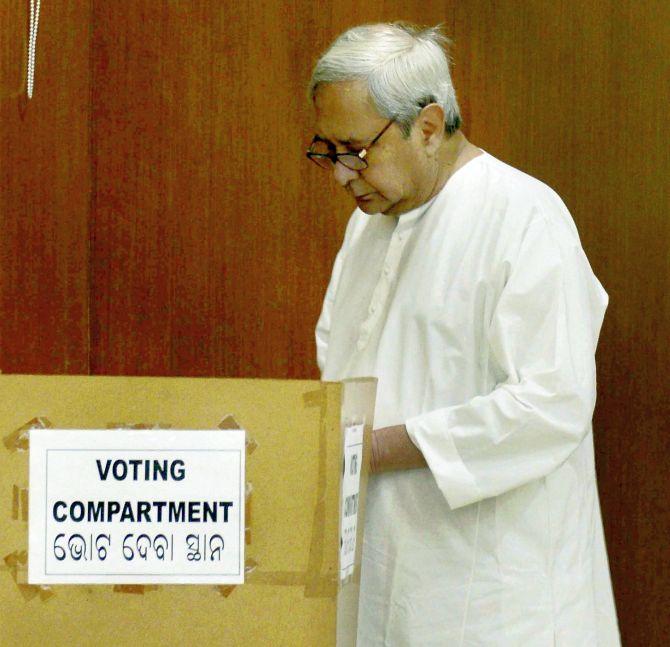 IMAGE: Odisha Chief Minister Naveen Patnaik casts his vote at the state assembly in Bhubaneswar. Photograph: PTI Photo
The presidential election is through secret ballot and party whip is not applicable.
As lawmakers voted to elect the next president, the ruling BJP exuded confidence that Kovind would win with a 'comfortable' margin.
Congress leader Ghulam Nabi Azad said the fight between Kovind and Kumar was 'one of ideologies' and rated the latter as the best choice for the president's post.
In Parliament House, Prime Minister Narendra Modi was the first person to cast his vote, Mishra said.
He also said that except for Andhra Pradesh, Jammu and Kashmir, Manipur and Tripura, data has been received from all other states which indicate that the voting was 'close to 100 per cent'.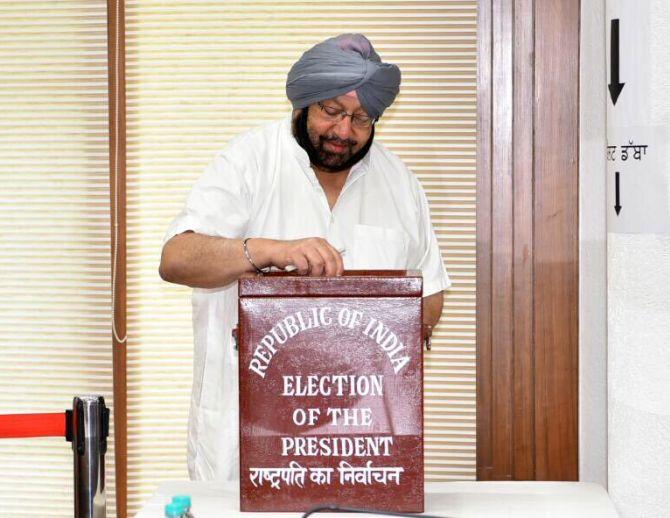 IMAGE: Punjab Chief Minister Capt. Amarinder Singh casts his vote. Photograph: Capt. Amarinder Singh/Twitter
Counting will begin at 11 am on July 20. First the ballot box of Parliament House will be opened, and then, the ballot boxes received from states will be counted on alphabetical basis.
Thirty-two polling stations including the one in Parliament house, were set up in various states.
A total of 4,896 voters -- 4,120 MLAs and 776 elected MPs -- are eligible to cast their ballot. MLCs of states with legislative council are not part of the electoral college.
While the value of an MLA's vote depends on the population of the state he or she belongs to, the value of an MP's vote remains the same at 708.