By-elections to Lok Sabha and assembly seats in the states of Assam, Tripura, Madhya Pradesh, Arunachal Pradesh, Tamil and West Bengal passed off peacefully on Saturday amidst tight security.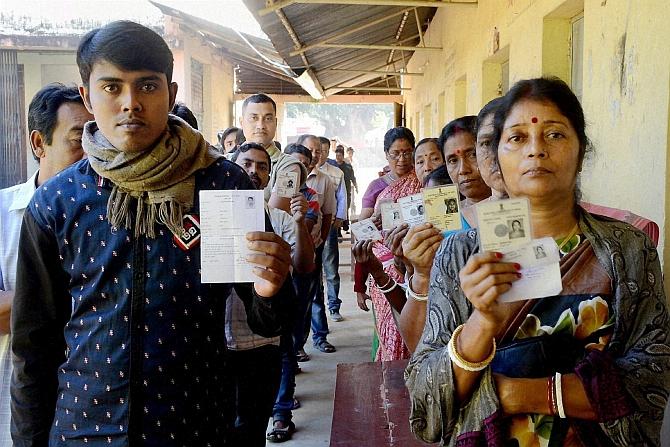 Madhya Pradesh: 62.71% voting in Shahdol, 71.25% in Nepanagar
A voter turn out of 62.71 per cent was recorded in the by-election to the Shahdol Lok Sabha constituency while 71.25 per cent voting was recorded in the by-poll to Nepanagar Assembly seat, in Madhya Pradesh.
The by-polls at the two places, both reserved for Scheduled Tribes category, assume significance as they were held after the Centre's decision to demonetise Rs 500 and Rs 1,000 notes.
In the Shahdol Lok Sabha constituency, 62.71 per cent of the voters exercised franchise till 5 pm, an election official said. The constituency had recorded 62.2 per cent polling in the general election in 2014.
In Nepanagar, 71.25 per cent polling was recorded till 5 pm, the official said.
No untoward incident was reported so far in both places.
Voters initially stayed away in the areas covered by five polling booths in Shahdol to protest lack of development. They agreed to vote after officials spoke to them.
As many as 17 candidates are in the fray in Shahdol, and four in Nepanagar.
While Congress has fielded Himadri Singh, daughter of former Union Minister Dalbir Singh, in Shahdol, BJP has given ticket to tribal leader Gyan Singh, a senior member in Chief Minister Shivraj Singh Chouhan's cabinet. Himadri's mother Rajesh Nandini Singh was also an MP.
The Shahdol bypoll was necessitated due to the death of BJP MP Dalpat Singh Paraste who had wrested the seat from Congress's Rajesh Nandini Singh in 2014. Gyan Singh had won the Shahdol seat in 1996 and 1998.
In Nepanagar, Congress has reposed faith in tribal leader Antar Singh Barde, while BJP has fielded Manju Dadu, daughter of the late MLA Rajendra Shyamlal Dadu whose death in an accident necessitated the by-poll. Counting will take place on November 22.
Arunachal Pradesh: 72% voting in Hayuliang
An estimated 72 per cent electorate exercised their franchise in the by-election to Hayuliang constituency in the remote Anjaw district, bordering China, of Arunachal Pradesh, amid a massive security blanket.
The polling, which began at 7 am, was peaceful without any incident of violence reported, Deputy Chief Electoral Officer D J Bhattacharjee said.
However, the polling percentage is likely to go high asreports from several polling booths in remote areas are yet to pour in, Bhattacharjee said.
It is for the first time in the history of the state that both the contesting candidates including the district electoral officer, returning officer and the general observers deputed by the Election Commission, are all women.
A polling station, exclusively for women, and a model polling station were also set up in the constituency. The fate of North East Democratic Alliance candidate Dasanglu Pul contesting on BJP ticket and Independent candidate Yompi Kri has been sealed in 81 Electronic Voting Machines.
Dasanglu is the youngest wife among the three wives of former chief minister, late Kalikho Pul.
The constituency with a total electorate of 11,003 including 5,508 female voters has 81 polling stations of which three -- Kibitho, Aphumna and Taflagam -- are situated near the international border with China.
The highest numbers of electoroate, 955 voters, are in Hayuliang polling station while Malogam polling station has only two.
The seat fell vacant after Pul allegedly committed suicide on August 9 this year.
Counting of votes would take place on November 22.
Tamil Nadu: 81.92% voting in Aravakkurichi, 85.76% in Nellithope
Polls for Aravakkurichi and Thanjavur and bypolls for Thirupparankundram in Tamil Nadu and Nellithope seat in neighbouring Puducherry saw an impressive turnout in a peaceful atmosphere amid tight security, with voting percentage crossing 80 per cent in two of the assembly segments.
While Aravakkurichi in Karur District registered the highest of 81.92 per cent in Tamil Nadu, Nellithope in Puducherry witnessed 85.76 percentage polling.
Thanjavur, the hub of the Cauvery basin in Tamil Nadu which saw a series of protests over the river water issue with Karnataka since October, witnessed 69.02 per cent voting.
Thirupparankundram in Madurai District, where a bypoll was necessitated due to the passing away of AIADMK MLA (2016 May polls) S M Seenivel polled 70.19 per cent votes according to the Election Commission. Though various parties, including BJP, PMK and DMDK were in the fray, the main fight was between the ruling AIADMK and main Opposition AIADMK.
Taking the campaign seriously, though it was only for three Assembly segments -- the outcome of which will not impact the ruling regime -- both Chief Minister Jayalalithaa and DMK chief M Karunanidhi had issued statements, appealing to people to vote for their respective nominees. They cited their health condition to tell voters that they could not visit them personally.
West Bengal: 81% voting in Tamluk, 77% in Cooch Behar, 86% in Monteswar
A high voter turnout of 81 per cent was recorded in the by-elections held in two Lok Sabha and one assembly constituency in West Bengal, while the Congress announced withdrawing their candidate from the Monteswar assembly seat accusing the ruling Trinamool Congress of "turning the elections into a farce".
The TMC, however, denied the Congress allegations and said the elections have been peaceful.
An average of 81 per cent polling was recorded till 5 pm, with 77 and 81 percent in Cooch Behar and Tamluk Lok Sabha constituencies and 86 per cent in Monteswar Assembly seat, the Election Commission said.
"The average voter turnout has been 81 per cent. Whatever complaints we have received have been duly attended," an EC official said.
Accusing the ruling TMC of "letting loose a reign of terror" in the by-polls in Monteswar, state Congress President Adhir Chowdhury announced in the afternoon that they were withdrawing their candidate Bulbul Ahmed Sekh.
"They have unleashed a terror across Monteswar seat, they have turned the election into a farce. They are not allowing our polling agents to enter the booth, there is no use of fighting the polls. So we have decided to withdraw our candidates," Chowdhury said.
When contacted, the EC said they have received a complaint from the Congress stating they want to withdraw their candidate.
"We have forwarded the complaint to the District Magistrate to look into the matter," the EC official said.
The CPI(M)-led Left Front and BJP too echoed the views of Congress and alleged that elections have been turned into farce in Coochbehar Lok assembly segemet as well.
The BJP demanded repoll in several booths in all the three constituencies. Rubbishing the allegations, The TMC said the elections have been peaceful.
"The elections have been peaceful. There have been no incidents of violence. People have voted in favour of the development that has taken place under TMC regime," TMC vice-president Mukul Roy claimed.
Assam: 60.93 percent voting in Lakhimpur; 65% in Baithalangso
An estimated 61 per cent of the electorate exercised their franchise today for by-elections to Lakhimpur Parliamentary constituency and Baithalangso assembly seat in Assam.
"The polling ended peacefully. The overall percentage of voting is 60.93 per cent. Out of this, 60.83 per cent was in Lakhimpur and 65 per cent in Baithalangso," Chief Electoral Officer Mukesh C Sahu said.
During the polling, eight voting machines were replaced in Lakhimpur constituency, while no EVM was changed in the Assembly constituency, he added.
Lakhimpur has a total electorate of 15,11,110 voters, while it is 1,80,203 voters in Baithalanso. Voting was conducted under strict vigil across both the constituencies.
The by-elections to Lakhimpur parliamentary constituency was necessitated as Chief Minister Sarbananda Sonowal vacated the seat following his election in May last to
the state Assembly from Majuli constituency, which falls under this Lok Sabha seat.
In Baithalangso, it was necessitated as sitting Congress MLA Man Singh Rongpi left the party to join the BJP in July.
There are five candidates in fray in Lakhimpur -- Amiya Kumar Handique (CPI-M), Pradan Baruah (BJP), Hema Hari Prasanna Pegu (Cong), Hem Kanta Miri (SUCI-Communist) and Dilip Moran (Independent). In Baithalanso, there are three contestants in fray -- Mansing Rongpi (BJP), Ruponsing Ronghang (Cong) and Rajen Timung (Independent).
Tripura: 86% voting in Barjala, 94% in Khowai
A very high voter turnout was recorded in the by-poll to Barjala and Khowai assembly seat in Tripura.
Additional Chief Electoral Officer Debasish Modak said 86 per cent electorate exercised their franchise in Barjala assembly constituency, while 94 per cent voters cast their votes in the Khowai constituency.
He said the voting passed off peacefully and no untowardincident was reported from any part of the two constituency.
The Barjala (SC reserved) seat fell vacant following the resignation of Congress MLA Jitendra Sarkar due to internal squabble in the party, while the death of veteran CPI-M leader Samir Deb necessitated the by-poll in Khowai seat. At Barjala constituency a multi-cornered electoral battle was witnessed with five candidates of BJP, CPI-M, Trinamool Congress, Congress and Amra Bangali in the fray.
The Khowai seat too has contestants from the same parties in the ring. A total of 39,007 voters exercised their franchise in 48 polling stations in Barjala assembly constituency, while in Khowai seat 39400 electorate cast their votes in 52 polling stations. Results of the two constituencies would be announced on November 22.