Health services were paralysed in Maharashtra for the second day on Tuesday as resident doctors in government hospitals stayed away demanding security at work place, prompting the Bombay high court to rebuke them for the "shameful" conduct.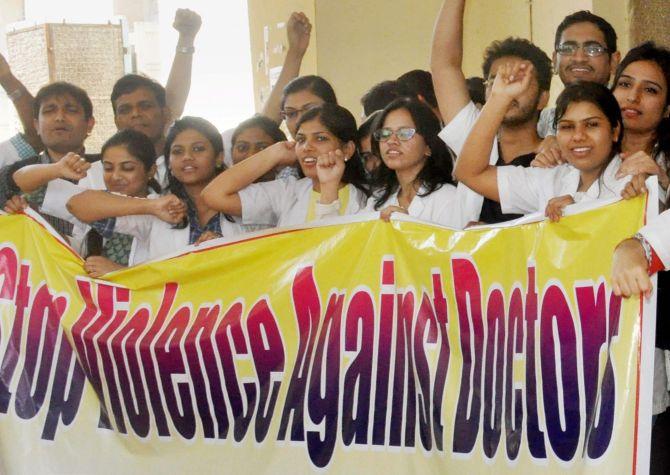 Over 4,000 resident doctors have been staying away from work since Monday demanding better security for them at hospitals in the wake of a string of attacks on them.
The protesting doctors on Tuesday invited wrath of the Bombay high court, which observed that their conduct was "shameful" and asked them to resign if they don't want to work.
"If you (doctors) do not want to work, then resign. You are not factory workers that you will resort to such protests. Shame on you. How can doctors behave in such a manner?" HC Chief Justice Manjula Chellur asked.
Hearing a petition seeking action against the protesting doctors, filed by social activist Afak Mandaviya, a division bench of Chief Justice Manjula Chellur and Justice G S Kulkarni said that the hospital management concerned should initiate action against the doctors.
The protest is likely to continue on Wednesday as well, as the doctors feel that the government has been doing only "lip service" to their cause and doing nothing to instill a sense of safety in them.
"We don't feel safe in such situation. We cannot concentrate fully on patients. Every delegation of ours that met with state officials has got only assurances but nothing was implemented. As long as a resident doctor does not feel safe, he or she is free to remain on leave or not report to duty," a doctor told reporters.
A senior official of the Maharashtra Association of Resident Doctors said that the medical services in the out patient departments were primarily affected in the absence of resident doctors.
However, emergency health services, including taking care of accident patients, surgeries and providing post-operative care to those admitted in various hospitals, were being maintained by senior doctors, he said.
Asked about the plight of patients due to the stir, Indian Medical Association general secretary Parthiv Sanghavi said, "One must not forget that resident doctors are the junior-most ones in any government hospital. There are senior doctors who are still treating patients in these hospitals and they are not part of such mass leave. In some cases, there are some delays and we feel bad about it, but we are forced to take such step."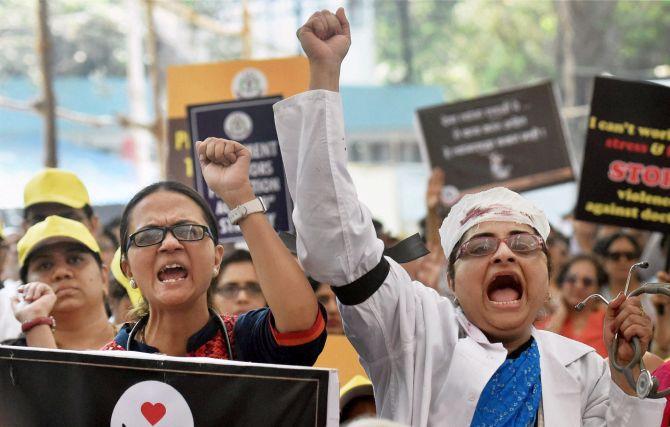 As a part of the protest, some of the resident doctors have availed leave, while the others are not reporting to duty. They are claiming that a large number of relatives come along with the patients and this puts pressure on them and affects their working.
Recently, a resident doctor was severely beaten up in the Dhule civil hospital by the relatives of a patient. In Nashik civil hospital, an on-duty doctor and a nurse were manhandled by the kin of a patient who died on Thursday.
Last week, a doctor in the BMC-run Sion hospital in Mumbai was also manhandled.
A meeting held on Monday night between the Maharashtra Principal Secretary for Medical Education, Rajagopal Devara, and representatives of the resident doctors had failed to resolve the deadlock.
State Medical Education Minister Girish Mahajan had said that negotiations were on with MARD members.
He said that the government was keen on increasing the number of doctors in government hospitals and have taken steps towards it.
However, the MARD, the apex body of resident doctors, has officially distanced itself from the decision of doctors to stay away from the duty.
A senior official of the doctors' body said, "The Maharashtra government has moved a proposal for deploying at least 500 security personnel in the first phase at government-run hospitals.
"The security men would start working from April 1. But it is up to the resident doctors to take a decision over this proposal whether to resume the duty or remain away."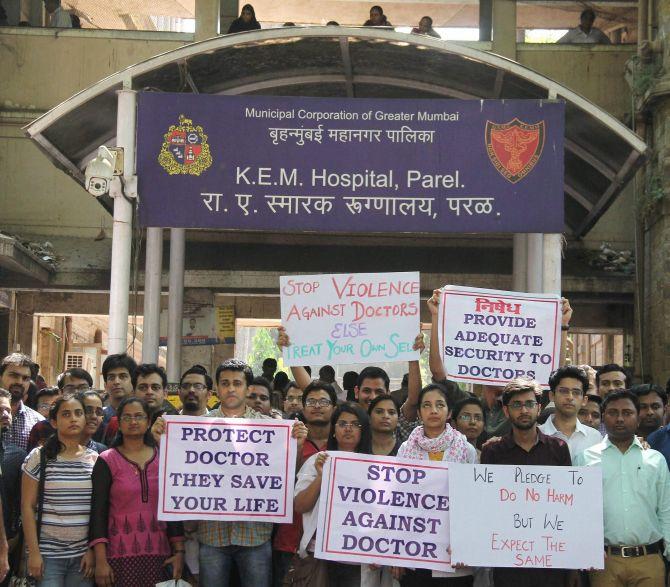 The HC on Tuesday directed the MARD to file an affidavit stating that the protest was not called by it and clarifying its stand on the issue.
After the petitioner's lawyer brought to the court's notice that the MARD had last year assured the HC, which was hearing another PIL filed by his client, that it would not call for or go on a strike in the future, the bench said, "If that is the case, then the protesting doctors have committed contempt."
Meanwhile, a resident doctor from Sion hospital proposed that the number of relatives of patients flocking government-run hospitals should be restricted, which he feels will bring much relief to the doctors.
Dr Sagar Mundada, chairman of the youth wing of Indian Medical Association, said the state government should provide more security at hospitals and restrict the entry of relatives coming to the emergency wards with patients.
A report from Nagpur said, more than 400 resident doctors of Government Medical College and Hospital and Indira Gandhi Government Medical College & Hospital skipped duty on the second day.
The resident doctors also took out a candle march at Medical square area of the city.
"We are not satisfied with the current security that is being provided to us while on duty. We demand that the government take steps to ensure our safety," said the resident doctors.
The doctors are demanding change of existing security staff as they are inefficient to handle situations of attacks by patients relatives.
Appointment of armed police personnel for 24 hours at casualty, surgery, ICU wards with immediate effect.
A police station in the premises of GMCH with adequate staff.
Images: Doctors are seeking for security in hospitals and a restriction on the number of relatives flocking in with patients to government-run hospitals. Photographs: PTI Photos