A man was found hanging at the Nahargarh Fort near the Rajasthan capital on Friday, with messages referring to the Bollywood epic drama Padmavati scribbled on nearby stones, a police official said.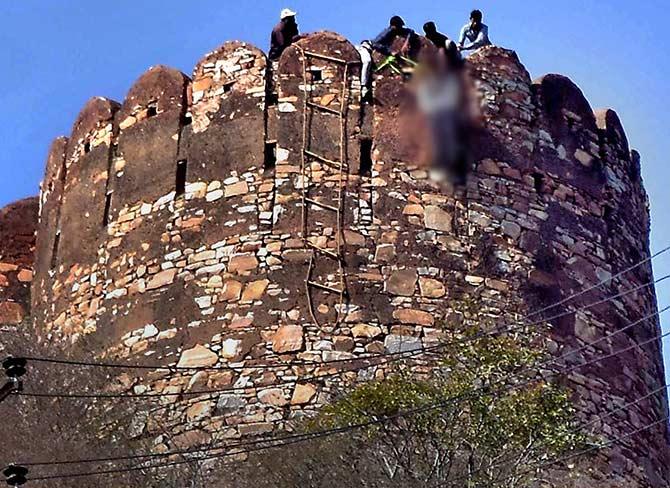 IMAGE: Rescue workers remove the body of a youth found hanging from Nahargarh Fort near Jaipur. Photograph: PTI Photo
Chetan Kumar Saini, 40, a resident of Shastri Nagar and a handicraft worker, was found hanging from the boundary wall of the fort, Deputy Commissioner of Police, North Satyendra Singh said.
He said that messages was found scribbled on stones, but it was premature to connect the incident with Padmavati protests.
One of the messages read, "Padmavati ka virodh karne walo, hum kile par sirf putle nahi latkate... Hum mein hai dum (Padmavati protesters should know we don't only hang effigies... we are strong)".
The body has been sent for post-mortem and further investigation into it is on, the police said.
An outfit representing the Rajput community, said it was not the way to protest.
President of Rajput Karni Sena, Mahipal Singh Makrana, said the messages on the stones were written to provoke the outfit.
"People are threatening us... Whatever is being done is wrong," he said.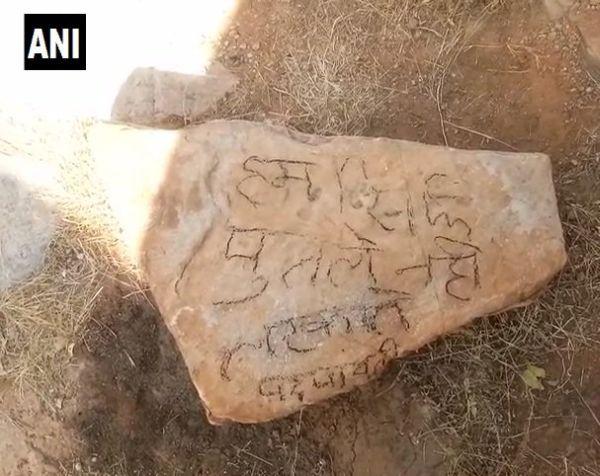 IMAGE: 'Hum putle nahi jalate, latkate hain' (we don't burn effigies, we kill)' message scrawled on the rocks at the Nahargarh Fort where the body was found hanging. Photograph: ANI/Twitter
Padmavati has been facing the wrath of various Rajput groups and political leaders, who have accused the film's director Sanjay Leela Bhansali of distorting history.
Many groups have been protesting amid rumours that there was a romantic dream sequence between queen Padmini and Allauddin Khilji. However, Bhansali said in an appeal that there was no dream sequence and it was all a rumour.
On November 22, protesters blocked the entry to the Chittorgarh Fort till 5 pm and burnt effigies of Bhansali.
The next day, locals led by the Rajput community blocked entry to the Kumbhalgarh Fort in Rajsamand district "for some time" demanding a ban on the film.
However, historians are divided on whether Padmini actually existed. She finds mention in the 16th century epic poem Padmavat.