Rishi Khanal can't believe he is alive!
The 27-year-old man was trapped inside a collapsed hotel in Nepal for 82 hours alongside three dead bodies before a search-and-rescue team pulled him out on Tuesday.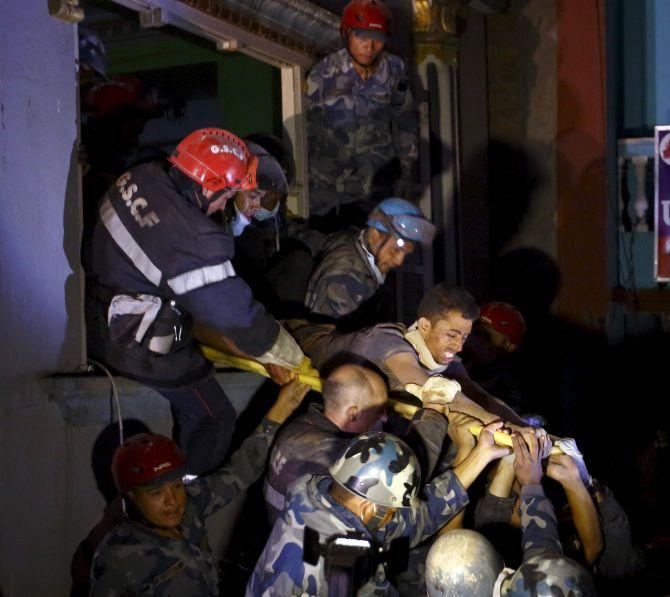 Injured survivor Rishi Khanal is taken out of a collapsed building by Armed Police Force and the French rescue team, after being trapped for 82 hours. Photograph: Navesh Chitrakar/Reuters
A day after he was pulled out, he recounts his horrible ordeal and his fight to survive.
He says he had just finished his lunch at a hotel in Kathmandu when the 7.8 magnitude quake struck the capital on Saturday. He said he was on the second floor of the seven-storey building when it started to shake and crumble piece by piece.
Khanal was struck by falling masonry and trapped with his foot crushed under rubble.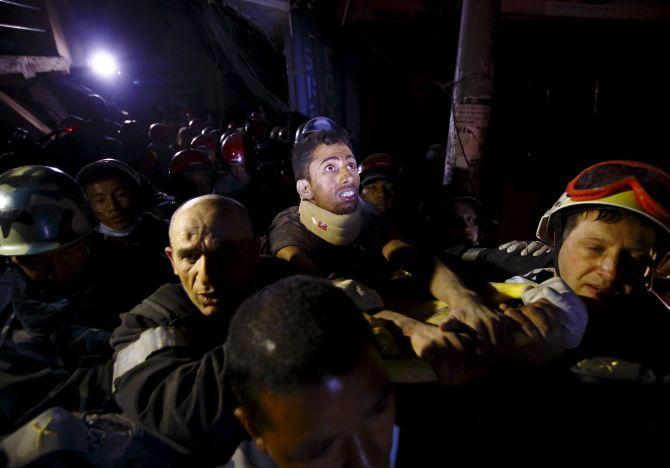 Rishi Khanal was rushed to a nearby hospital in Nepal where he is being treated. Photograph: Navesh Chitrakar/Reuters
He said, "I had some hope but by yesterday I'd given up. My nails went all white and my lips cracked ... I was sure no one was coming for me. I was certain I was going to die."
For three days, Khanal was surrounded by the stench of the dead bodies trapped inside the room. Without food or water, he drank his own urine. "There was no sound going out, or coming in," he said.
"I kept banging against the rubble and finally someone responded and came to help. I hadn't eaten or had anything to drink so I drank my own urine."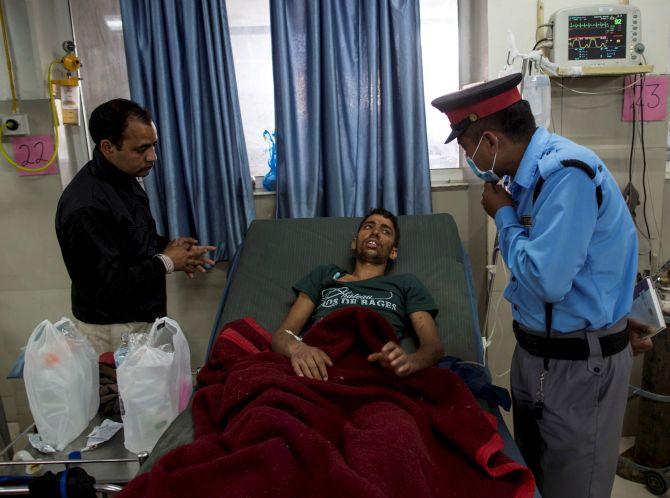 Khanal speaks to a security guard at a hospital in Kathmandu after his miraculous escape from death. Photograph: Danish Siddiqui/Reuters
His frantic banging alerted rescuers that he was alive and teams took more than five hours to drill down to him as he shouted for help.
By the time he was pulled out, he had been trapped among the dead for 82 hours.
"It feels good. I am thankful," he said, before being taken away for surgery.
More than 5,000 people are known to have died and over 10,000 injured in Nepal in the magnitude 7.8 earthquake.
MUST READ: