With tambourines and guitars in their hands and songs of revolution on their lips, people protested against the attack on Jawaharlal Nehru University students throughout the night in front of the Gateway of India and the Taj Mahal Palace hotel in south Mumbai.
People, including students and women, in large numbers had gathered in front of the Gateway of India in South Mumbai's Colaba on Sunday midnight. They were joined by Bollywood celebrities like Anurag Kashyap, Swara Bhaskar and Vishal Dadlani.
Their reason to congregate: To protest the attack at JNU during which masked people brandishing hockey sticks and iron rods stormed the campus and systematically targeted students in three hostels, unleashing mayhem with sticks, stones and iron rods, hitting inmates and breaking windows, furniture and personal belongings, injuring 34 people.
Songs like 'Hum dekhenge', 'Hum honge kamyab', 'Sarfaroshi ki tamanna' rent the air as students of IIT Bombay, Tata Institute of Social Sciences, and members of students' organisations, including the ASFI, raised slogans against Prime Minister Narendra Modi and Union Home Minister Amit Shah.
Protesters, waiving the tricolour, raised slogans like 'Kagaz nahi dikhayenge' and 'Tum kaun ho be'. They demanded the resignation of Modi and Shah.
Heavy police deployment was made at the protest site and water, tea, biscuits and fruits were being served to protesters. Civic bodies made arrangements for toilets.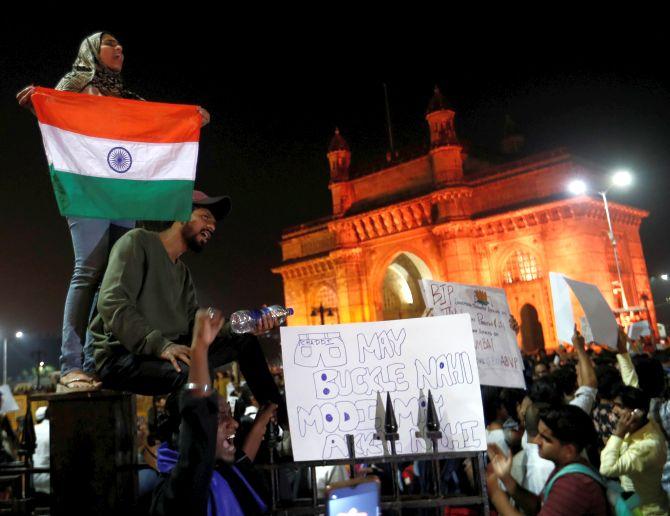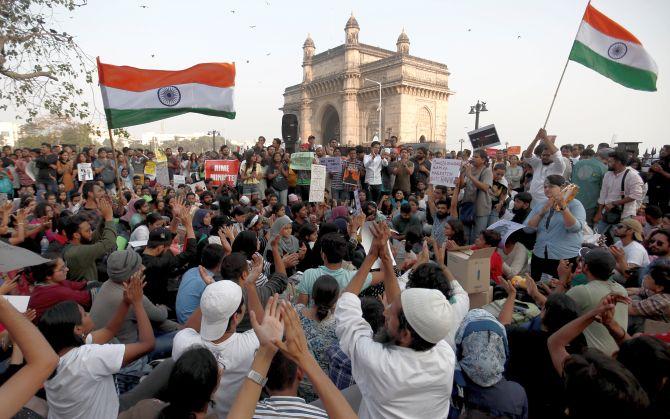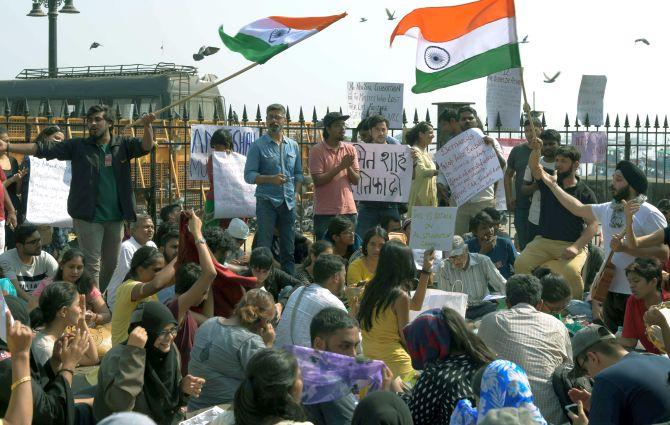 SEE: Girl holds 'Free Kashmir' poster during protest in Mumbai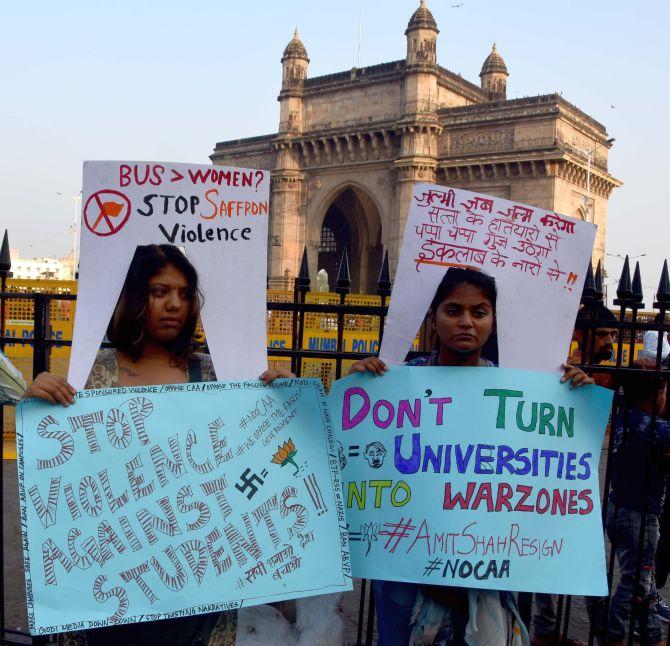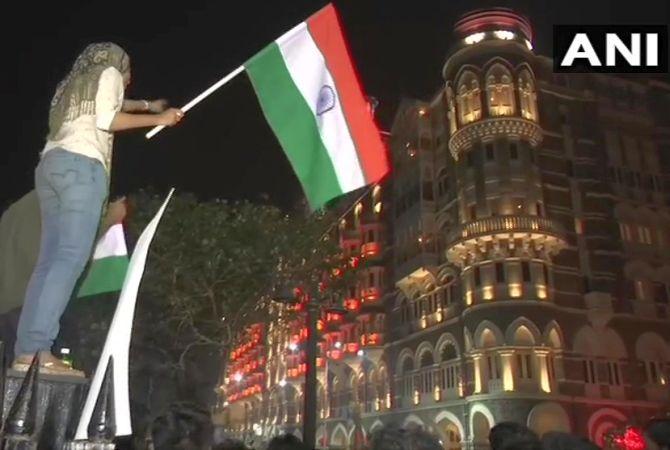 SEE: Mumbai in solidarity with JNU students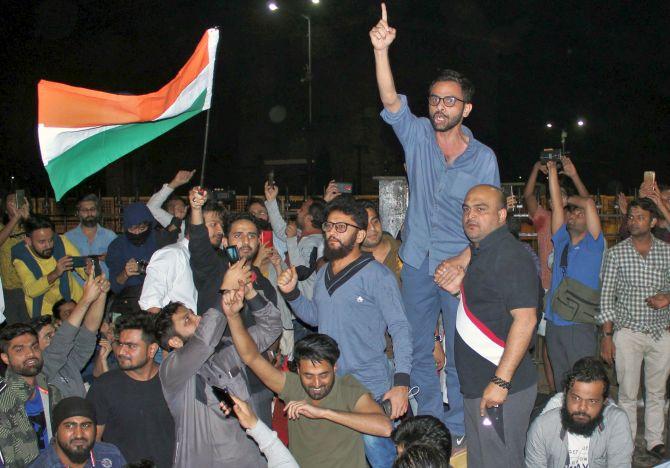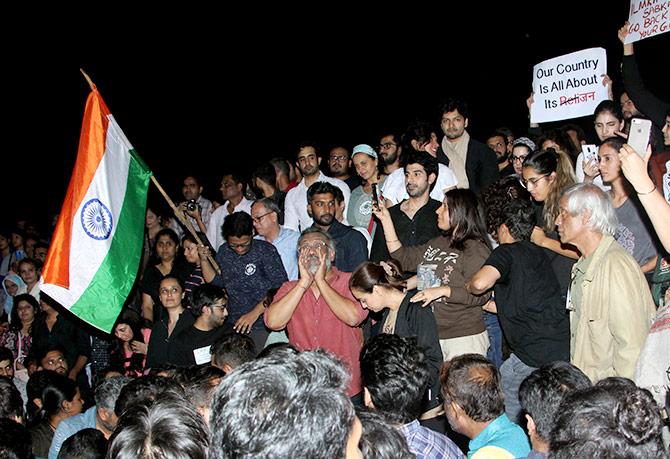 SEE: #FortheStudents' protest at Mumbai's Carter Road
Video: Pooja Bhatt/Twitter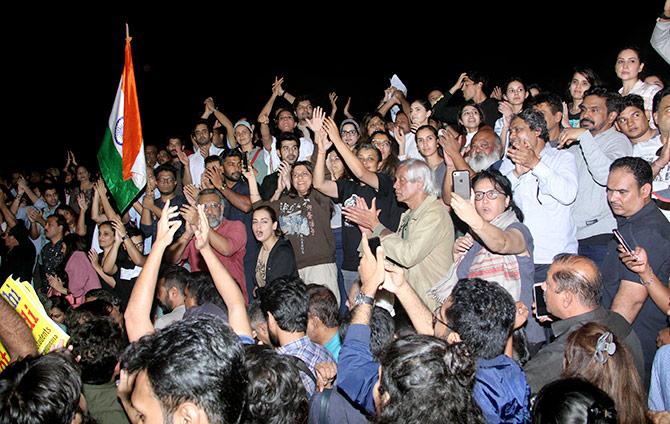 SEE: Vishal Bhardwaj at the protest at Mumbai's Carter Road
Video: Neeraj Ghaywan/Twitter
---
Edited by Roshneesh K'Maneck