Upset over disruption of suburban train services, irate commuters on Friday went on a rampage setting afire vehicles, vandalising rail property and pelting stones leading to chaos for six hours and leaving thousands of people stranded before services resumed.
The trouble started at Diva station in Thane district after rail services were disrupted when pantograph of a local train broke between Thakurli and Dombivali stations on up slow line, triggering violent protests by passengers.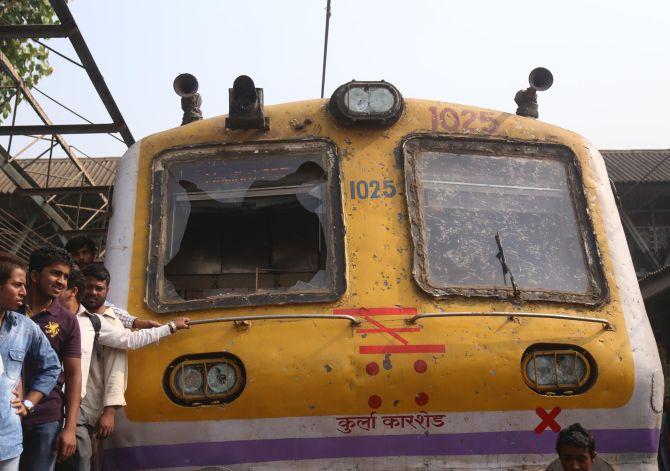 Passengers pose next to a damaged train. Protesters went on a rampage after services were affected on Friday morning. Photograph: Manoj Singh
During stone pelting by protestors, a motorman of a Kalyan-CST local got injured which led to a flash strike by motormen. However, the services resumed on the Central and Harbour lines as motormen called off their stir after being assured adequate police protection.
"All railway services on the up and down lines have been restored completely. Trains are running as usual now. I wish to appeal to the people not to block railway lines when an incident like this takes place. Stopping trains further derails our efforts to restore services in case of a mishap," Central Railway's senior public relations officer Anil Kumar Jain said.
Tempers flared up as hundreds of commuters found themselves stranded on Friday morning. Angry protestors squatted on tracks and pelted stones at the railway property.
They also set on fire at least three vehicles, including a police jeep, a Thane civic official said.
In the protests, seven automatic ticket vending machines, three booking counters at Diva railway station, level crossing gate Boom at Diva level crossing, two booking counters and six ATVMs at Dombivali station and 10 EMU rakes were damaged, Jain said.
Protesters also set police cars on fire at Diva railway station. The violence escalated when police personnel lathi-charged the agitators. Photograph: PTI photo
Also the motormen's union called for suspension of operations, until assured of proper police protection.
Railway Minister Suresh Prabhu said firm steps will be taken by rail authorities to ensure that the problems faced by commuters due to overload of passengers are eased.
"For the last many years, the suburban rail services are facing an overload of passengers. The number of people taking trains is only increasing with time, but services have not increased correspondingly, which causes problems. There needs to be a long term solution to this problem, for which I will speak to the chief minister and come out with a plan that will ease commuter tensions," Prabhu said.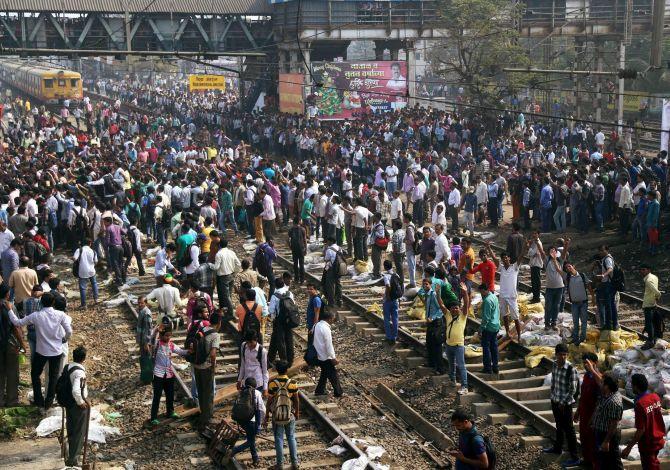 Passengers block railway lines at Diva Station in Mumbai after rail traffic was disrupted following violent public protests at the Central line on Friday.
Appealing to the public to maintain calm in a crisis situation, Prabhu said that angry reactions from commuters hamper the restoration process after a technical snag.
"When an incident like this happens, it is important that problems are rectified at the earliest. In case there are adverse reactions from commuters, they will themselves have to face more problems as restoration work will be hampered. If we all work with a calm mind, problems can be rectified faster," he said.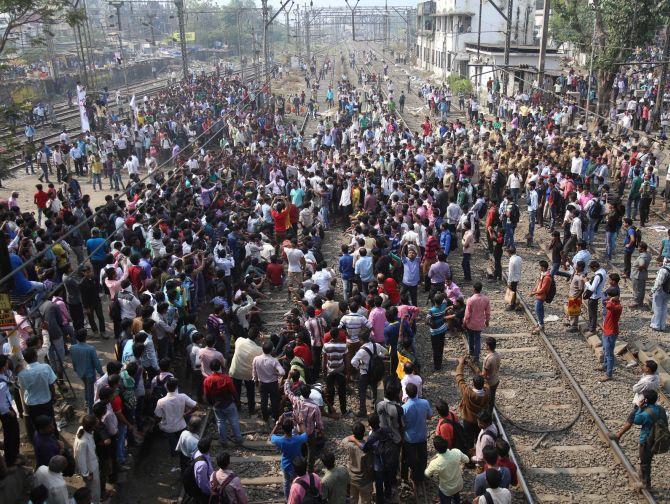 Commuters say they were fed up with the constant disruptions and even destroyed a ticket window in Dombivli. Photograph: Manoj Singh
"Commuters had to go through a lot of trouble because of the disruptions of rail services. I have spoken to the general manager of Central Railway and directed him to conduct a probe into this incident and take appropriate action," Prabhu added.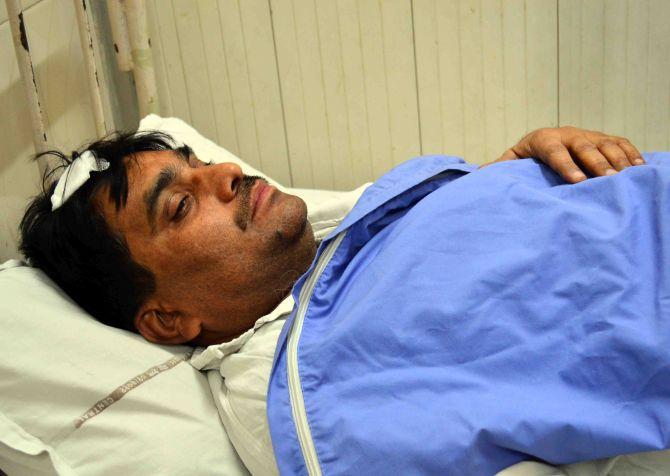 During the protests, the angry mob also attacked a motorman, who later was taken to the hospital for treatment. Photograph: Manoj Singh
Earlier, Maharashtra Chief Minister Devendra Fadnavis reviewed the situation after the outbreak of train commuters' fury and appealed the people to maintain peace.
"Discussed the matter with Railway Minister Suresh Prabhu. We will look into the reasons of disruption and work on corrective course for future," he said.